Have you purchased great speakers but figured out that one accessory is missing? It turned out that your audio system lacks the best speaker stands to reveal its utmost performance.
Those newbies to the audio world believe that speaker stands make no difference in how you perceive the sound and serve only one purpose – to keep the speakers in place. But let me argue with that.
Actually, the speaker stands can take your listening experience to a new level. By bringing your speakers to the ear level and preventing them from shaking, you will notice that the sound quality has changed. Besides, once you get stands, you can place the speakers anywhere in the room and finally show them off.
Today I will guide you through how to pick the most suitable speaker stands by carefully laying out the important parameters. You will also read reviews of the popular options available on the market.
Name
Height
Material
Color
Review
Kanto SP32

best floor

32 inch / 81.3 cm
steel
black / white
Review
PERLESMITH PSSS2

budget

18.7-43 inch / 47.5-109.2 cm
steel
black
Review
IsoAcoustics ISO-155

best desktop

3-8.25 inch / 7.6-21 cm
steel
black
Review
Best speaker stands review
Our pick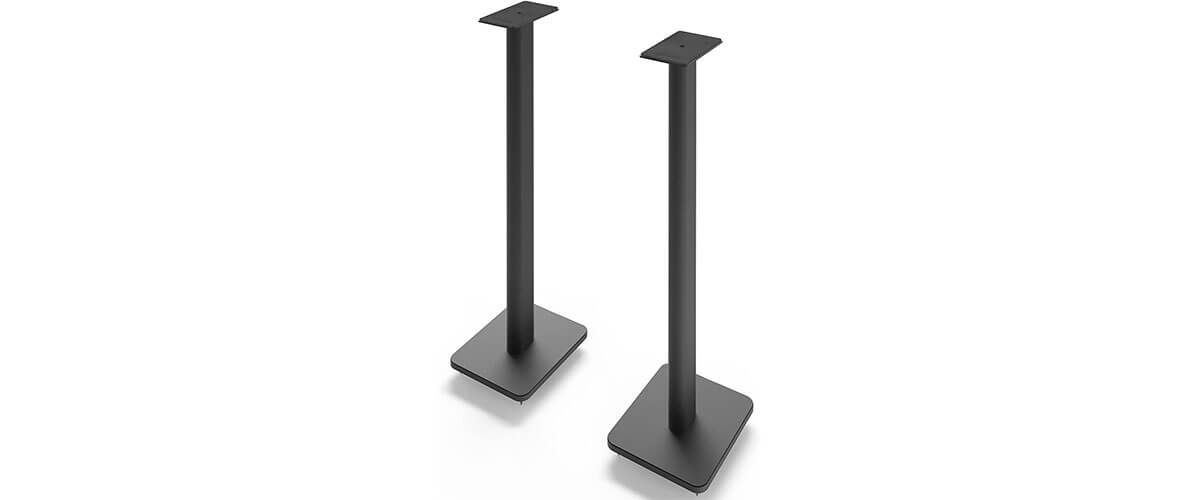 Kanto SP32
They combine functionality and reliability you may want to see in your perfect speaker stands.
Read the full review.
Floor speaker stands
Kanto SP32 – best floor speaker stands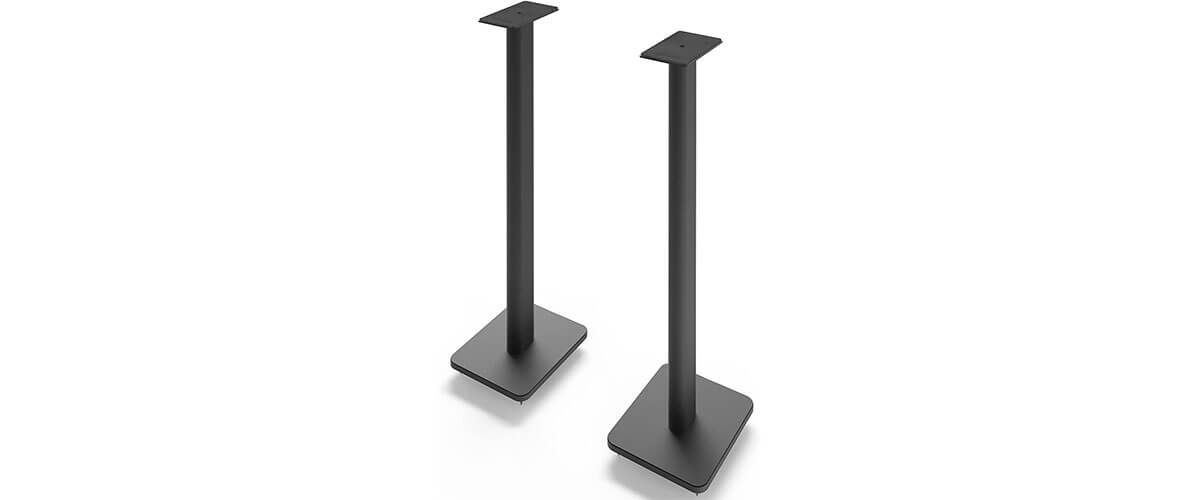 Enhance the acoustic properties of your speakers with the Kanto SP32 speaker stands. Because of two height options (26 and 32 inches), you can place the speakers at the ear level to absorb their rich and full sound.
Unlike the PERLESMITH PSSS2 stands with the top plates that are fixed in their position, this model allows you to rotate the plate so that speakers would always be pointed toward you. To make sure you can fit speakers of any size, the SP32 stands by Kanto has a set of differently sized top plates – 4 and 7 inches. There is a difference in the base design as well. The Kanto stands feature interchangeable spiked and rubber dome feet to stay in place on any flooring type. However, let me warn you that you may find these stands too lightweight for carpets, though they are utmostly stable on a hard floor.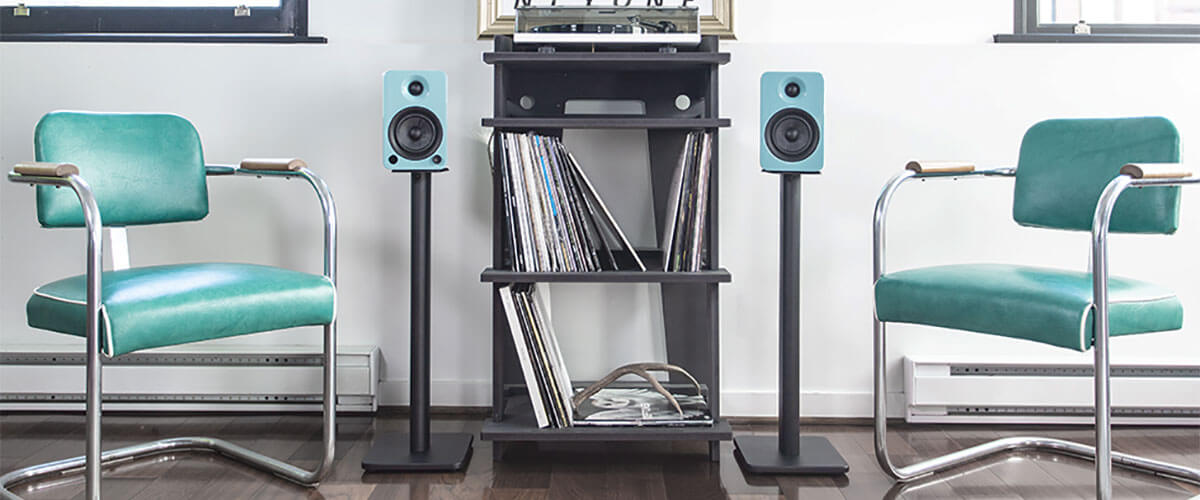 The stands are made of heavy-duty steel that reduces vibrations and improves the overall sound quality. The support tower is hollow as it is designed to allow you to hide the wires. The build is solid, so you should not worry about knocking it over easily.
These stands are easy to assemble. The instructions are handy and easy to follow. If you are a fan of simply designed accessories, you will love these stands. They are minimalistic yet gorgeous, so they will look great in modern homes.
My last word is that these are the best speaker stands on this list. They combine functionality and reliability you may want to see in your perfect speaker stands.
Key specs
Height, inch / cm: 32 / 81.3.
Material: steel.
Color: black / white.
Dimensions, inch / cm: 32 x 8.9 x 10.5 / 81.3 x 3.5 x 26.6.
Pros
Two height options: 26 and 32 inches.
Hollow support tower to hide cables.
Two interchangeable spiked and rubber dome feet for any floor type.
Easy to assemble and adjust to your listening preferences.
Cons
Might be too lightweight for hard flooring.
PERLESMITH PSSS2 – budget floor speaker stands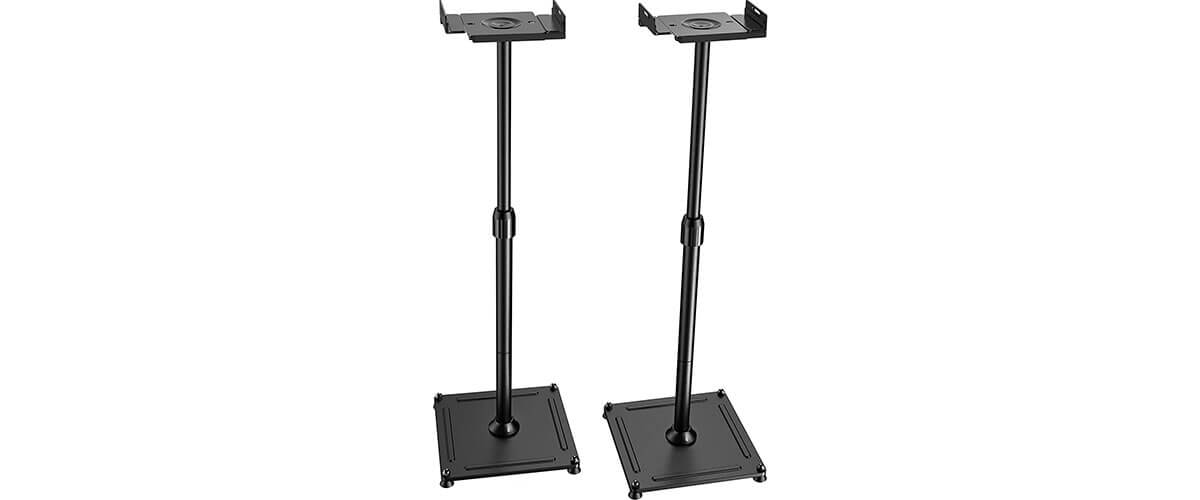 Get the most from your speakers with PERLESMITH PSSS2 stands. These items allow you to place your speakers at ear height and remove them from the wall to reduce vibrations and improve the speaker sound delivery quality.
The most significant advantage of this product over Kanto SP32 is the height adjustability. You can adjust it from 18.7 to 43 inches to customize the stand use. The top plate also gets regulated from 5.9 to 10.82 inches wide to suit speakers of various sizes.
The PERLESMITH stands are made of steel, so they are pretty stable and durable. The weight capacity of each stand is 11 lbs, so you should better use them with a small bookshelf or satellite speakers. Because of the hollow design, you can conceal cables for a neat look.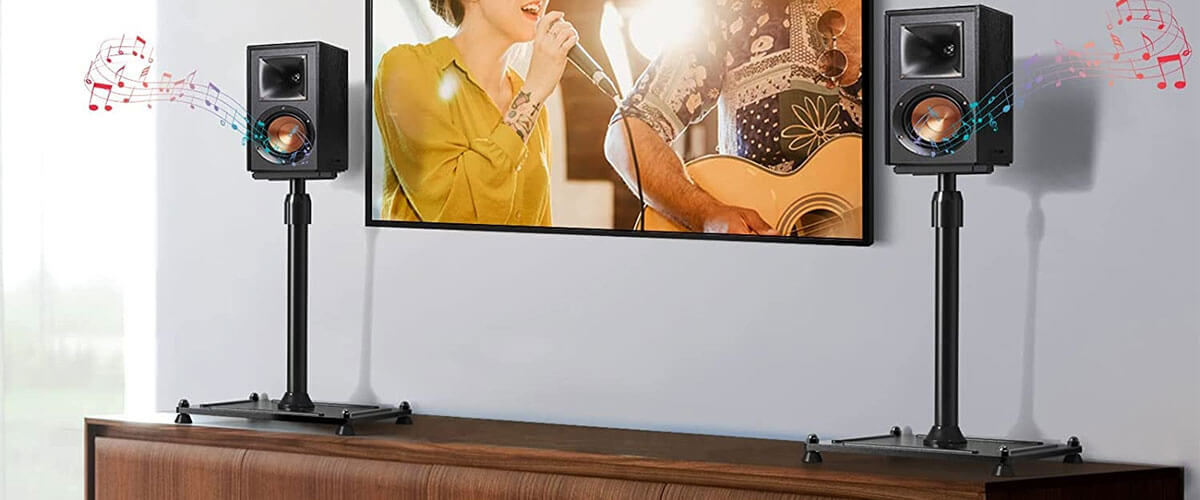 The base feet come with rubber pads, so these stands are more compatible with hard flooring. If you use it on the carpet, you will find the stands wobbly and unstable.
The stands are easy to put together. They may not be compatible with bigger speaker models, so you'd better check the dimensions before purchasing to avoid disappointment. But putting this minor drawback aside, the PERLESMITH PSSS2 are the best budget speaker stands. They do their job on hard flooring perfectly and enhance the sound quality of your speakers.
Key specs
Height, inch / cm: 18.7-43 / 47.5-109.2.
Material: steel.
Color: black.
Dimensions, inch / cm: 17.32 x 2.87 x 13 / 44 x 7.3 x 33.
Max weight speakers, lbs / kg: 11 / 5.
Pros
Adjustable height of the tower and top plate.
Made of steel for better stability.
A hollow design for hiding wires.
Easy to put together.
Cons
Suitable for hard flooring only.
Compatible with small bookshelf or satellite speakers only.
Pangea Audio DS400 – great for large speakers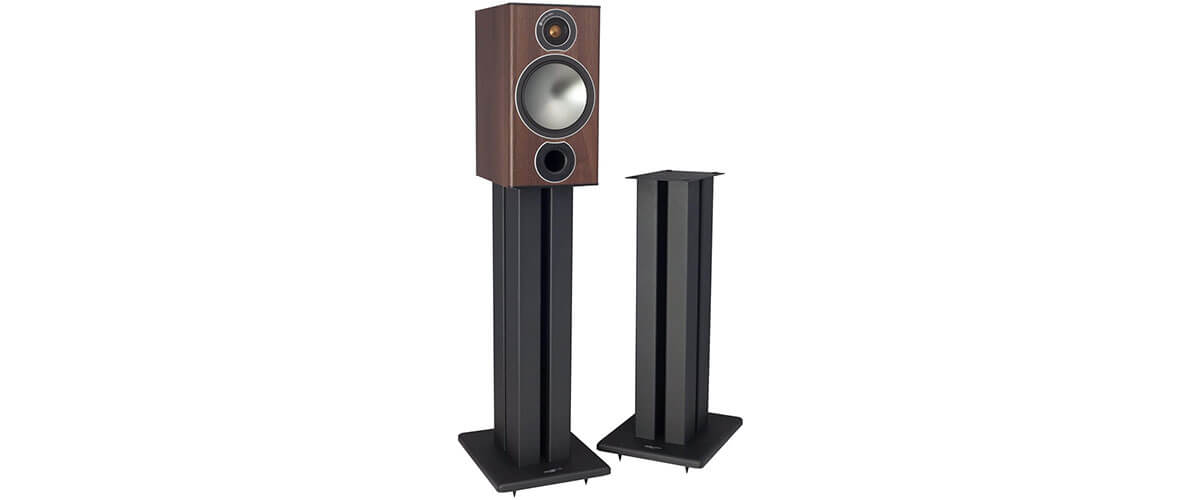 If you need sturdy stands for bulky speakers, the Pangea Audio DS400 stand set is an option for you to consider.
These stands are available in several height variations: 24, 28, and 32 inches to bring the speakers at the same level with your ears depending on the environment. These stands look great due to the black matte finish and overall design. They would easily fit any interior and accompany your audio system.
Unlike Sanus HTBS stands with thin piers, this model has four thick towers to hold even heavy and large speakers. Because of this, the whole construction is stable. In addition, you can fill the tower with sand for added balance. The top base is large enough to fit even monitor-type speakers (6 x 8.5 inches).
The base has spikes at the bottom, so these stands will work for flooring with a carpet. However, the whole unit may be hard to assemble. Some parts may not go together correctly, so you will have to make extra holes.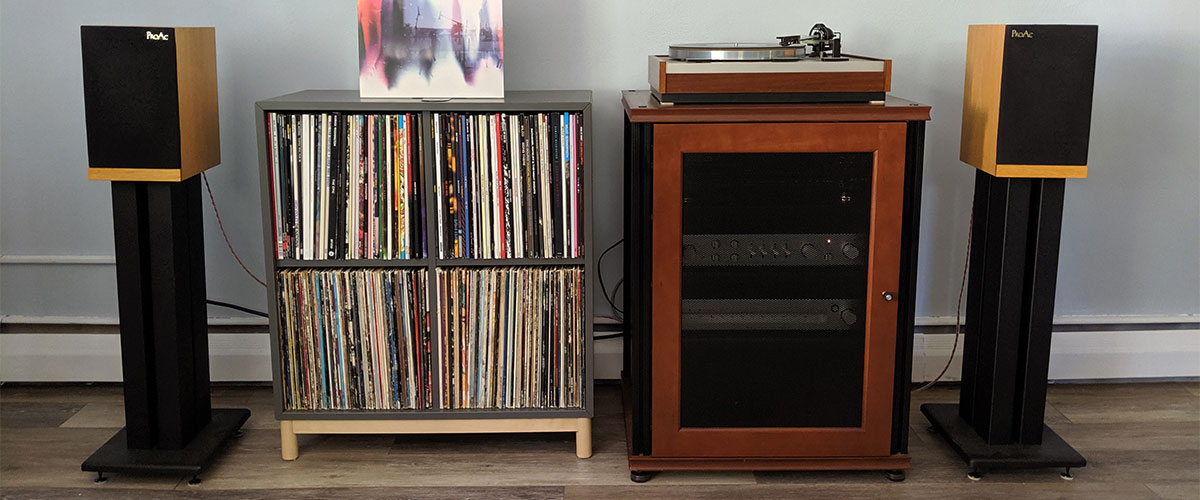 Also, be aware of the peculiarity during the assembly process. If you tighten the bolts on the bottom base before the top plate, you may end up having the top plate out of alignment.
The Pangea Audio DS400 is a great choice if you are looking for heavy-duty speaker stands for large speakers. It delivers great vibration damping properties and reliably holds even monitor-size speakers.
Key specs
Height, inch / cm: 32 / 81.3.
Material: steel.
Color: black.
Dimensions, inch / cm: 32 x 11 x 9 / 81.3 x 28 x 23.
Max weight speakers, lbs / kg: 120 / 55.
Pros
Four thick piers for added stability.
A large top base for keeping large speakers.
Three height options: 24, 28, and 32 inches.
Spikes at the bottom base for rigidity on the carpet.
Sanus HTBS – good adjustable stand for small speakers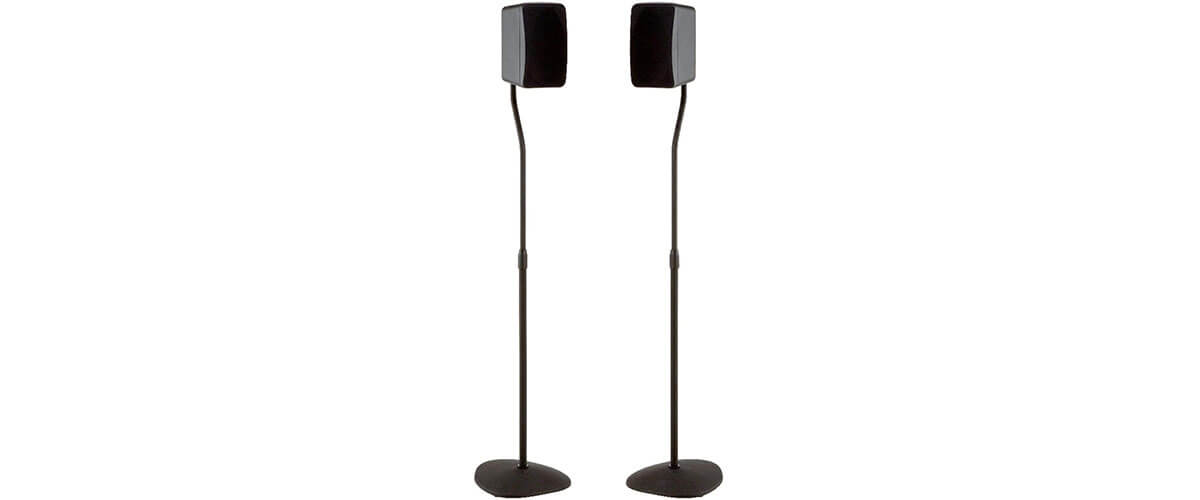 If you are looking for a perfect place to put your small speakers on, the Sanus HTBS speaker stand set can be a bargain.
While the Pangea Audio DS400 stands are a good thing for large speakers, the Sanus product is a hit among owners of small speakers (up to 3.5 lbs). It comes with different types of brackets instead of a top plate, which is not always compatible with speakers. The good news is that it has an integrated wire channel to hide the cords.
The whole construction is made of steel and is pretty stable. The poles can be adjusted between the range of 28 to 38 inches to get your speakers exactly where you want them. The bottom plate comes with rubber feet and carpet spikes to fit your flooring type.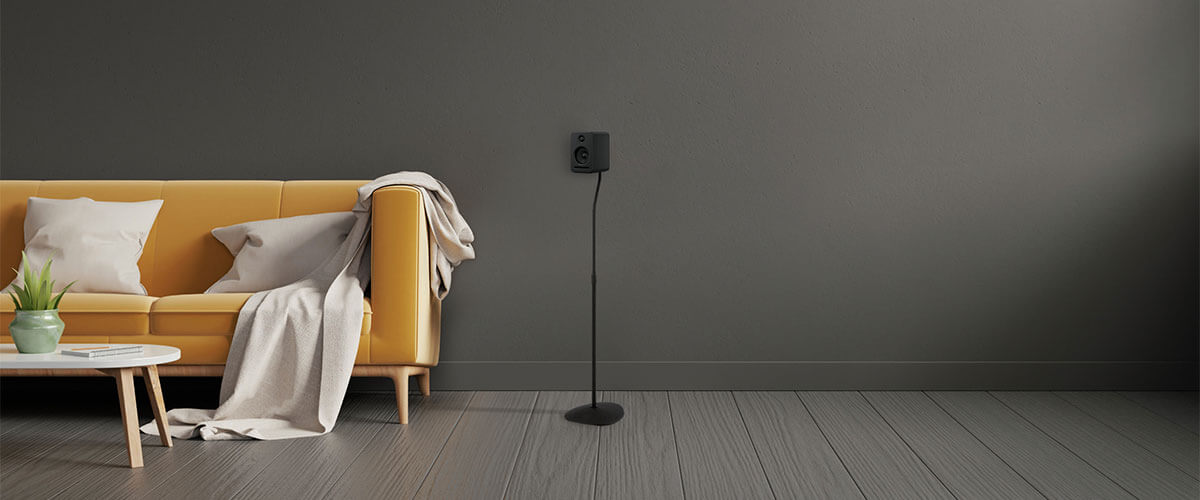 These stands can be hard to assemble because of compatibility issues. Apart from making the brackets fit the speaker holes, you may find it hard to feed the cables through the holes. In some cases, the metal rod of the brackets presses the cord, which is not good. So, these stands may require some customization when you set them up to make them work properly.
The Sanus HTBS are great adjustable floor speaker stands, which would work for small speakers. They are stable even on the carpet, and you can always adjust the level at which you would like to have your speakers.
Key specs
Height, inch / cm: 28-38 / 71.1-96.5.
Material: steel.
Color: black.
Dimensions, inch / cm: 28 x 9.9 x 7.8 / 71.1 x 25.1 x 19.8.
Max weight speakers, lbs / kg: 3.5 / 1.5.
Pros
Specially designed for small speakers.
Adjustable height for a more customized use.
Come with spikes and rubber pads both for carpets and hard flooring.
Cons
Some speaker compatibility issues might occur.
You may find it hard to pull the wire through the tube.
Desktop speaker stands
IsoAcoustics ISO-155 – best desktop speaker stand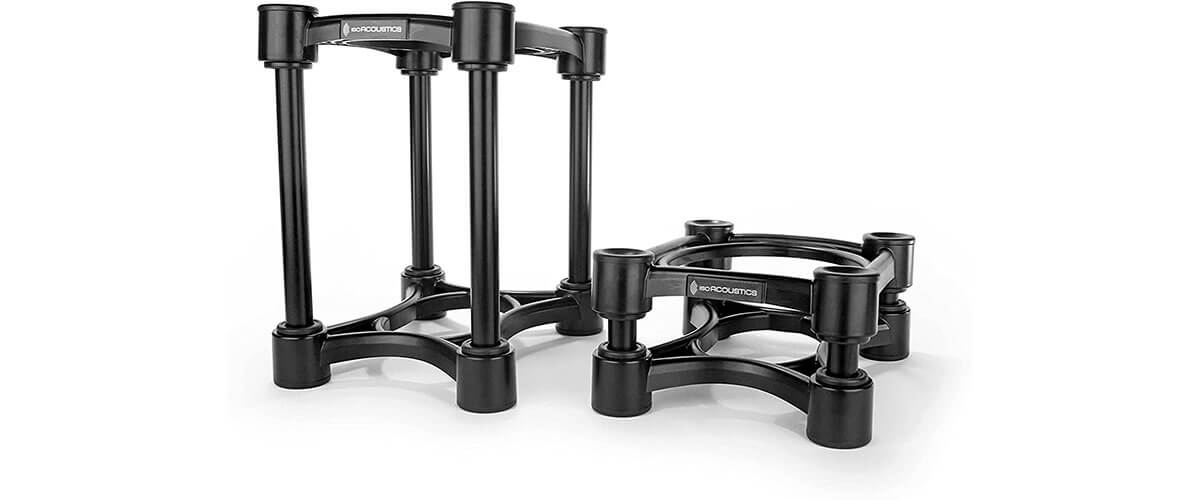 If you would like to isolate your speakers from vibrating surfaces, you will find these IsoAcoustics ISO-155 stands handy.
These stands are designed for studio monitors for improved performance. Because of the patented isolation system, you will obtain superior isolation of your speakers for sound clarity. Adjust the height and tilt to grasp every sound.
The steel ISO-155 stands are suitable for monitors and speakers up to 40 lbs and feature a base that is 6.1 x 7.5 inches wide. The base is not solid, and that's how it is different from the Kanto SP6HD. These are low-profile stands, meaning they are not elevated from the surface much. The frame features four metal tubes with a solid bottom, but it is not as stable as you may want it to be.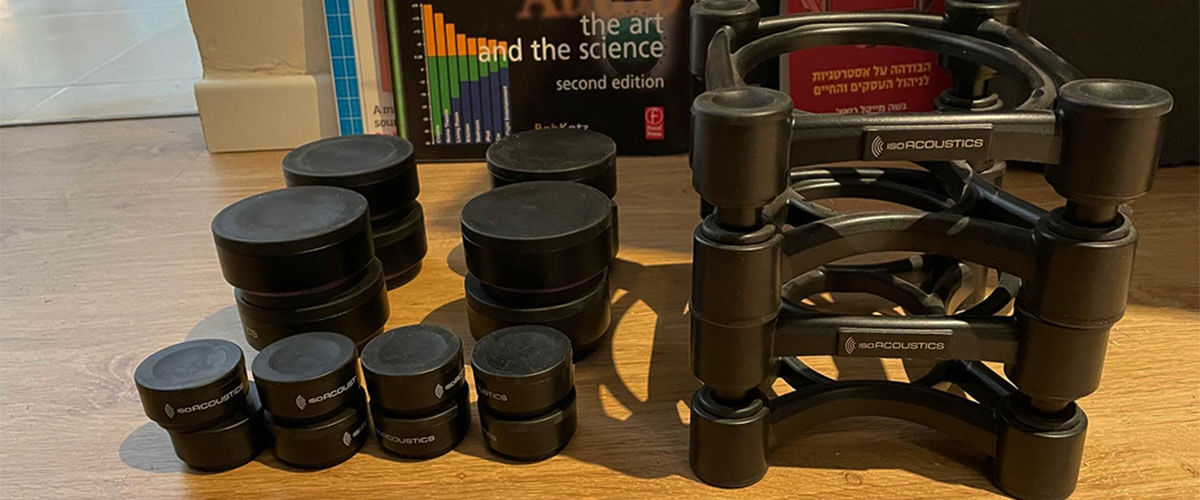 The design of the IsoAcoustics stands is not pretty appealing. But if you are hunting for functionality, this flaw will not bother you at all. You should also consider that you won't be able to hide cords in the frame in this model. So, if wires annoy you, these stands may disappoint you.
The ISO-155 can be easily considered the best bookshelf speaker stands. They offer plenty of customization and adjustability. They are not bulky, so they will easily fit your desktop space or the bookshelf.
Key specs
Height, inch / cm: 3-8.25 / 7.6-21.
Material: steel.
Color: black.
Dimensions, inch / cm: 6.1 x 7.5 x 3 / 15.5 x 19 x 7.6.
Max weight speakers, lbs / kg: 8.2 / 18.
Pros
Adjustable height and tilt.
A special isolation system for better sound quality.
Heavy-duty steel construction.
Cons
Stability issues may occur.
The design is not as sophisticated as you may want it to be.
No way to hide cords.
Kanto SP6HD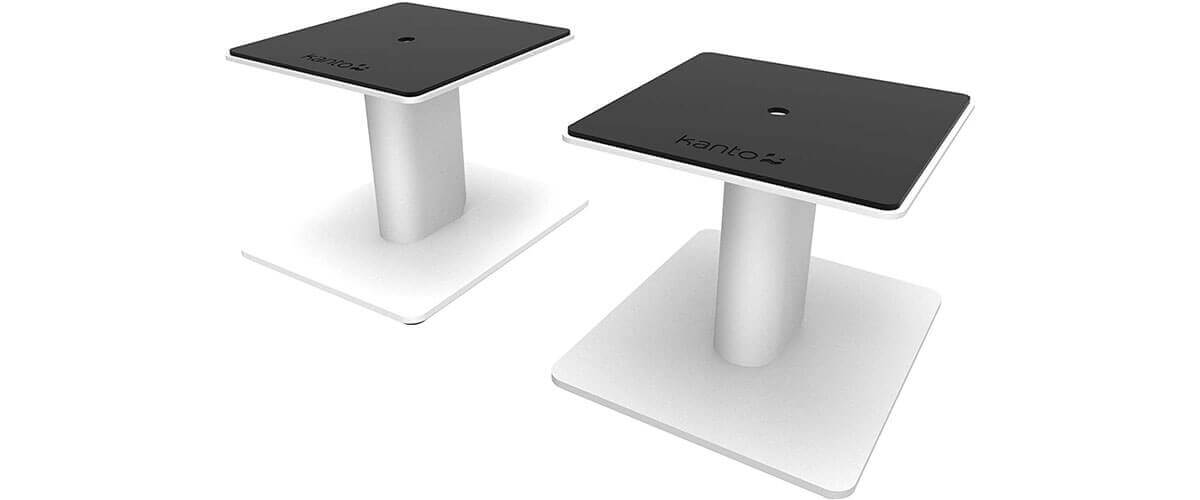 The sleek design and utmost functionality of the Kanto SP6HD stands for speakers are going to amaze you.
When comparing the design of the Kanto SP6HD and IsoAcoustics ISO-155 stands, I find the look of the SP6HD items more sophisticated. They would fit the modern interior easily and add some zest to your room. The stands have two height (6 and 9 inches) and color (black and wide) options.
These stands boast a heavy steel structure, allowing you to keep your speakers at the desired height reliably. The closed-cell foam padding absorbs vibrations and results in more accurate sound delivery.
These stands come with two pairs of top plates of two sizes (4 and 7 inches) for use with various speakers. Each top plate can be rotated to get the desired angle. You can secure the compatible speakers using a mounting hole on the plate to secure the speaker in place. If you would like to hide the cables, you can put them through the center of the stand.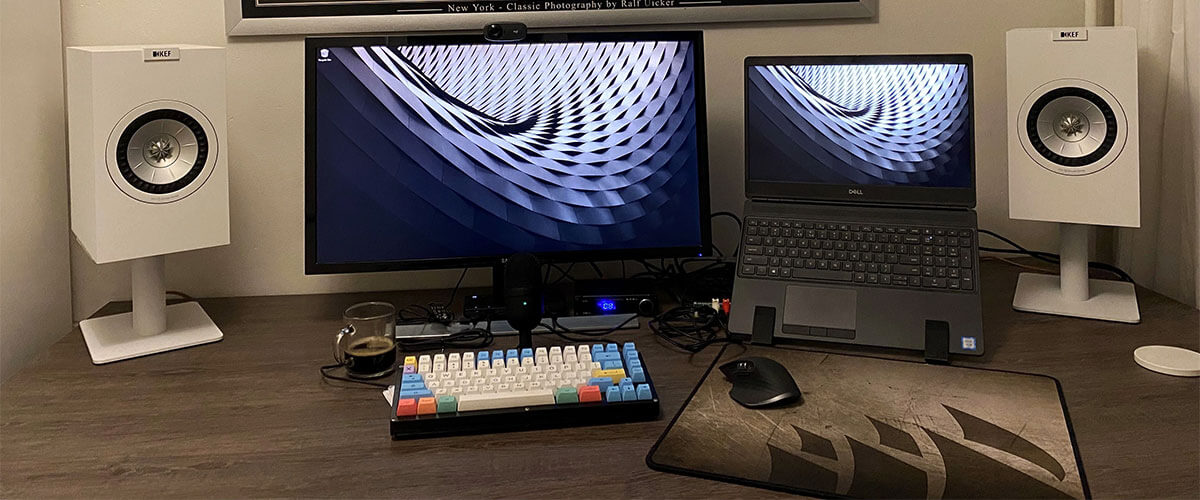 What you may find annoying is that if the speakers are not compatible with the stand, you will have issues with stability. Even if you mount the speakers to the stand and tighten them with screws, there will be some wobbling. At louder volumes, especially with strong bass, you may even notice that the speakers shake.
If you already own the matching speakers, the Kanto SP6HD stands will join your list of successful purchases. These stands look gorgeous and offer you space for adjustment, but make sure they will be compatible with your speakers for utmost results.
Key specs
Height, inch / cm: 6 / 15.2.
Material: steel.
Color: black / white.
Dimensions, inch / cm: 5.4 x 7 x 6 / 13.7 x 17.8 x 15.2.
Pros
Two height options (6 and 9 inches) to align with your ear level.
Sophisticated design in classic colors.
Adjustable tilt for better sound delivery.
System for hiding cables.
Cons
You may have stability issues if the speakers do not match.
Speaker stands buying guide
Desktop or floorstanding stands?
Desktop speaker stands are compact as they are meant to be placed on a desk, tabletop, or shelf, but the sound isolation is still great. Floor stands are usually made of a pole and platform to keep the speakers away from the vibrating materials. They are bulkier but result in better sound isolation.
Stand weight capacity
Some speakers are lightweight, while other heavy-duty options may be heavy. In this way, carefully consider the stand weight capacity to make sure the stand will handle the weight of the speaker itself. Otherwise, the stand may be easily knocked down because of stability issues.
Top plate
If you are interested in choosing a good speaker stand, you've got to carefully consider a top plate. A top plate is a platform where the speaker will rest on the stand. You can find steel and wood top plates. Steel tends to absorb resonance energy, so it is less likely to vibrate and cause sound distortion.
The top plate size also matters. It is a smart solution to pick the stand with a top size close or slightly bigger than your speakers.
Some stands feature rotating top platforms, which allow you to adjust where you want the sound to go to ensure every sound reaches your ear.
Feet and base construction
A well-built and solidly-constructed stand will add stability to the item and increase the quality of the sound by isolating speaker vibrations from the floor. A heavy base with wide feet will reduce bass distortion and vibrations.
You may come across several feet designs. There are feet with spikes, which are great for rooms with carpets. As spikes punch through the carpet, they ensure better stability of the stand. Stands with rubber pads on their feet are a smart choice for rooms with laminate, tile, or wood flooring.
Speaker stands height
When you browse through the speaker stand options, you've got to keep in mind that the speaker should stay at the level of your ears as you place it on the stand. Without following this simple recommendation, you risk losing the perception of higher frequencies. So, my strongest advice is to get the stand that allows placing your speaker right at your ear level.
Some stands have a custom height that can't be adopted to your listening needs or the environment. At the same time, there are adjustable speaker stands that enable you to change the height based on your requirements.
Cable management
Materials for speaker stands
The most popular material options for speaker stands are steel and wood, as they both provide excellent stability and durability.
Metal stands are most known for their durability and sturdiness. They are pricier than wood but deliver great vibration isolation properties (unless the stand is hollow inside – this might cause some sound distortions).
Wooden speaker stands are more sophisticated and are also stable. But similar to hollow metal stands, they are prone to vibrations.
Do speaker stands affect sound quality?
If you have a low-quality sound system with the cheapest speakers, do not expect that the speaker stand will make a huge difference in the playback quality.
But every audiophile will agree that a quality stand can become a great enhancement to the sophisticated audio system and significantly improve the listening experience.
Speaker stands are specially designed to bring the best out of your speakers. Since they lift the speakers and keep them away from vibrating materials, speaker stands eliminate vibrations, reduce early reflections, ensure the proper amount of treble, and let the sound reach listeners' ears for the utmost listening experience.
So, a speaker stand may have an impact on the quality of sound. If you want to check other ways of how the stand affects the listening experience, you are welcome to browse through a more detailed article on this subject matter.
What is the best height for speaker stands?
Since speaker stands should be at an approximate ear level, let me provide more detailed instructions on defining their perfect height.
Make sure the speaker's tweeter (the small speaker that delivers trebles) is on the ear level. Usually, it is nearly 37 inches from the floor, meaning that you may need a 24-26 inches-high stand to bring the speaker to the desired height.
FAQ
Should bookshelf speakers be at ear level?
This is a matter of personal preference, and there is no right or wrong answer. Some people prefer to have their bookshelf speakers at ear level to get the full effect of the sound. Others prefer to have them lower down so they don't block their view. Ultimately, it's up to you where you place your speakers.
How far should speakers be from TV?
There's no definitive answer to this question since it can vary depending on the size of your TV and the acoustics of your room. However, a general rule of thumb is to keep speakers about two to three feet away from your TV. This will help ensure that you get the best possible sound quality from your system. Additionally, be sure to keep your speakers at a similar height to your TV so that the sound is directed towards you and not above or below your viewing area.
How far apart should the front left and right speakers be?
The ideal spacing for your front, left, and right speakers will depend on the size of your room and where you're placing your TV. However, a good rule of thumb is to keep them about six to eight feet apart. This will ensure a well-balanced soundstage with plenty of depth and width. Additionally, be sure to angle the speakers towards your listening position for the best results.
How much does it cost to fill speaker stands?
The cost of filling speaker stands can vary depending on the type and size of the stands. However, a general rule of thumb is to budget about $20 per stand. This will give you enough material to fill the stands and provide a solid foundation for your speakers. Additionally, check the manufacturer's recommendations for the best way to fill the stands.
What kind of sand do you use for speaker stands?
The type of sand that you use for speaker stands is not as important as the size of the grains. However, make sure to use fine-grained sand so that it doesn't damage the finish on your speakers.