I have a personal affinity for Denon because my father was a longtime enthusiast who worked extensively with devices from this manufacturer and continuously searched for the best Denon receivers. Growing up, I had luck using top Denon receivers from their earliest models, even though, back then, I didn't realize much about how cool they actually were.
Denon has amassed a dedicated fan base over the years, and when I grew up, I was also drawn to the brand's consistent excellence in audio. This legacy of delivering impressive sound quality and performance has made Denon a top choice for audio enthusiasts, including myself. The brand continues to set the standard for home entertainment systems, and today's review is proof of it.
Our pick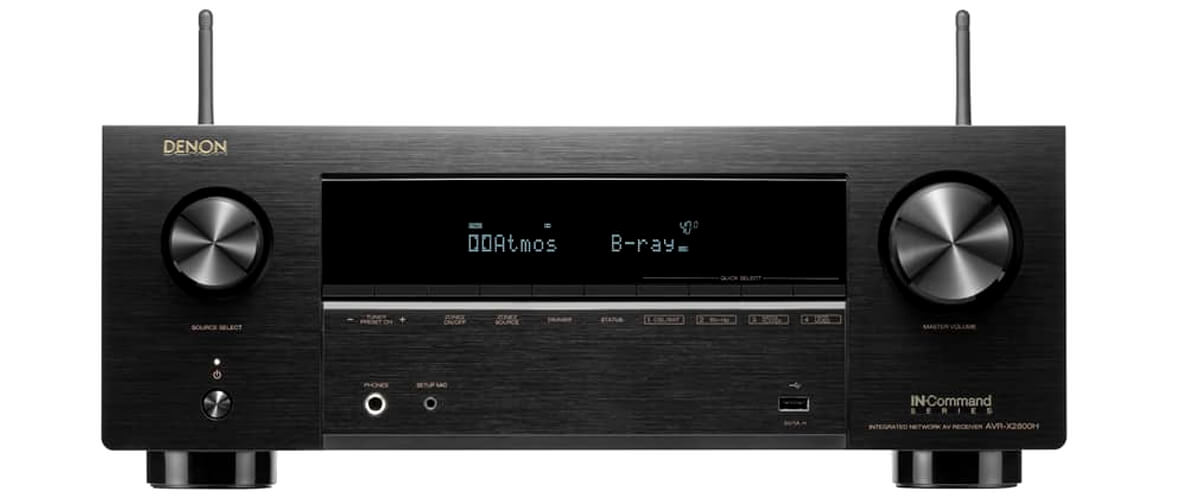 Denon AVR-X2800H
Best Denon receiver
Enjoy incredible 8K video and immersive 3D audio from the AVR X2800H. Fill your home theater with more refined sound from a 7.2 or 5.2.2 set up with Dolby Atmos and DTS:X. And with HEOS built-in.
Read the full review
.
Denon AV receivers comparison table
Name
Channels
Power output
HDMI in/out
Bluetooth/Wi-Fi
Review
Denon AVR-X2800H

best overall

7.2
95W/8 Ohm, 125W/6 Ohm
6/2
yes/yes
Review
Denon AVR-X6700H

premium

11.2
140W/8 Ohm, 175W/6 Ohm
8/3
yes/yes
Review
Denon AVR-S670H

budget

5.2
75W/8 Ohm, 100W/6 Ohm
6/1
yes/yes
Review
Denon AVR-X3800H

also great

9.4
105W/8 Ohm, 135W/6 Ohm
6/2
yes/yes
Review
Denon receivers history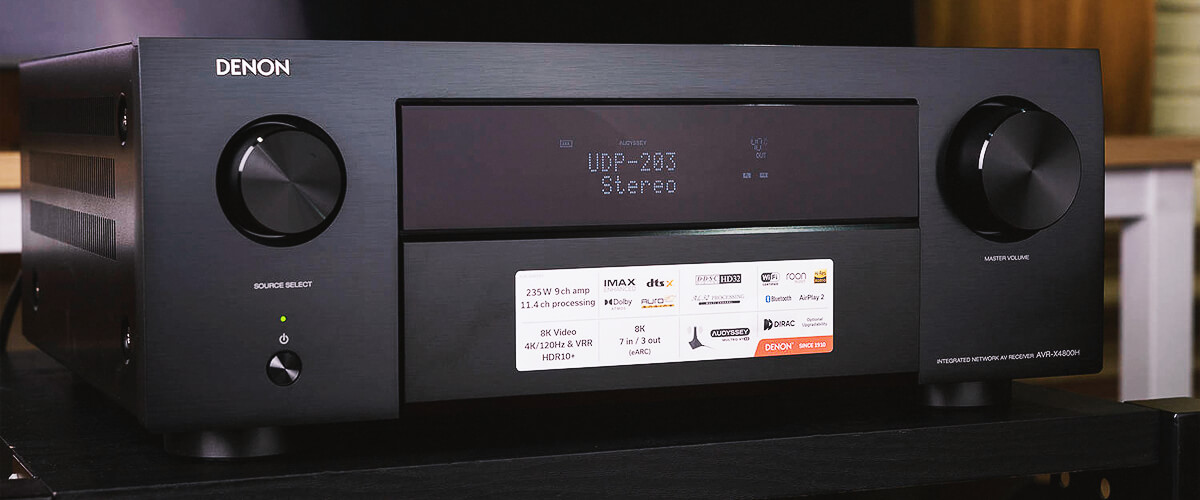 With a remarkable 110-year legacy, Denon has been a pioneer in the world of home audio. Its journey began in 1910, crafting single-sided recording discs and gramophones, eventually becoming Japan's first record company. Denon spearheaded audio revolutions throughout the decades, from LP records to digital CD technology and AV receivers.
They embraced professional audio equipment, such as tape recorders and disc recording machines, making their mark on history. Denon's commitment to innovation persists with high-resolution audio, 3D audio formats, and wireless sound systems, exemplified by the HEOS system.
In 2002, audio companies Denon and Marantz merged, sharing tech innovations. Denon's HEOS system now features in Marantz products, allowing seamless multi-room setups. Additionally, Audyssey room correction is standard in most Marantz home theatre receivers, enhancing audio quality. This synergy benefits audio enthusiasts, offering advanced tech and brand compatibility.
It wasn't surprising that Denon led the way in 8K AV receivers, launching the first 8K-ready models in 2020 with their X-Series and later introducing the AVR-S960H in the S-Series. In 2022, they raised the bar with seven more 8K AV receivers, firmly establishing their leadership in the field.
Yet, Denon didn't stop and announced a partnership with Dirac Live to enhance their AVRs and pre/pros in their Masters and Custom Install product lines. This collaboration likely aimed to integrate Dirac's advanced room correction technology into NAD's audio equipment, improving audio quality and providing a more immersive listening experience for their customers.
Why choose Denon?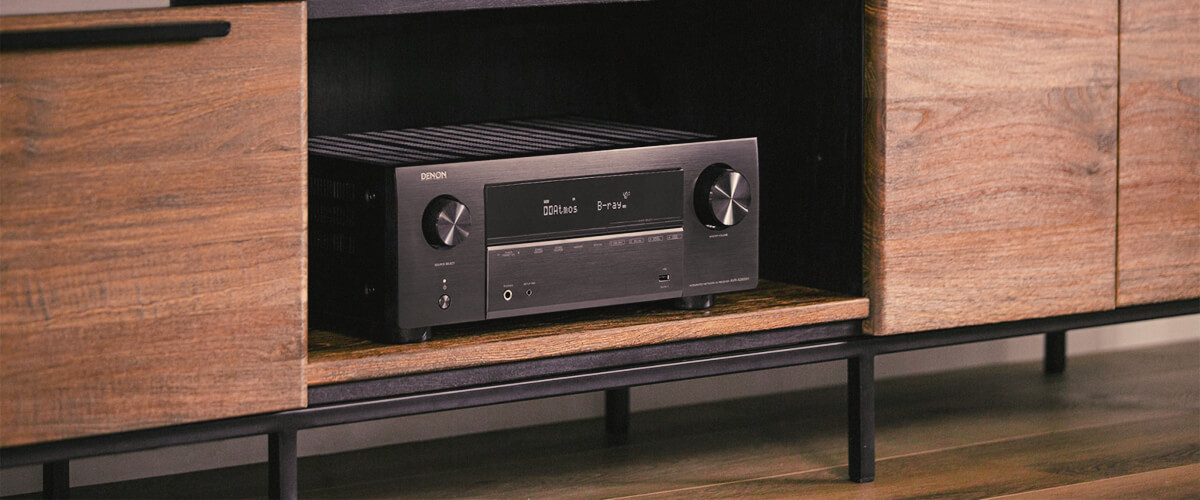 Denon AVRs stand out as the preferred choice for audio enthusiasts for several compelling reasons. First and foremost, Denon's commitment to building quality and design excellence is second to none. Their products are impeccably crafted and boast aesthetically pleasing designs that seamlessly blend with any home entertainment setup.
What I like most about them is that Denon consistently integrates innovative technology and features into their offerings. From being at the forefront of 8K AV receivers to their historic contributions to audio technology, Denon ensures that users experience cutting-edge advancements in their audiovisual journeys.
Denon's extensive and well-established reputation in the industry serves as a testament to its unwavering commitment to delivering exceptional audio experiences. With a history spanning over a century, Denon has consistently set industry standards and earned the trust of audiophiles worldwide.
Best Denon receivers reviews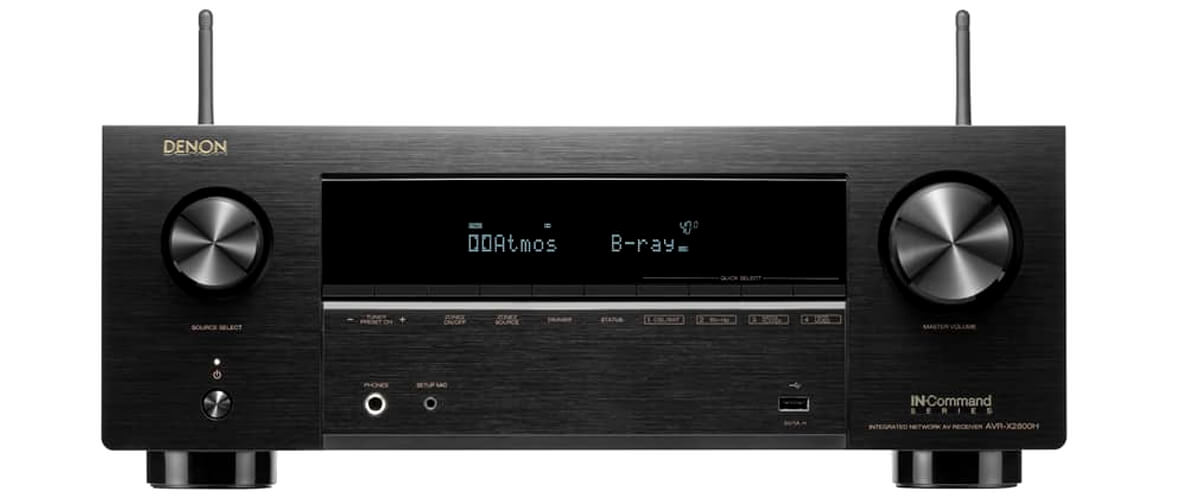 I always love to start my reviews with the most fabulous products. Thus, the AVR-X2800H is today's best Denon receiver. As a part of the brand's prestigious lineup, it offers a compelling mix of features, performance, and affordability.
With support for 7.2 channels of surround sound, Dolby Atmos, and DTS:X, the AVR-X2800H delivers an immersive audio experience. It has 95W of power per channel (8 Ohms, 20Hz – 20kHz, 2ch) and an impressively low THD of 0.06% (for a mid-range receiver). During my testing, I noted that the AVR-X2800H delivers clear sound, even at full power.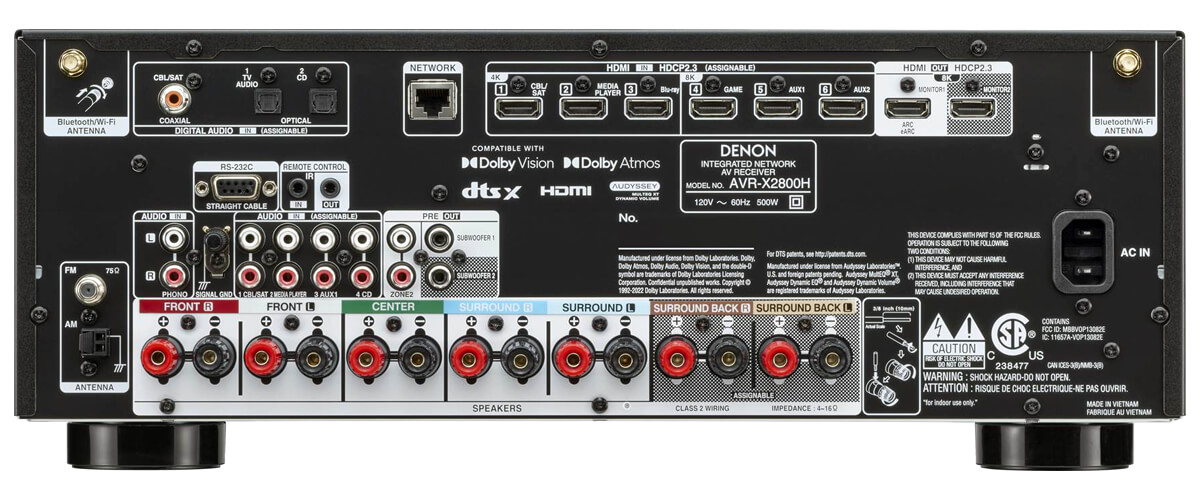 Equipped with 6 HDMI ports, this receiver supports 4K/120Hz, 8K/60Hz video, Dolby Vision, and HDR10+ formats, upscaling to 4K. It also features eArc, VRR, and ALLM support. While gaming with my kids, I checked those and enjoyed the process, especially their emotions created by the full immersion.
The extensive connectivity options include Wi-Fi, Bluetooth, and compatibility with the Denon HEOS ecosystem, which is a real gem when it functions well. I had several issues during my testing, as speakers occasionally dropped off. The user-friendly interface and seamless control from iOS devices, thanks to AirPlay 2 compatibility. The multi-room support for two zones and voice assistant compatibility make it convenient to operate. Yet sometimes, there is a feasible delay between my command and the action. It could be the issue with my Wi-Fi, but everything else worked great.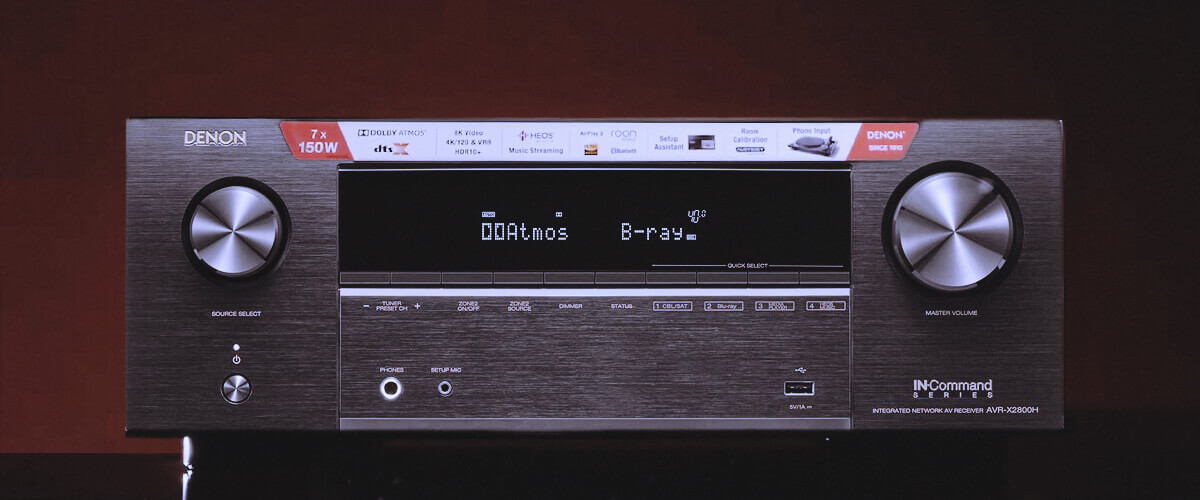 Where the Denon AVR-X2800H truly shines is in the realm of sound. This surround sound receiver boasts Dolby Atmos Height Virtualization, and of course, it's not real, but it is capable of recreating the atmosphere. In turn, the CINEMA DSP 3D system enhances the audio quality, especially during sports broadcasts and concerts.
The Compressed Music Enhancer works like magic, restoring my kids' mp3 audio to its almost original brilliance. Compare it directly with the uncompressed — not everyone will see the difference. I did, but a very faint one. Finally, this receiver caters to music enthusiasts with support for Hi-Res Audio and a built-in FM tuner. The extensive customization options allow you to fine-tune your audio perfectly if you know what you are doing, of course.
In conclusion, the Denon AVR-X2800H is a superb choice for those seeking an affordable, high-quality AVR. Its exceptional price, quality, and functionality make it the best Denon AV receiver for the most popular modern entertainment setups.
Key specs
Channels: 7.2.
Power output: 95W/8 Ohm, 125W/6 Ohm.
HDMI inputs/outputs: 6/2.
Video functions: 8K/60Hz, 4K/120Hz pass-through, upscaling to 8K.
Bluetooth/Wi-Fi: yes/yes.
Streaming services: AirPlay 2, Spotify, TuneIn, Deezer, Tidal, Netflix, Amazon Prime.
Supports: HDMI ARC, HDMI eARC, HDMI CEC, HDCP2.3, HDR10+, HLG, Dolby Vision.
Surround sound: DTS:X, DTS Neural:X, DTS Virtual:X, Dolby Atmos, Dolby Atmos Height Virtualization, DTS HD Master, Dolby TrueHD, Multichannel Stereo.
Pros
Robust, detailed, and stable sound quality.
Extensive connectivity options.
Dolby Atmos Height Virtualization for immersive sound.
Does an awesome job with audio restoration.
Cons
Occasional delays when controlling the app.
HEOS speakers may require several reconnections to work well.
Denon AVR-X6700H – premium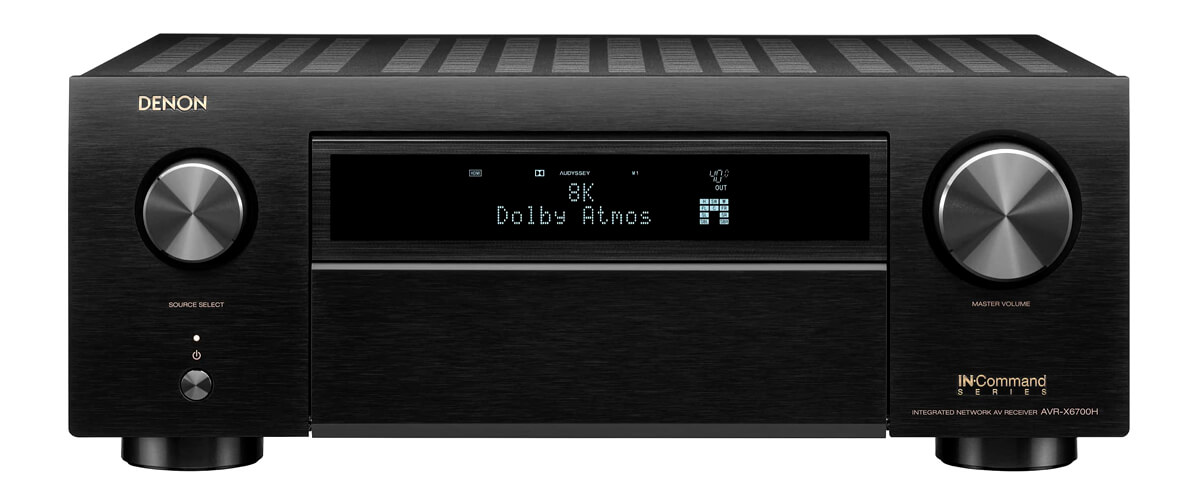 For this review, I used the opportunity to explore the AVR-X6700H. This is a premium Denon AV receiver; despite this, I still place it in second place. Denon pays much attention to their receivers' design. But, I brought this unit to this review not because of the design. It wouldn't catch my attention, judging only by its look, if I didn't know what I was dealing with.
Its formidable power output of 140 watts per channel caught my attention immediately. That's huge, especially considering the number of supported channels. Yet, it contains a little problem — when driving all 11 channels, with 2 subs, the receiver is very demanding in terms of proper placement to prevent overheating. Personally, I don't feel like using it maxed out to its limits all the time. You see, this puts the receiver in a pretty risky position, requiring it to function at the edge of its capacity, potentially shortening its lifespan.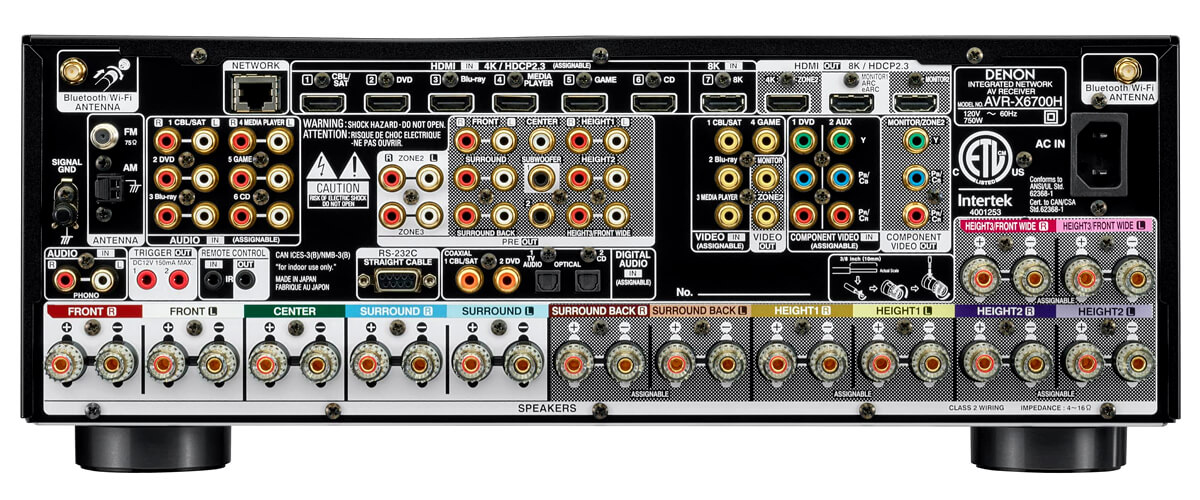 Similarly to the X2800H, the AVR-X6700H offers support for 8K Ultra HD and 3D audio, and it does it in style. Everything I threw at it — gaming, movies, even the older ones was spectacular. Surely, HEOS compatibility is another thing that significantly boosts convenience, but the cheaper models also have it.
Regarding connectivity, the AVR-X6700H doesn't disappoint and beats the AVR-X2800H in almost every aspect. With 8 HDMI inputs, it provides so much room for various devices. Honestly, I didn't find so many of those to fill all the inputs, but the possibility is there, and that's good. Plus, it supports advanced HDMI specifications such as 8K/60Hz and 4K/120Hz pass-through. Considering that it is a premium product, you won't feel short of the technologies in it. It's a future-proof choice, at least for the next 2-3 years.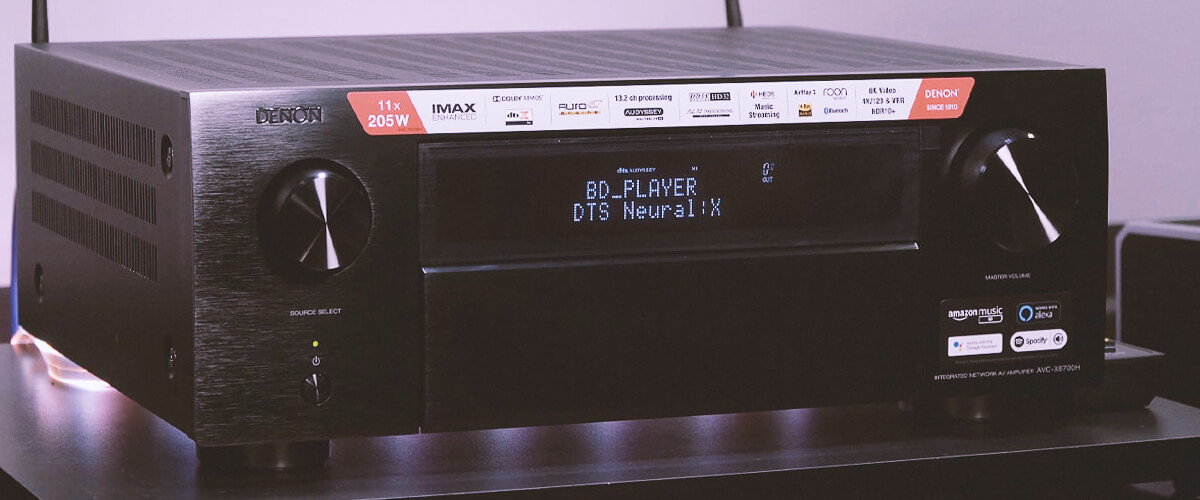 With this product, Denon has gone the extra mile to ensure pristine sound quality. The list of supported sound technologies is huge and pretty boring to be listed here. From what I experienced, when using the X2800H for a week and then switching to the AVR-X6700H for another, you don't feel much of an improvement. Yet, the difference is there when you switch between those instantly — not the easiest thing to do, though. With direct comparison, I honestly prefer the sound of AVR-X6700H in movies, music, and games.
So, is this a bad product? No way on Earth. It's actually a very, very good one. My point here is that if you have the actual 11.2 speaker system at your place – go for it. You won't regret it. Just make sure you let it cool itself properly and enjoy the ride. In other cases, I would pick the AVR-X2800H. Yep, it doesn't support THAT many speakers and features, but the simulation of the ceiling ones is there, and the sound quality is pretty much the same.
Key specs
Channels: 11.2.
Power output: 140W/8 Ohm, 175W/6 Ohm.
HDMI inputs/outputs: 8/3.
Video functions: 8K/60Hz, 4K/60Hz, 4K/120Hz, upscaling to 8K.
Bluetooth/Wi-Fi: yes/yes.
Streaming services: AirPlay 2, Spotify, TuneIn, Deezer, Tidal, Netflix, Amazon Prime.
Supports: HDMI ARC, HDMI eARC, HDMI CEC, HDCP2.3, HDR10+, Dolby Vision.
Surround sound: DTS:X, DTS Neural:X, DTS:X Pro, DTS HD Master, Dolby Atmos, Dolby TrueHD, Dolby Atmos Height Virtualization, Dolby Surround, Auro 3D.
Pros
Power is there, and it is huge.
Future-proofed set of technologies.
11.2 channels of clear and pristine sound.
Most excellent Sound and Audio quality in this review.
Cons
Builds up lots of heat when pushed to its limit.
Offers an improvement in sound and video quality, but it isn't worth the price difference.
Denon AVR-S670H – budget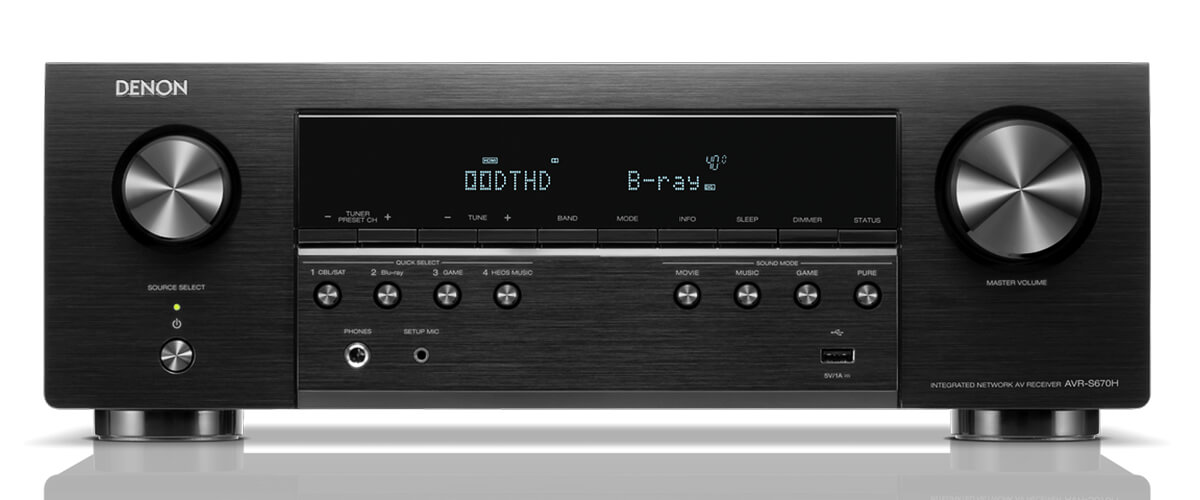 Quite often, I hear my friends saying "budget receiver" as if buying something on a budget necessarily means getting some rocked-up piece of equipment that barely functions. I have brought the Denon AVR-S670H to this review to prove this concept wrong. This receiver has a lot to say to all the quality sound lovers, and my job is to deliver this shouter to everyone.
Despite being simple, with only 5.2 channels and offering 75W of power, the Denon AVR-S670H keeps the capacity to deliver an immersive home theater experience. I was assumed to know that its video capabilities include support of 8K video. The clarity and precision of high resolution are there. Additionally, the receiver gives a true surround sound experience; just don't rely on the Audyssey Room Correction to set it right.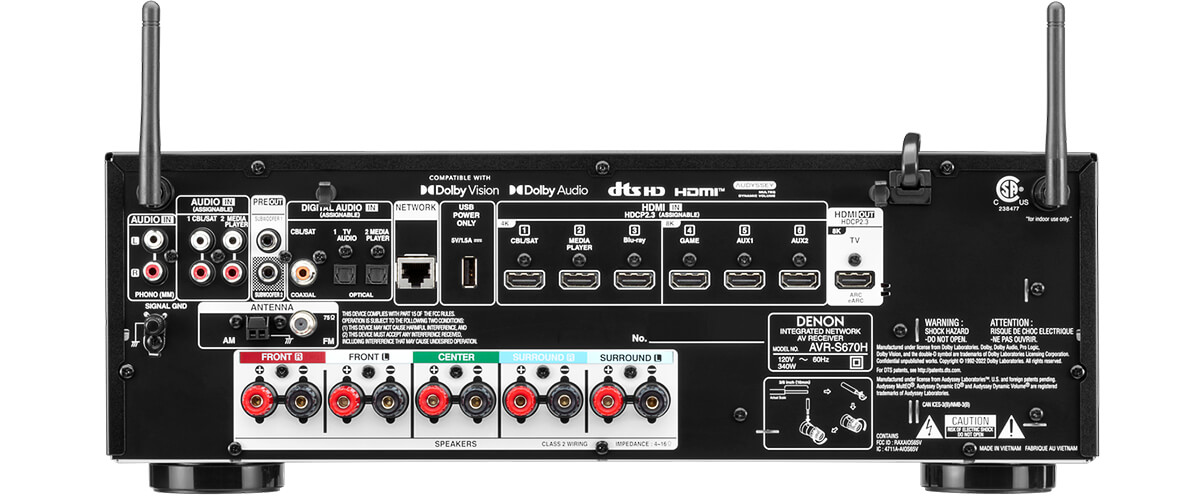 Surely, after a 12.2-channel receiver, this 5.2-channel model looks pretty pale. Yet, it is perfectly capable of driving any modern 5.2-channel setup. The receiver features 6 HDMI inputs, and only 3 of those support 8K. The other 3 work with 4K content. Another interesting aspect is that I don't recommend using long cables with it because the signal tends to drop off from time to time. These HDMIs are supplemented by the legacy inputs and two subwoofer terminals. Generally, the 5.2 system only requires a little space and works well in small-medium rooms. And with this set of inputs, the unit will easily cover any need. It did, in my case, no problem.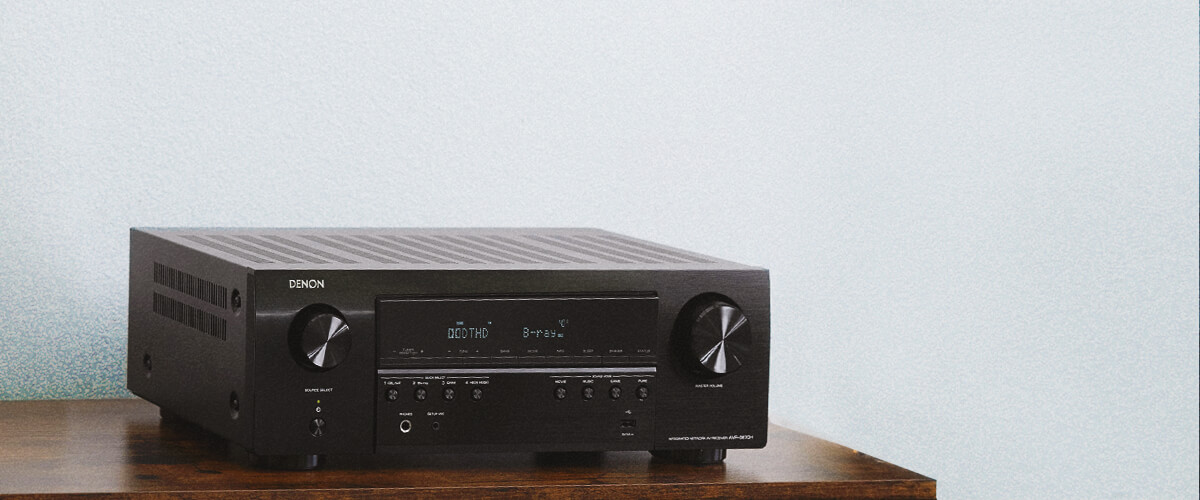 On the sound side, the receiver supports Dolby TrueHD and DTS-HD. It allows the unit to praise the ear with high-fidelity surround playback. Typically, for my tests, I do gaming, movies, and videos. Competitive games sound very similar to more advanced models. This changes with the story-oriented ones and movies. A 5.2 channel limitation doesn't allow it to deliver the same level of immersiveness as the more advanced models. Still, the sound quality is clear, joyful, and vibrant.
The AVR-S670H is not a top-of-a-line product, but it gives way more than just working. Wi-Fi, Bluetooth, Radio, and rich connectivity options are here. Do you have a 5.2 channel setup in your place and are looking for a modern receiver? The S670H is the one to go, as it will drive your setup easily, delivering quality sound at a very fair price. Judging by the schematics, the receiver shares the same electronic components with the other models while missing most of the stuff needed for advanced technologies and additional power. So, the reliability is there.
Key specs
Channels: 5.2.
Power output: 75W/8 Ohm, 100W/6 Ohm.
HDMI inputs/outputs: 6/1.
Video functions: 8K/60Hz, 4K/60Hz, 4K/120Hz, upscaling to 8K.
Bluetooth/Wi-Fi: yes/yes.
Streaming services: AirPlay 2, Spotify, TuneIn, Deezer, Tidal, Netflix, Amazon Prime.
Supports: HDMI ARC, HDMI eARC, HDMI CEC, HDCP2.3, HDR10+, Dolby Vision.
Surround sound: DTS HD Master, DTS Neo:6, Dolby TrueHD, Dolby ProLogic Il.
Pros
Very high build quality in its budget.
Support of 8K content and limited surround sound support.
Low power consumption.
Cons
The auto room correction feature requires manual adjustments.
HDMI lags with long cables.
Denon AVR-X3800H – also great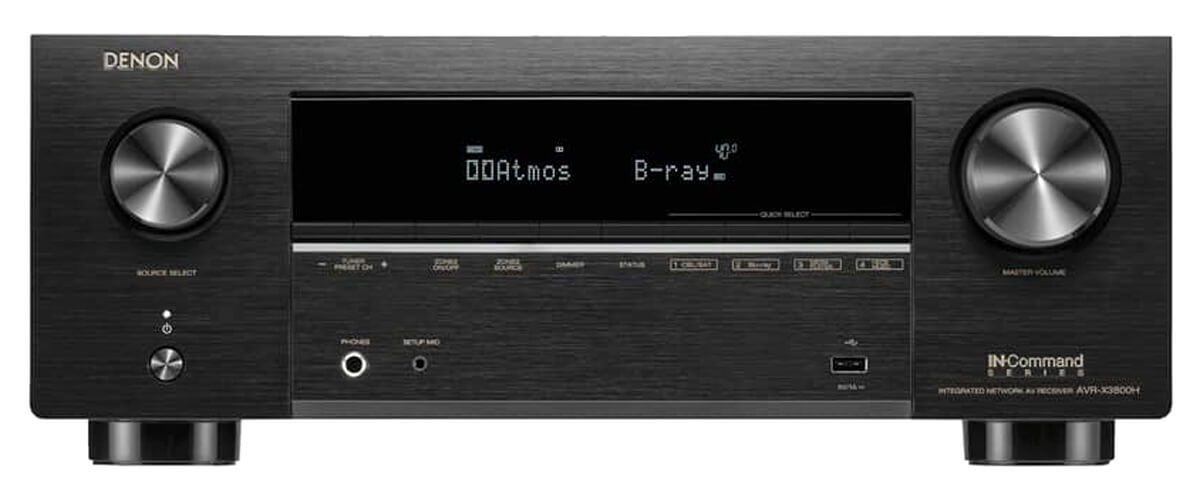 I decided to close this review with another awesome unit from Denon's receiver lineup. This time, it is a 9.4-channel receiver — the Denon AVR-X3800H stands as a compelling option for 9-channel entertainment setups.
The AVR-X3800H boasts a high-performance 9-channel amplifier with discrete high-current amplifiers, delivering up to 105 watts per channel. Truly, it's not a groundbreaking number, and you can find more powerful receivers in this review. In terms of features, this model pretty much resembles the AVR-X6700H. Thus, it offers 3D Audio, including Dolby Atmos, DTS:X, IMAX Enhanced, Auro 3D, and other less popular technologies.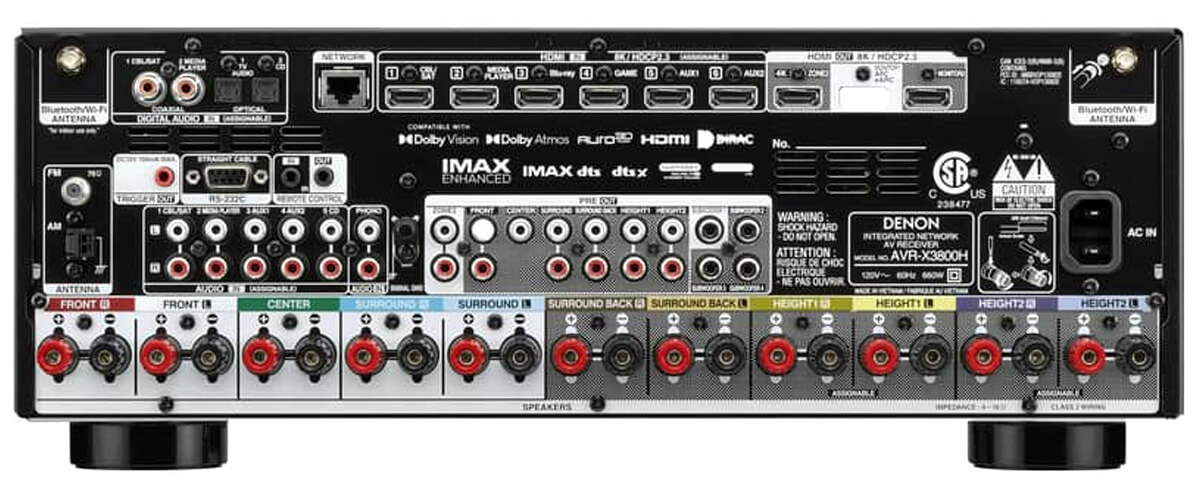 After testing it for less than a week, I can conclude that this receiver gets every sound faithfully reproduced for a theater-quality experience, leaving my kids in awe. In my opinion, the AVR-X2800H, AVR-X6700H, and the AVR-X3800H stand very close in terms of sound — they all offer quality Denon's brand sound. The prime difference between them is the number of supported channels. And the AVR-X3800H is less prone to overheating than the maxed-out AVR-X6700H.
I ran games in 4K and tested movies in 8K Ultra HD resolution. Action movies, the latest(honestly pretty weak) Marvel movies I watched with kids, the older "Eternal Sunshine of the Spotless Mind" my wife and I enjoyed together. Regardless of whether I was streaming it, using the USB drive or my PC — the visual experience was second to none. Plus, the AVR-X3800H supports up to four independent subwoofers, and this is something beyond typical.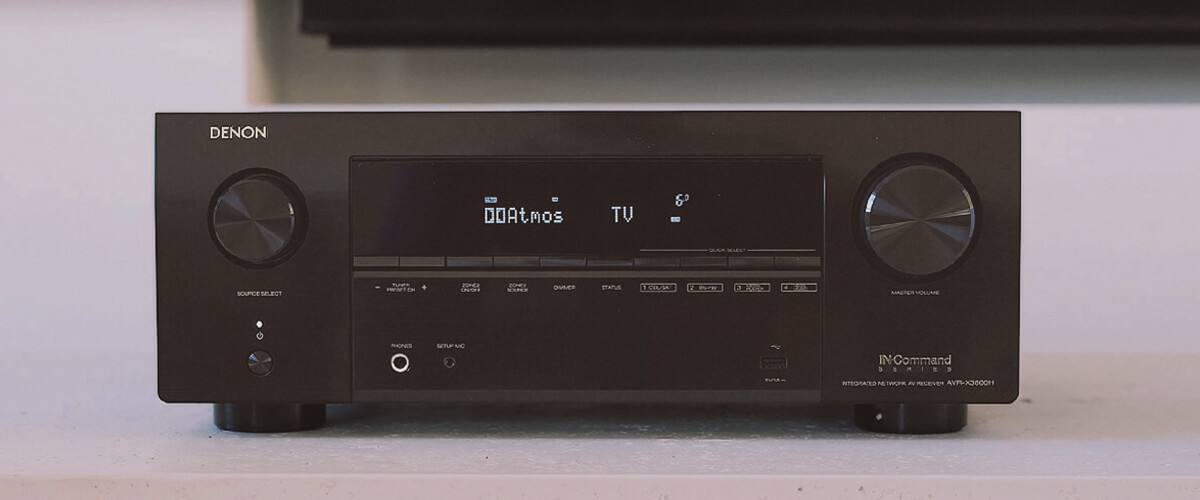 With the Dirac Live Ready technology, setting the device is pretty easy. Yet, in this case, it truly shined. I wish it always worked like that, allowing me to get the receiver up and running quickly. At the same time, one needs to have a certain experience to find their way through a witty menu overloaded with features.
To wrap things up, the Denon AVR-X3800H is a great receiver, capable of delivering a captivating audio and visual experience. It has rich connectivity capabilities and allows the creation of awesome multiroom setups with 4 subwoofers.
Key specs
Channels: 9.4.
Power output: 105W/8 Ohm, 135W/6 Ohm.
HDMI inputs/outputs: 6/3.
Video functions: 4K/120Hz, 8K/60Hz pass-through, upscales video signals to HD and Ultra HD (up to 8K).
Bluetooth/Wi-Fi: yes/yes.
Streaming services: AirPlay 2, Pandora, Spotify, Napster, SiriusXM, TIDAL, Deezer, Qobuz, Amazon Music.
Supports: HDMI ARC, HDMI eARC, HDCP2.3, HDR10, HLG, HDR10+, Dynamic HDR, Dolby Vision.
Surround sound: DTS HD Master, DTS:X, DTS Neural:X, DTS Virtual:X, Dolby TrueHD, Dolby Atmos, Dolby Atmos Height Virtualization, Dolby Atmos Music, Dolby Surround, IMAX Enhanced, Auro 3D.
Pros
The automatic setup software works very well.
4 Subwoofer ports.
Less prone to overheating.
Cons
Practically shares the same real power consumption with the AVR-X6700H.
Overwhelming menu with plenty of features.
FAQ
What is the difference between Denon's X-Series and S-Series?
Denon's X-Series and S-Series receivers cater to different needs. The X-Series, denoted by models like the AVR-X3700H, offers higher-end features like advanced room calibration, more powerful amplification, and enhanced audio processing. They are ideal for home theater enthusiasts seeking premium audio and features.
On the other hand, the S-Series, such as the AVR-S960H, provides excellent performance for the price. These models include features like 4K video support, multiple HDMI inputs, and network connectivity, making them a great choice for those looking for a balance between performance and affordability.
How often does Denon release new receiver models?
Denon typically updates its receiver lineup annually. These updates incorporate the latest technological advancements, including support for new audio and video formats, improved streaming capabilities, and enhanced user interfaces.
Can I use speakers from another brand with my Denon receiver?
Sure. Denon receivers are designed to be compatible with a wide range of speaker brands. However, it's essential to ensure that the speakers you choose match the
receiver's power output
and impedance specifications for optimal performance.
Can I control my Denon receiver using a smartphone or tablet?
Yes, you can. Denon launched a dedicated app such as the "Denon AVR Remote" for both iOS and Android devices. You can also use your smartphone or tablet to stream music to the receiver.
Is there a significant difference between Denon and Marantz receivers?
While Denon and Marantz both belong to the Sound United group and share some technologies, they have distinct sound and design ideas. Denon is known for their powerful, dynamic sound and feature-rich options, making them popular for home theater setups. Marantz, on the other hand, is recognized for its warm, musical sound and premium build quality, often preferred by audiophiles.