In the world of audiovisual entertainment, Yamaha is a brand with a rich history. Not only the best Yamaha receivers have captured the hearts of many over the years, but also budget models of this manufacturer have found their fans.
Since my father was a staunch Denon fan during my childhood, when my time finally came, I decided to get my first AV receiver from Yamaha. Surely, back then, for me, it was all about arranging a little rebellion and trying new things. So, I picked Yamaha just because it wasn't Denon, and I heard about them from the ads. Yet, this risky venture created a lasting connection between me and Yamaha's products. Today, I am going to share with you the little adventure that I ventured into while searching for the best Yamaha receiver.
Our pick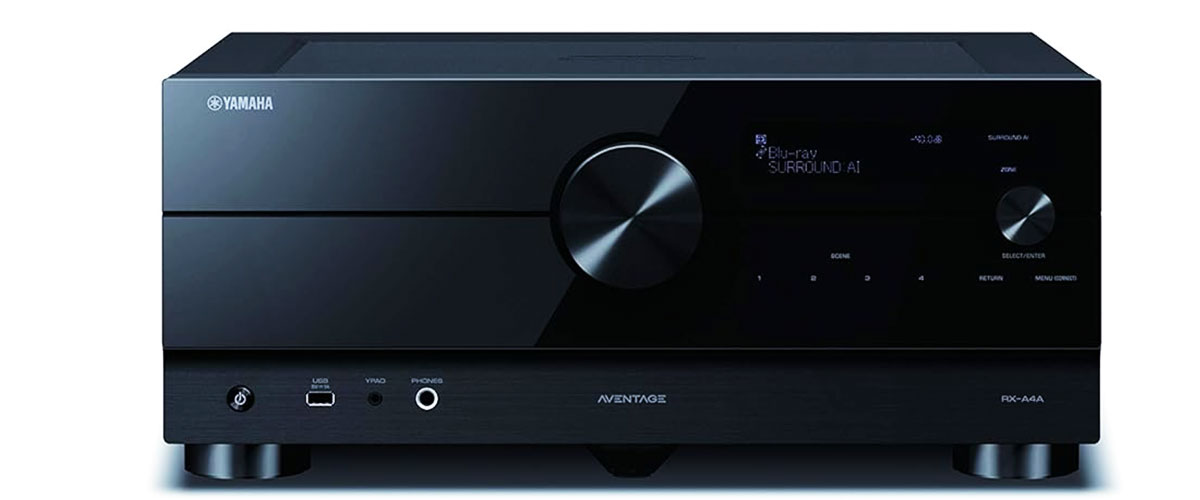 Yamaha RX-A4A
Best Yamaha receiver
The A4A delivers realistic sound and video that transports you out of your home and into your favorite movie. Whether you're watching, listening or gaming, you'll feel completely immersed.
Read the full review
.
Yamaha receivers comparison table
Name
Channels
Power output
HDMI in/out
Bluetooth/Wi-Fi
Review
Yamaha RX-A4A

best overall

7.1
110W/8 Ohm
7/3
yes/yes
Review
Yamaha RX-V4A

budget

5.2
80W/6 Ohm
4/1
yes/yes
Review
Yamaha RX-A8A

premium

11.2
150W/8 Ohm
7/3
yes/yes
Review
Yamaha RX-A6A

also great

9.2
150W/8 Ohm
7/3
yes/yes
Review
Yamaha receivers history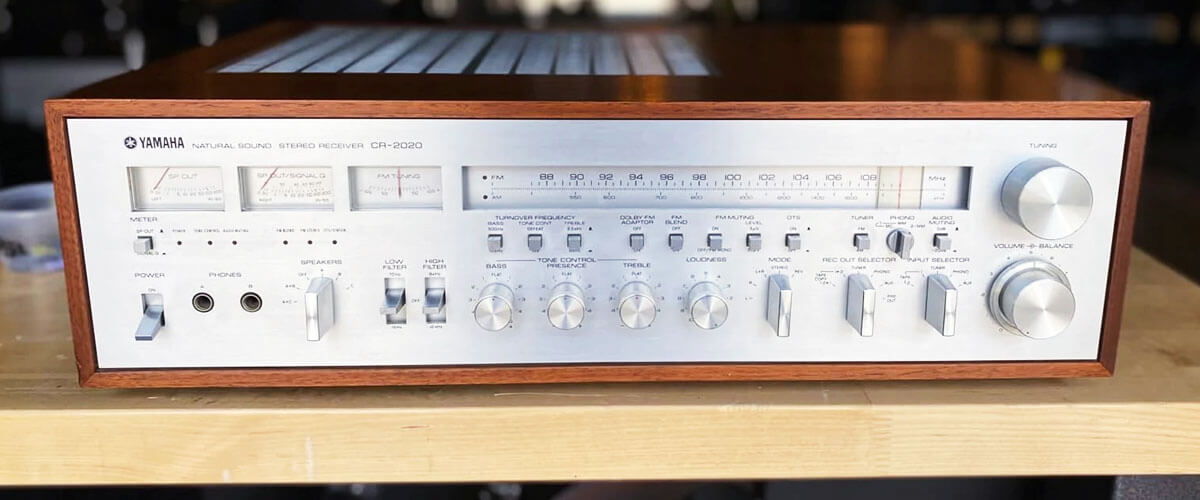 Firstly, let's dig up their history for a bit to see what made, makes, and will be making them tick.
In the mid-1980s, the surge in stereo TV broadcasts paved the way for home theater systems, drawing Yamaha into this evolving field. The late 1980s and 1990s brought a notable transformation with Dolby Surround, spurring the integration of surround sound hardware in home theaters. Yamaha, known for its pioneering spirit, introduced the YSS203 digital surround decoder, a significant enhancement for lifelike surround sound in their receivers.
Yamaha's commitment to innovation continued in 1993 with CINEMA DSP, revolutionizing surround sound to replicate the premium movie theater experience. In 1997, Dolby Digital introduced 5.1 channels and significantly improved audio quality, solidifying Yamaha's reputation for exceptional sound.
By 2003, Yamaha introduced the Yamaha Parametric Room Acoustic Optimizer, automating room calibration for enhanced sound quality. Embracing the digital age, Yamaha integrated HDMI into their receivers, providing digital HD video switching and up-conversion to meet the high-definition content demand.
Post-2008, the industry shifted towards separate components like preamplifiers and amplifiers, aligning with Yamaha's commitment to flexibility and innovation. In 2010, the AVENTAGE line of receivers was introduced, marking a fresh start in receiver design with unlimited potential.
Continuing to adapt, Yamaha incorporated technologies like Dolby Atmos, DTS:X, and MusicCast, ushering in a new era of surround sound and streaming capabilities. Yamaha's innovative spirit reached new heights with Surround: AI. To conclude, Yamaha has always been keeping up with time, and in some cases, even the trendsetter.
Why choose Yamaha?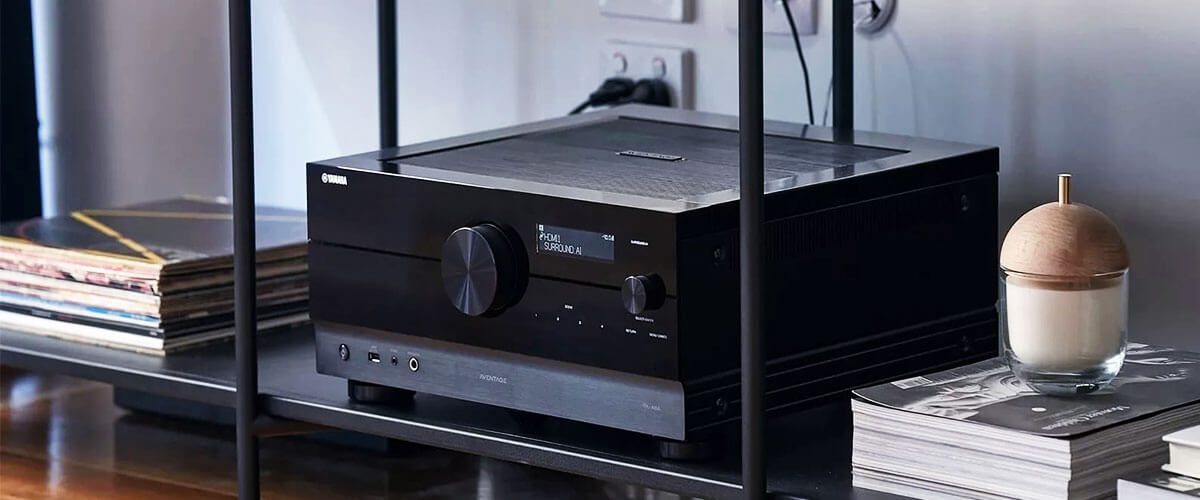 Yamaha earned my trust as one of the top choices for surround sound receivers for 3 main compelling reasons.
With a long-standing reputation for reliability and a legacy of quality products, Yamaha's track record speaks for itself, assuring a lasting and dependable investment.
What truly sets Yamaha apart is its commitment to technological innovation, which I have highlighted while discussing its history in the previous section. Today, when you opt for Yamaha, you embrace cutting-edge technology that enhances home entertainment. Sound quality remains at the core of Yamaha's mission.
Yamaha's product range spans various price points, ensuring value for money regardless of your budget. In today's review, I look at receivers of various prices, proving that there is always some Yamaha AV receiver that would suit your needs, regardless of what you are going to demand from it.
Best Yamaha receivers reviews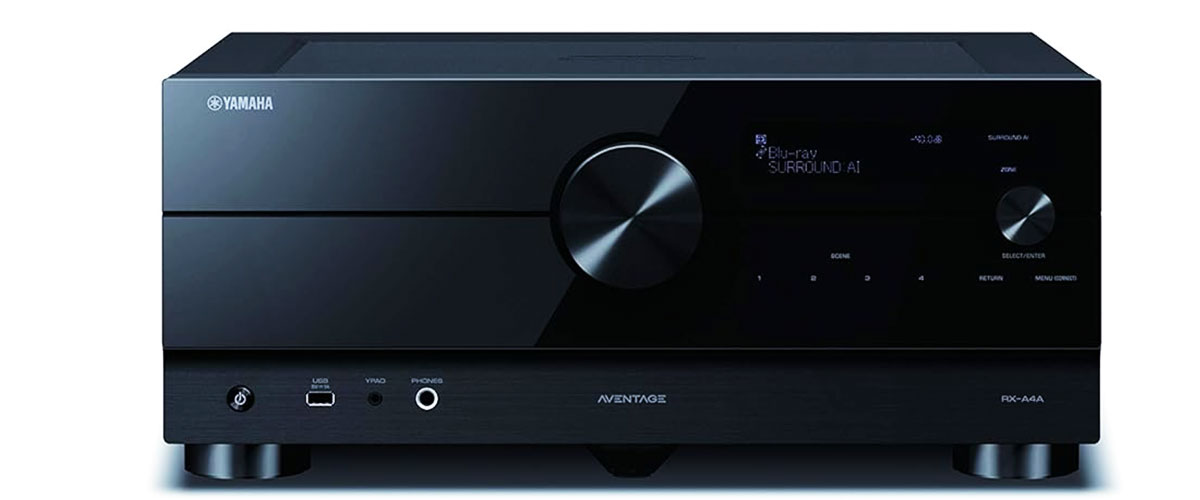 So, we start with the most exciting part of the review – today's best Yamaha AV receiver. The Yamaha RX-A4A AVENTAGE 7.2-channel AV offers a rich set of specifications. Yet, it is the combination of price, quality, and those specs that make this receiver the gateway to an exceptional audio and video journey.
In my case, the journey started with movies. Firstly, I lost myself in the menu when I wanted to adjust the receiver's settings. An unexpectedly witty menu for me can be a true nightmare for someone with no experience with AV receivers. Surely, it is not the coolest beginning, but it is what it is.
Instead of browsing the weird menu, I decided to switch to movies, and this was when the receiver sparkled like a gem. Considering this is a 7.2 unit armed with 110 Watts of power, the support of Dolby Atmos and DTS: X is common for its class, but it is all about how this receiver handles the capabilities offered by these technologies. Combine the modern surround sound with typical Yamaha cold and crystal clear sound – I got real goosebumps. Needless to say, the support of 4K/120 Hz and 8K/60 Hz made sure that all of my content was displayed with the maximum possible for my system and content source's quality.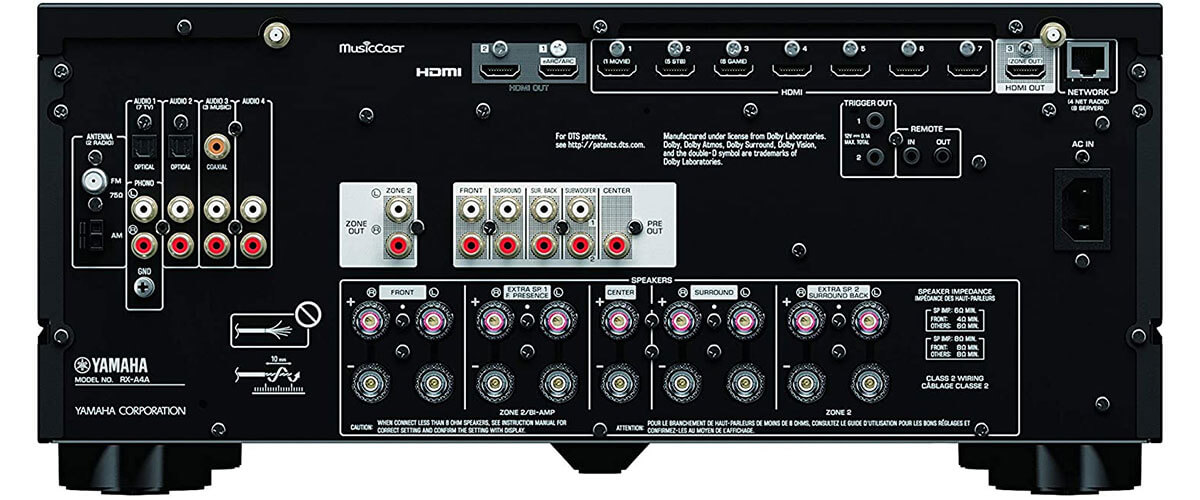 Things get even more interesting when it comes to horror, both movies and gaming. The RX-A4A delivers a cold metallic sound, which adds 100 points to the atmosphere. Want more? That's how I felt when I decided to play Alan Wake 2 using this receiver and Holly Molly – this AVR does a perfect job with precise sound placement. Here is what I say – good luck trying to understand whether that creaking floorboard sound behind your left shoulder is a darkness-born enemy creeping to get you or just a sound effect carefully placed by the developers. At least, I always clearly hear the location of where it comes from.
ALLM and VRR are there for next to zero input lag for those interested in competitive gaming. So, the RX-A4A can serve well for competitive gaming, but I prefer to use it with movies or story-oriented games, as this is where it truly rocks.
On the multiroom side, I was testing the nerve of my family with the Zone 2 feature and MusicCast support. Everyone settled down when I arranged 3 separate rooms with independent sound sources. My wife and I finally got our hands on The Revenant while two of our kids were separately watching some superhero TV series and cartoons in different rooms. It is a capable unit. However, if you want full-scale surround sound, then use the main room, and MusicCast works perfectly for music.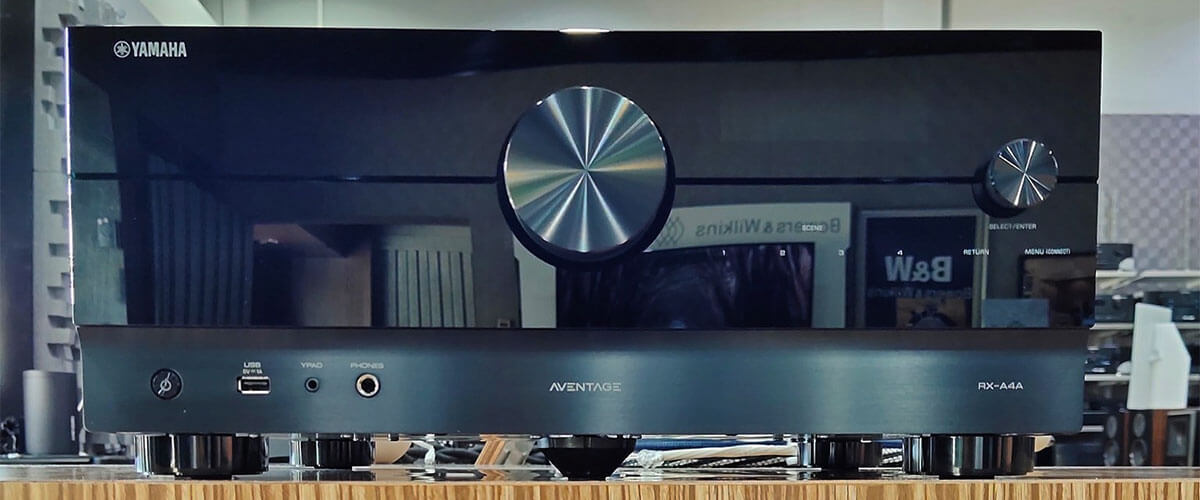 As I have said, there are models, even in this review, that offer more channels and technologies. But there is hardly a Yamaha receiver model available on the market that gives such a great combination of top-tier technical specifications, price, quality, and personal anecdotes of memorable experiences.
Key specs
Channels: 7.1.
Power output: 110W/8 Ohm.
HDMI inputs/outputs: 7/3.
Video functions: 8K/60Hz, 4K/120Hz, 4K/60Hz.
Bluetooth/Wi-Fi: yes/yes.
Streaming services: Pandora, Spotify, Napster, SiriusXM, TIDAL, Deezer, Qobuz, Amazon Music HD.
Supports: HDMI eARC, HDMI Upscaling up to 8K, HDMI Audio Return Channel, HDMI Up-conversion, HDR 10+, Dolby Vision.
Surround sound: Dolby TrueHD, Dolby Digital Plus, DTS:X, DTS-HD Master Audio, Auro 3D.
Pros
Nicely built chassis with reliability in mind.
MusicCast app works seamlessly.
Stunning Yamaha 7.2 sound and precise object placement.
Cons
The menu looks outdated and overflown with features.
Yamaha RX-V4A – budget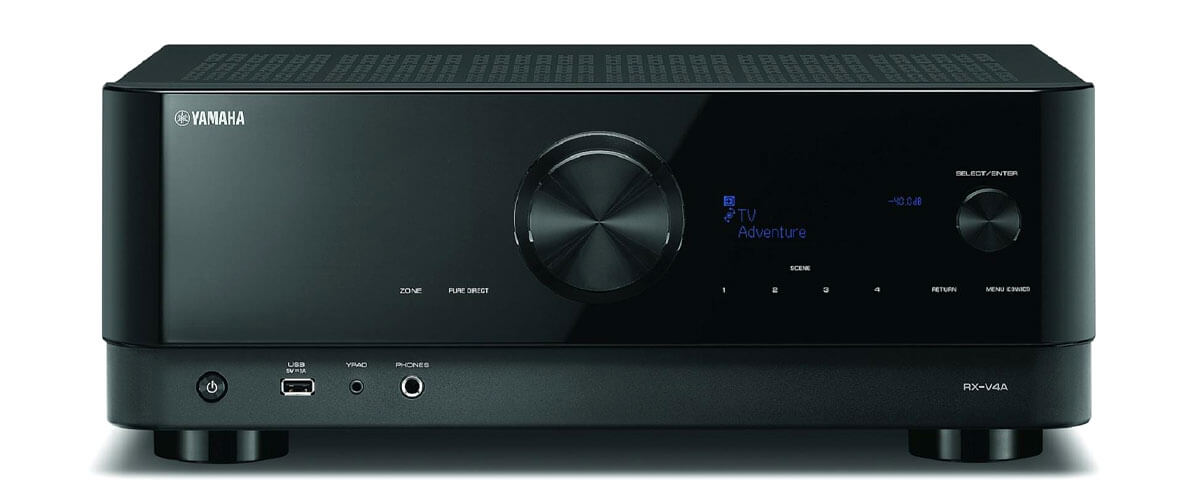 Okay, here is the thing: if you are staying here and willing to learn more about Yamaha's receivers I have collected for you, you need to be very attentive to their model names. I guess Yamaha puts all the effort into making the models interesting and completely forgets about convenient naming. You will get used to that, but it takes time. In this part, we discuss the V4A – their most interesting budget receiver.
So, starting small, it offers 5.2 channels with 80 watts with 8 ohm speakers. Doesn't it look that impressive after the RX-A4A? The experienced receiver lovers, or just those who commonly visit my blog, already know why 80 watts of power is pretty enough for this unit – it is a 5.2-channel model aimed at small and medium-sized rooms.
Still, there is a fly in the ointment. I felt so restricted with the HDMI inputs and outputs number 4 and 1, respectively. Okay, call me a grumpy, but that's NOT ENOUGH. I always run testing in movies, gaming, and music, and I indeed tortured that single HDMI out port to test the unit on all my screens. My typical usage when I have the receiver connected to the TV and my gaming monitor simultaneously is impossible here.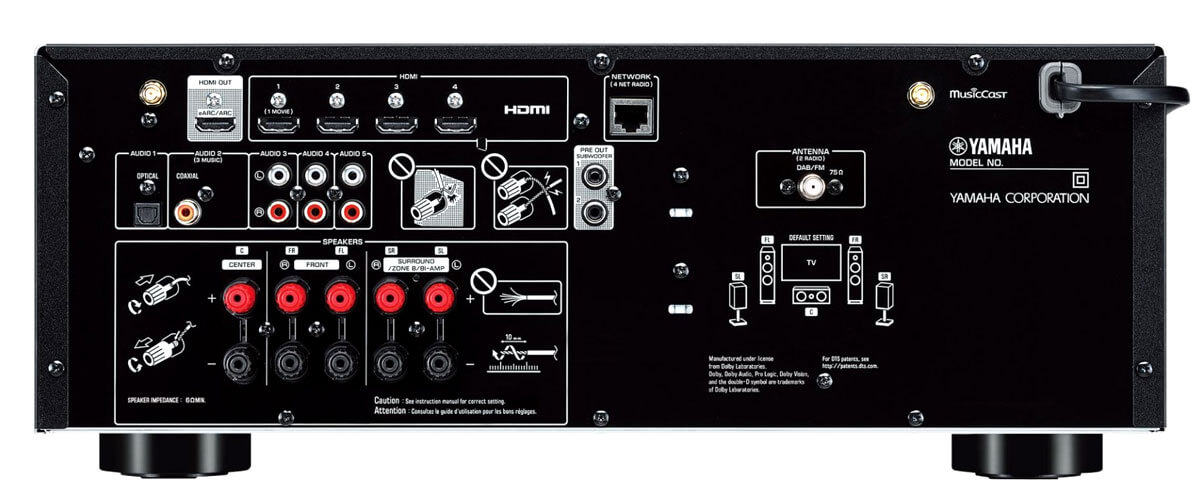 You see, I know the ropes in the AV receiver industry. If you are making your first steps in the industry, using a single screen and building a starter home entertainment system, a single HDMI port is far from the issue for you. You plug it in once and forget it for 2-3 years. But here is what makes the RX-V4A so interesting and capable: 8K and 4K. Do those numbers ring any bells? Yep, this unit supports the same resolutions and screen refresh rates as the RX-A4A, which is HUGE!
It gives you exactly what you think – almost the same video quality as the RX-A4A (you will see the difference only when directly comparing the video quality from receivers). The movies are clear and very enjoyable. Surely, there is no point in comparing the 5.2 setups with the 7.2 channel sound, but the RX-V4A, while doing a poorer job with object placing (obviously), still delivers Yamaha classic crystal clear and cold sound.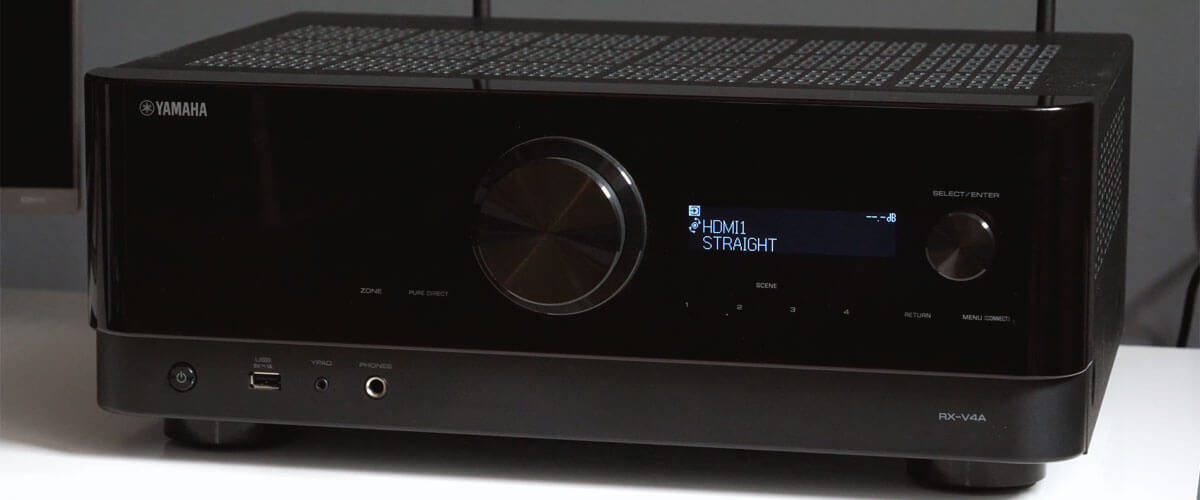 The detailed dialogues of criminal dramas, stunning soundtracks of superheroic or epic movies, and creepy noises from horrors were there, right around me. Surprisingly, the YPAO works way better with the 5.2 channel system than the 7.2 one. My opinion on that product is that it is a perfect budget Yamaha receiver to get your hands on the surround sound and build the home entertainment hideout around it.
Key specs
Channels: 5.2.
Power output: 80W/6 Ohm.
HDMI inputs/outputs: 4/1.
Video functions: 4K/60Hz, 4K/120Hz, 8K/60Hz pass-through, upscales HD video signals to 4K Ultra HD.
Bluetooth/Wi-Fi: yes/yes.
Streaming services: AirPlay 2, Pandora, Spotify, Napster, SiriusXM, TIDAL, Deezer, Qobuz, Amazon Music, MusicCast.
Suppots: HDMI ARC, HDMI eARC, HDMI CEC, HDCP2.3, HDR10, HDR10+, Dolby Vision.
Surround sound: DTS HD Master, Dolby TrueHD, Dolby Digital Plus, Cinema DSP.
Pros
YPAO does an excellent job at room calibration.
Supports 8K.
Even this budget model has sound at a fairly decent level.
Cons
4 HDMI inputs and a single output leave only so much space for expanding.
Yamaha RX-A8A – premium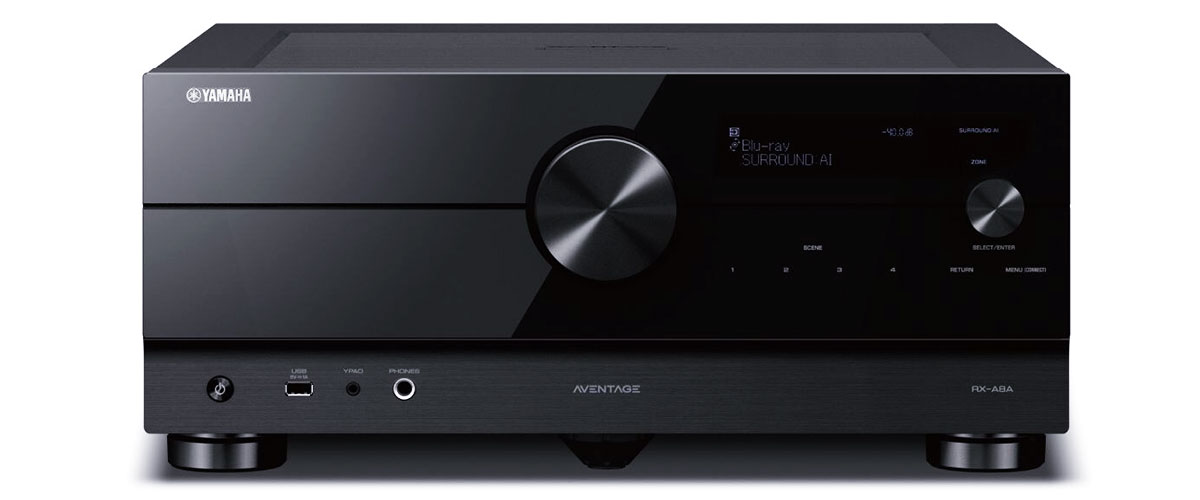 The time has come to look at the absolute beast of today's review – the RX-A8A, an 11.2-channel monster. Want me to compare it to the RX-A4A? Okay, here we go:
The RX-A8A offers a more extensive channel configuration, making it suitable for larger and more complex home theater setups.
150 Watts vs. 110 Watts – add a little more power, which will be 50% more.
Auro-3D onboard and obviously a far more flexible multiroom capability.
Do you feel tired of the technical specs already? Yeah, me too. I didn't mention that the RX-A8A offers a modern and powerful DAC module, but let's keep it that way, or this review is going to be boring as hell.
I've just realized something, something that I wasn't meant to do. As the AV receiver lover who wants my reader to get quality units, I made a silent vow to put the Yamaha RX-A4A on top because it deserves it. So, I named it the coolest Yamaha home theater receiver in today's review. But I realized right now that I am also the one who mocks it while reviewing the RX-A8A. So, let's take a look at the similarities between these two.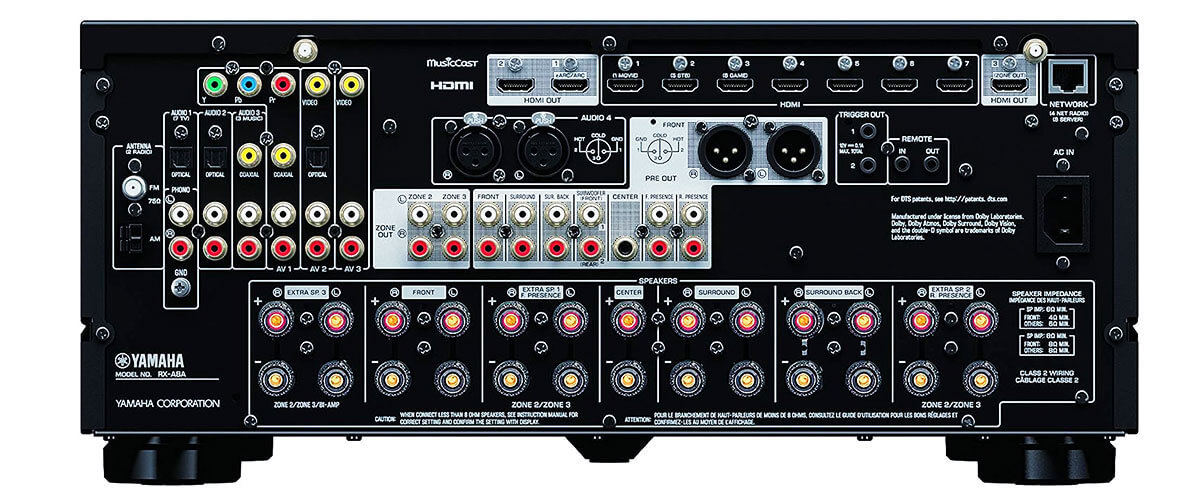 Both receivers offer 4K and 8K HDMI, HDR10+, Dolby Vision, HDCP 2.3, and eARC (7 in/3 out).
They offer extensive steaming capabilities, though the RX-A8A also has balanced XLR support.
Talking about the video quality, you will see that the RX-A8A offers a slightly more detailed picture than the RX-A4A.
On the sound side, the difference is obvious: 11.2 channels offer more preciseness in object placing and offer a way more readable surround sound. Yet, both units stick to the Yamaha typical sound, showing the brand's consistency within all price ranges.
You may have thought, if the RX-A8A surpasses today's choice almost in every instance, why is it not on top? You see, when you need a car to work, you get something that works and allows you to get the job done – the RX-V4A or a Honda Civic does the job and allows you to try how owning a receiver feels.
The RX-A4A is the Ford Taurus, as it does the same and far more than the RX-V4A, but does it in style. Finally, the RX-A8A is an Audi A8 – a masterpiece on the road that mainly focuses on pure emotions rather than performance or getting the job done. Considering Yamaha's funny naming, I probably should have given this comparison with cars a bit earlier. But let it be for those who stick around with me and read my reviews to the last word.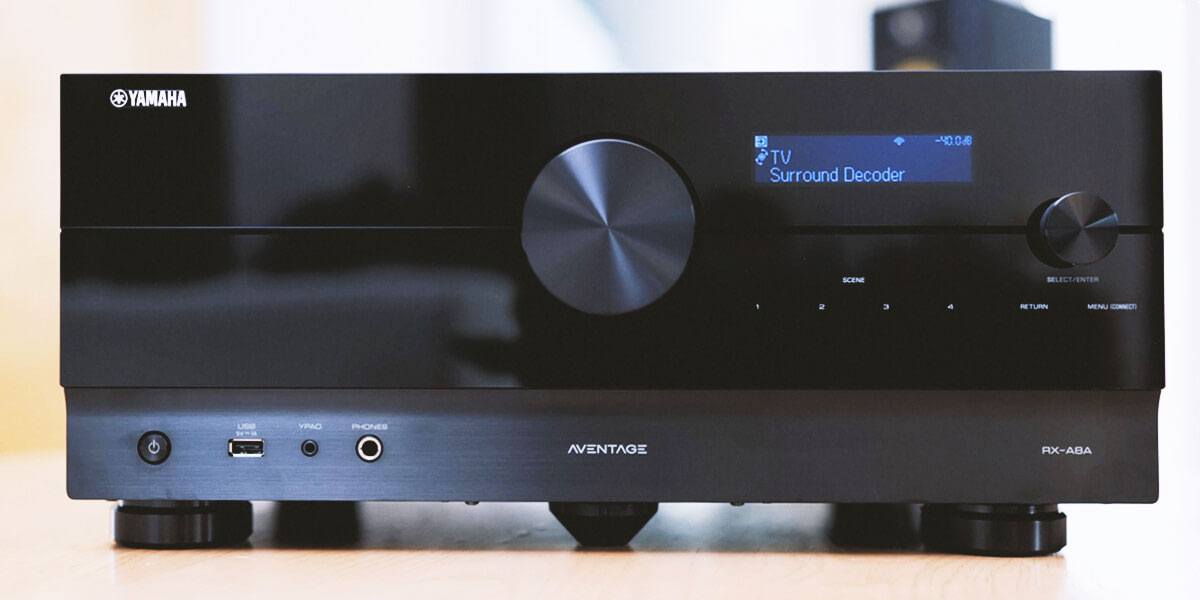 Here is what I say: the RX-A8A is all about emotion. Sometimes, it makes you feel right back into your childhood with this "wow" feeling so many of us lose when growing up. But here is the thing: not everyone can feel it. You need to be in love with the sound for it. Therefore, if you want quality for your money, go for RX-A4A. But if the words you see here touched your heart, and you found yourself nodding when reading about the emotion I was saying, then definitely pick the RX-A8A.
Key specs
Channels: 11.2.
Power output: 150W/8 Ohm.
HDMI inputs/outputs: 7/3.
Video functions: 8K/60Hz, 4K/120Hz, upscaling up to 8K.
Bluetooth/Wi-Fi: yes/yes.
Streaming services: AirPlay 2, Spotify, TuneIn, Deezer, Tidal, Netflix, Amazon Prime.
Suppots: HDMI ARC, HDMI eARC, HDMI CEC, HDCP2.3, HDR10+, Dolby Vision.
Surround sound: DTS:X, DTS Virtual:X, Dolby Atmos, DTS HD Master, Dolby TrueHD, Auro 3D.
Pros
3P product – Premium class, premium quality, premium performance.
Incredibly versatile and multi-functional.
Outperforms (some more than others, some less than others) the other models in my review in all specifications.
Cons
Power-thirsty even in the eco mode.
It gets pretty hot.
To get such a "toy," you will have to pay a lot of money.
Yamaha RX-A6A – also great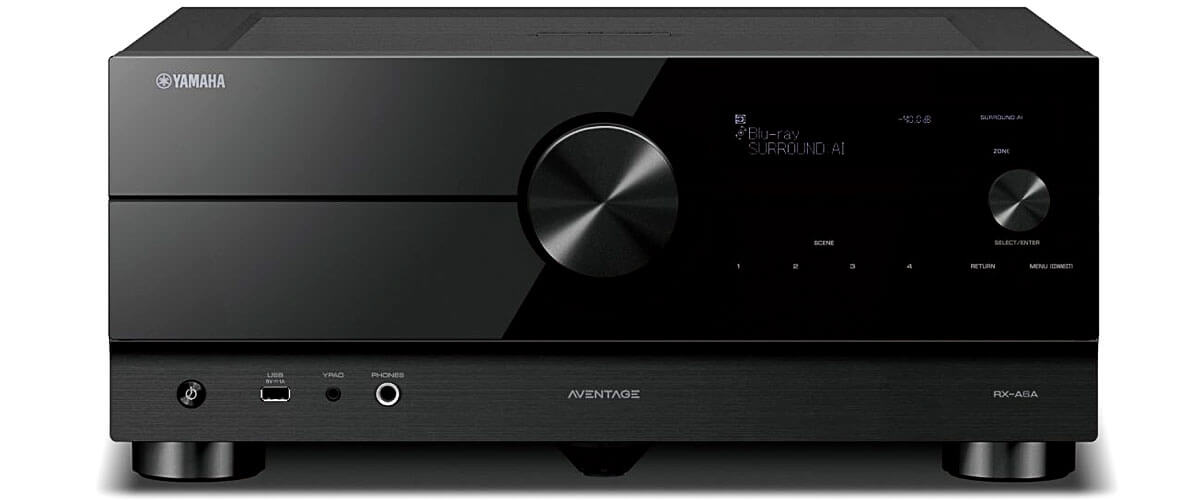 Let's look at the main Ford Taurus competitor in today's market – the Chevrolet Impala. Alright-alright, here I am talking about the RX-A6A. Just don't tell me I am the only one who doesn't like the Yamaha Aventage lineup naming. It truly gets better with only the middle number changing, though the RX-V4A falls off from this, as here they change the letter instead of the number. Oh God, Yamaha, why?
So, let's not waste any moment more for my complaints and instead dig into the RX-A6A because this receiver is the middle ground between the RX-A4A and RX-A8A (in this particular case, the naming is our friend). It is a 9.2-channel receiver with 150 watts of pure power. Similarly to the RX-A8A, it packs many technologies, resulting in awesome video and sound quality.
The first on my list was "Spider-Man: No Way Home." — something to watch with kids. As the dream superhero worlds unfolded, the Yamaha RX-A6A delivered with remarkable precision. It was a surreal experience for my kiddos, and the receiver's signature sound was evident — cold, neutral, crystal, and metallic. The subtle nuances in the soundtrack were there for us to enjoy.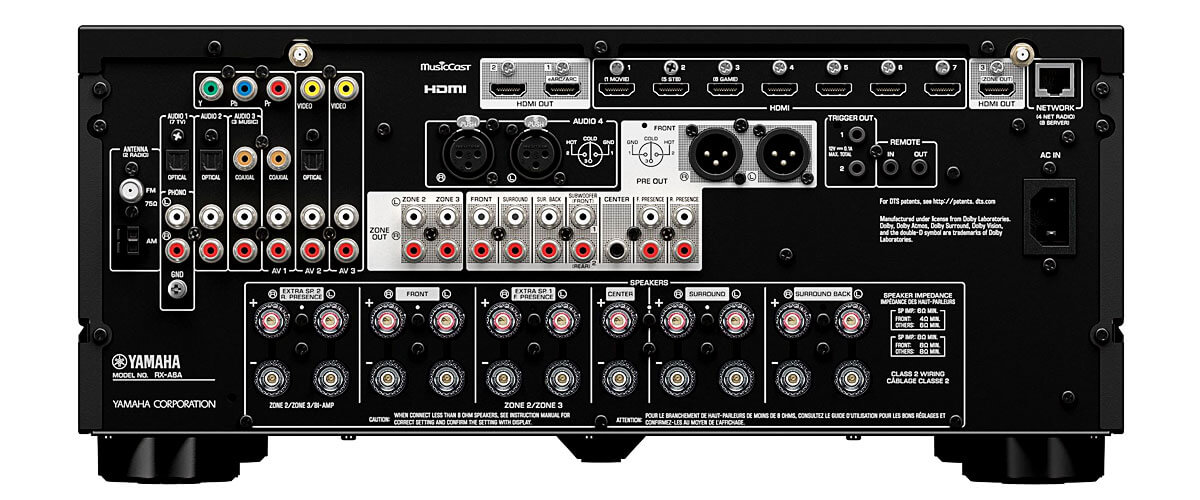 Next up was "Dune." The only thing that kept my wife and me from our phones was our conversation about the sound quality. For a moment, it seemed that she started to share my second lifelong passion – AV Receivers and great sound (Obviously, she is the first one, and yes, I know that you are reading this, dear. You are looking so fantastic today).
But let's get back to the world of receivers. So, the Yamaha RX-A8A's power output truly shone here – the receiver's ability to maintain a neutral and crystal-clear sound was one thing that allowed us to enjoy instead of falling asleep. HDR10+ was another, as the extensive dynamic range created fantastic views for us.
So, finally, here comes something that I watched alone, primarily focusing on the sound. Also, this was the day when I had the RX-A6A working for more than 8 hours straight. As a result, it went into an emergency shutdown. When touching the upper panel, the receiver felt as if I could get my most loved fried monster fingers for this Halloween right on top of it. Anyway, the eerie and ethereal soundtrack blended seamlessly with the chilling vastness of space. It was an emotional rollercoaster, and the receiver delivered each moment with a sense of cold realism.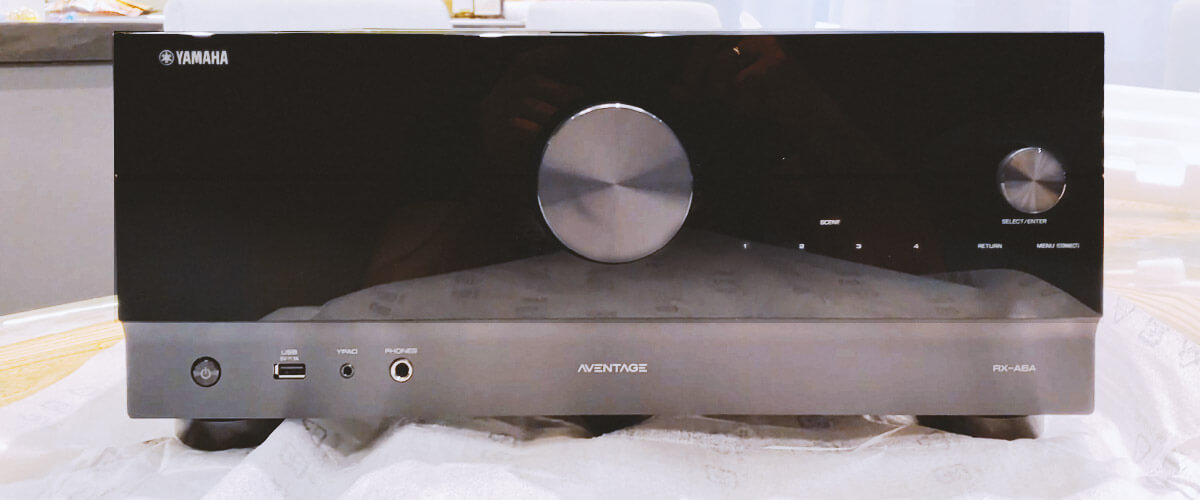 The RX-A6A is a stunning unit packed full of technologies. Sadly, my heart doesn't allow me to name it the top AV receiver from Yamaha. It gives quality and features, but you will only get to them (or even need them) after you grow experience with AV receivers. Even then, you may realize you paid for things you never use. Thus, the RX-A4A is still on top. It gives real quality, similar to the RX-A6A, but does so at a much lower price.
Key specs
Channels: 9.2.
Power output: 150W/8 Ohm.
HDMI inputs/outputs: 7/3.
Video functions: 8K/60Hz, 4K/60Hz, 4K/120Hz, HDMI upscaling up to 8K.
Bluetooth/Wi-Fi: yes/yes.
Streaming services: AirPlay 2, Spotify, TuneIn, Deezer, Tidal, Netflix, Amazon Prime.
Supports: HDMI ARC, HDMI eARC, HDMI CEC, HDCP2.3, HDR10+, Dolby Vision.
Surround sound: DTS HD Master, DTS:X, Dolby Atmos, Dolby TrueHD, Dolby Height Virtualization, Dolby Surround, Auro 3D.
Pros
Packed up full of features and technologies.
Offers impressive dynamic range and picture quality.
Excellent detailed sound.
Cons
Overheats and may even shut during a prorogued usage.
Not beginner-friendly configuration.
FAQ
Can Yamaha receivers be integrated into a multi-room audio system?
Yes, Yamaha receivers are designed with versatility in mind, and many models offer multi-room audio capabilities. They feature multiple, allowing you to create a seamless, whole-home audio experience.
How does Yamaha's YPAO room calibration work?
Yamaha's Parametric Room Acoustic Optimizer analyzes the acoustic properties of your space and adjusts various audio parameters, such as speaker levels, distances, and equalization, to provide the finest possible sound. From my experience, YPAO is a pretty effective tool for improving audio quality and room acoustics. However, there is always something you can tune yourself to make it even better.
What is the lifespan of a typical Yamaha receiver?
The lifespan of any receiver can vary depending on usage and maintenance. With proper care and in a standard home theater setup, a Yamaha receiver can last for many years. I had my Yamaha receiver to serve me well for a decade, and then I just finally stopped using it, even though it remains fully functional.