With a rich history, Marantz has garnered a devoted fan community thanks to its unwavering commitment to delivering receivers renowned for their exceptional performance and sound quality. Today, I am sharing my review of the best Marantz receivers in several budget categories. Marantz always piqued my interest in reviewing because their receivers can always bring joy and pleasure.
Over the years, this brand has consistently set high standards in the industry, earning the loyalty and admiration of countless enthusiasts who appreciate the superior audio experience provided by their receivers. In this review, we explore the culmination of their expertise, seeking to uncover the features and innovations that have solidified their place in the hearts of audio aficionados worldwide.
Our pick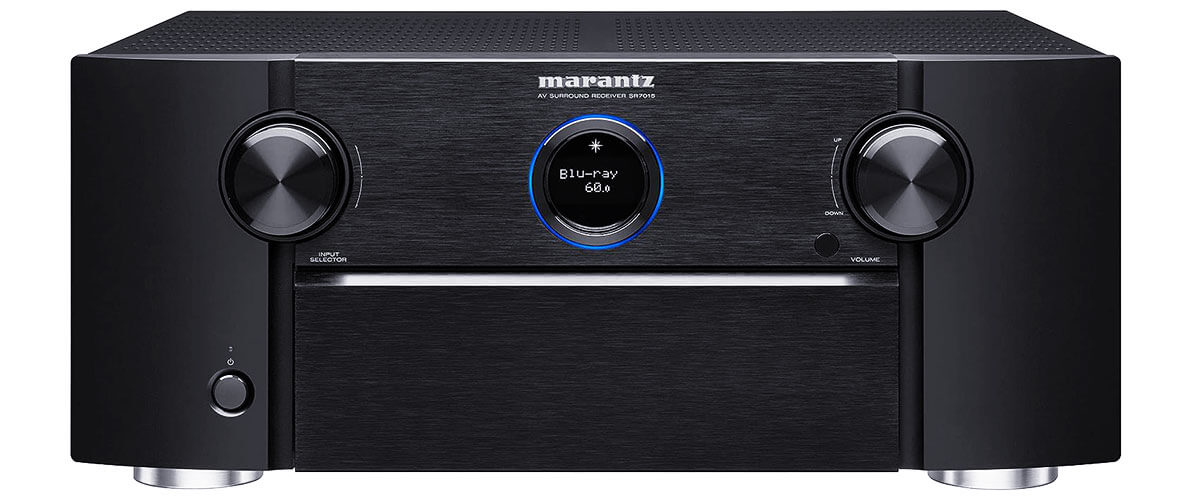 Marantz SR7015
Best Marantz receiver
With masterful 8K HDMI upscaling, advanced technologies like HDR10, HDR10+, Dynamic HDR, QMS, VRR & ALLM, this 9.2 channel (125W x 9) amp delivers extraordinary visuals for a cinematic experience.
Read the full review
.
Marantz receivers comparison table
Name
Channels
Power output
HDMI in/out
Bluetooth/Wi-Fi
Review
Marantz SR7015

best overall

9.2
125W/8 Ohm, 165W/6 Ohm
8/2
yes/yes
Review
Marantz NR1510

budget

5.2
50W/8 Ohm, 60W/6 Ohm
6/1
yes/yes
Review
Marantz CINEMA 40

premium

9.4
125W/8 Ohm, 165W/6 Ohm
7/2
yes/yes
Review
Marantz CINEMA 70s
7.2
50W/8 Ohm, 70W/6 Ohm
6/1
yes/yes
Review
Marantz receivers history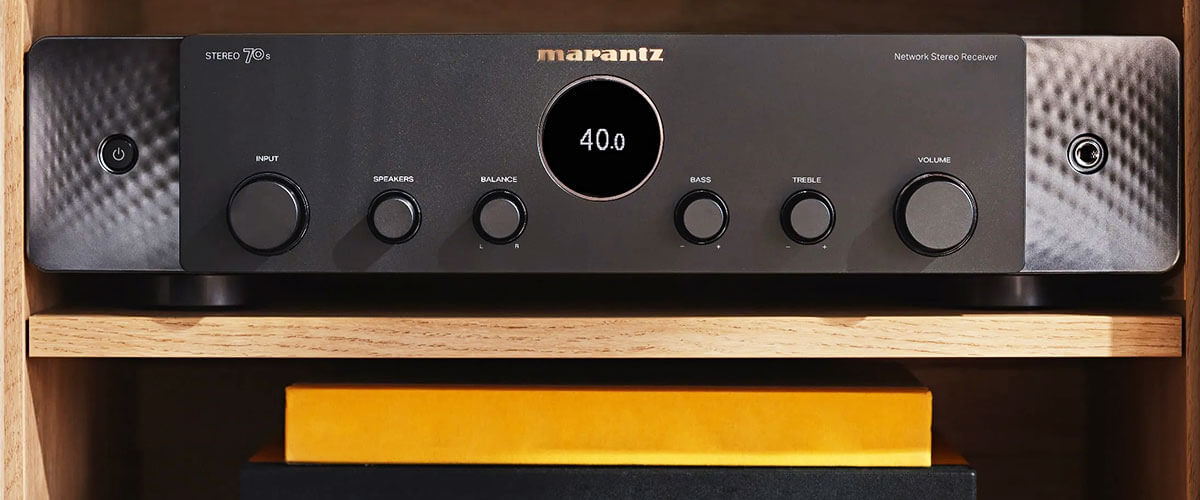 Marantz, the iconic audio brand with over seven decades of history, has consistently redefined the world of AV receivers. From its inception in 1953 with the groundbreaking Audio Consolette to the digital age entry with the CD-63 in the '80s, Marantz has remained a pioneer in the audio industry. Their classic components became legendary, like the Model 7 preamplifier, Model 9 power amplifier, and Model 10B FM stereo tuner.
The evolution continued with the introduction of the CD-recorder CDR-1 and modern high-grade amplifiers in the 2000s. Fast forward to 2020, Marantz's MODEL 30 and MODEL 40n represent the perfect blend of tradition and innovation, emphasizing performance and aesthetics. Their expansion into home theater with the CINEMA Series underlines Marantz's commitment to delivering exceptional AV receivers, making them a timeless choice for audio enthusiasts and home theater lovers.
If you share my interest and love for AV receivers, you may notice a certain similarity in technologies between Marantz and Denon. Yet, do you know where it comes from?
In 2002, the revered Saul Marantz's company joined forces with Denon, leading to a collaborative exchange of innovative technologies between the two renowned brands. Many Marantz products now incorporate Denon's HEOS wireless ecosystem, extending to CD players, network music players, stereo receivers, and home theater receivers.
This integration allows for seamless compatibility, enabling the harmonious operation of Denon and Marantz components within a multiroom system. Moreover, nearly all Marantz home theater receivers in our lineup are equipped with the Audyssey room correction software, enhancing the audio experience and ensuring optimal performance.
Why choose Marantz?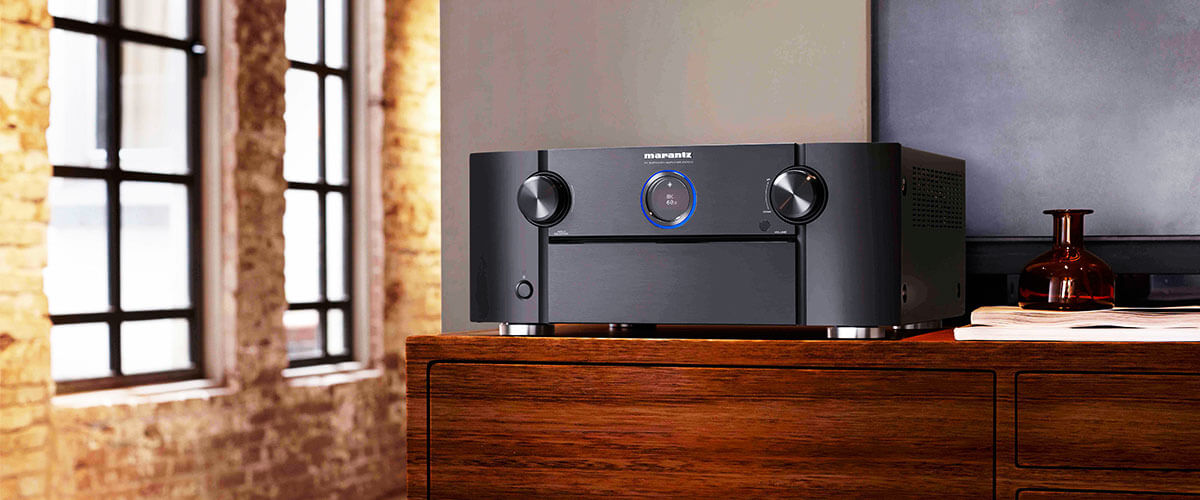 For me, choosing Marantz as my audio companion is a decision rooted in several compelling reasons. First, Marantz brags a rich brand heritage and unwavering commitment to quality that spans over seven decades. I always have more trust in brands and companies with history. I believe this legacy is a testament to their enduring pursuit of excellence in audio.
Furthermore, Marantz has earned recognition and respect in the community for delivering audio components that consistently exceed expectations. I can't recall any of their models that were worse than their predecessors. At the same time, I enjoy their dedication to the listening experience and unwavering commitment to musical fidelity.
Finally, their consistent innovation in audio technology is another reason to pay attention to their products. Their pioneering approach ensures that customers always be at the forefront of audio advancements, from their classic analog components to cutting-edge digital solutions.
Best Marantz receivers reviews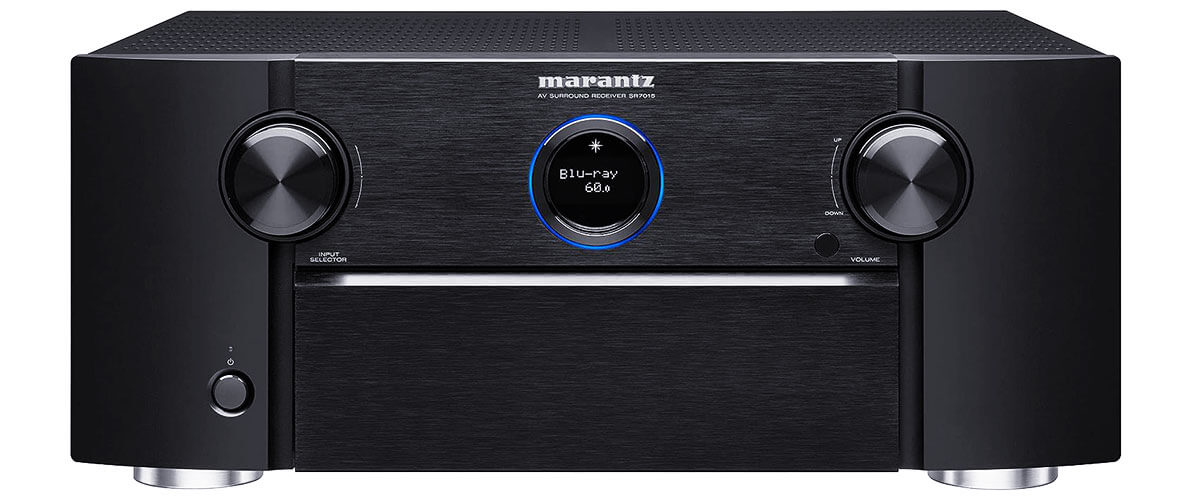 I know that these days, everyone is in a hurry, so for your convenience, my dear reader, I am going to begin this review with the best Marantz receiver, judging by the combination of its parameters. To put a long story short, the Marantz SR7015 is an exceptional piece of 9.2-channel audiovisual technology that delivers a quality home entertainment experience.
First, this model has one of the most exciting designs in the AV receiver world. But even the most beautiful units are useless if they don't offer excellent sound quality to supplement the looks. With 125W of power output (8 ohms, 20 Hz – 20 kHz, 0.08% 2ch Drive), the SR7015 can boast a powerful and clear sound. Additionally, it features 7 HDMI inputs (7 at the back and 1 in the front) and 2 HDMI outputs.
So you have plenty of room and flexibility for various devices. Additionally, I wanted to give you several names of technologies: DTS HD Master, DTS:X, Dolby TrueHD, Dolby Atmos, and Auro 3D. These are the short list of tools that this receiver can use to create an immersive and multichannel surround cinema-like audio experience.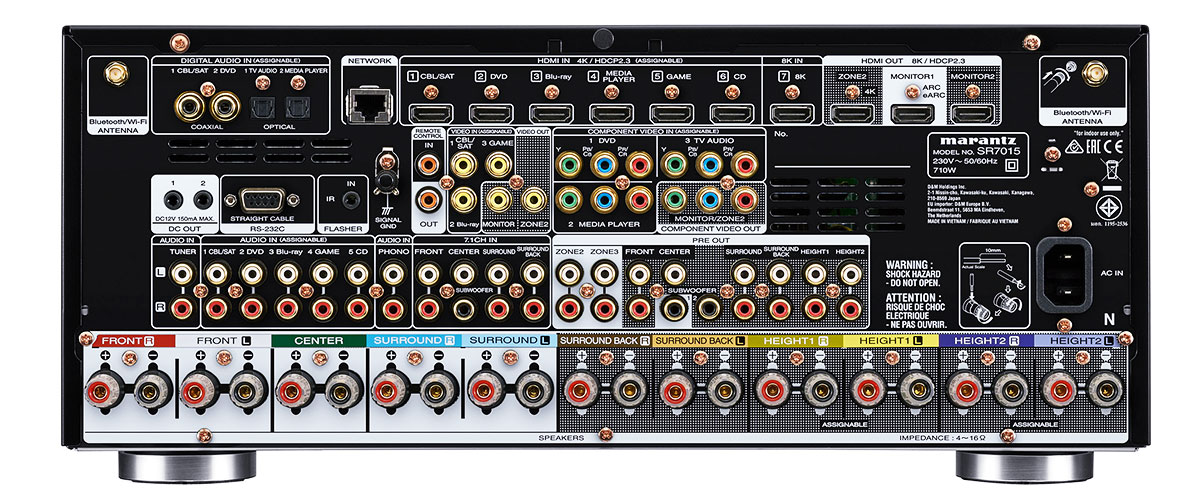 Marantz has equipped the SR7015 with advanced HDMI features, including HDMI 2.1 with 8K/60Hz and 4K/120Hz support. Yep, with this model, your home theater is equipped with the latest video technology. The support for HDCP2.3, HDMI pass-through in standby mode, and more make it future-proof (2-4 years, depending on your demands) and versatile.
So, talking about sound and video quality, I first tested it in movies and cartoons with my family and kids. The video quality in 8K is far above the expectations. This is true, especially when using the native 8K content. It's just brilliant, regardless of what you enjoy—new blockbusters or older classics. The upscaling is also here, but it's still no match to the real 8K.
On the gaming side, the competitive games will be happy to benefit from ALLM, QFT, and QMS support — reducing any sort of input lag (I played in 4K since 8K is far above my machine's capabilities). Also, the 9.2 channel system allows you to hear the direction of your opponents, including their footsteps. Talking about my loved story-oriented games, everything you have read about the movies is here. If the game supports surround sound — pure quality, stunning visuals, and juicy sound will be there.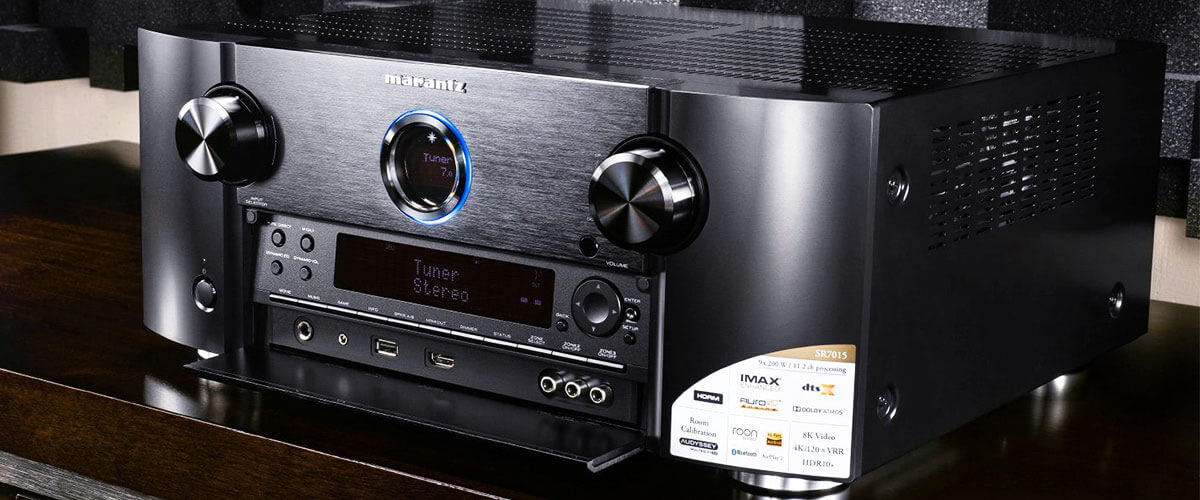 With HEOS multiroom and streaming, I seamlessly enjoyed music in different areas of my home. There is also Bluetooth, so you can connect your loved headphones. But, honestly, I don't need an AV receiver to use it with headphones. Unless the main room is busy, and I need some energetic songs to keep me rolling during the day.
In conclusion, the Marantz SR7015 stands out as the best Marantz AV receiver in today's review, offering an impressive array of audio and video features, comprehensive connectivity options, and future-proofing for the latest technology trends. Its outstanding audio performance and efficient design allow it to get to the top of my today's home theater receiver review.
Key specs
Channels: 9.2.
Power output: 125W/8 Ohm, 165W/6 Ohm.
HDMI inputs/outputs: 8/2.
Video functions: 8K/60Hz, 4K/120Hz, upscaling to 8K.
Bluetooth/Wi-Fi: yes/yes.
Streaming services: AirPlay 2, Pandora, Spotify, Napster, SiriusXM, Amazon Kindle, Amazon Music.
Suppots: HDMI ARC, HDMI CEC, HDR, HLG, Dolby Vision, HDR10+, Dynamic HDR, Dolby Vision.
Surround sound: Dolby Atmos, Dolby Atmos Height Virtualization, Dolby TrueHD, Dolby Surround, Multichannel Stereo.
Pros
One of the lowest standby power consumption.
Creates precise sound stage with accurate object placing.
Offers good performance in music, similar to the dedicated amplifiers from the lower-budget segment.
Cons
The 8K upscaling looks too blurry from time to time.
No built-in tuner, so I had to live without the radio talking 24/7(made my wife happy, though).
Marantz NR1510 – budget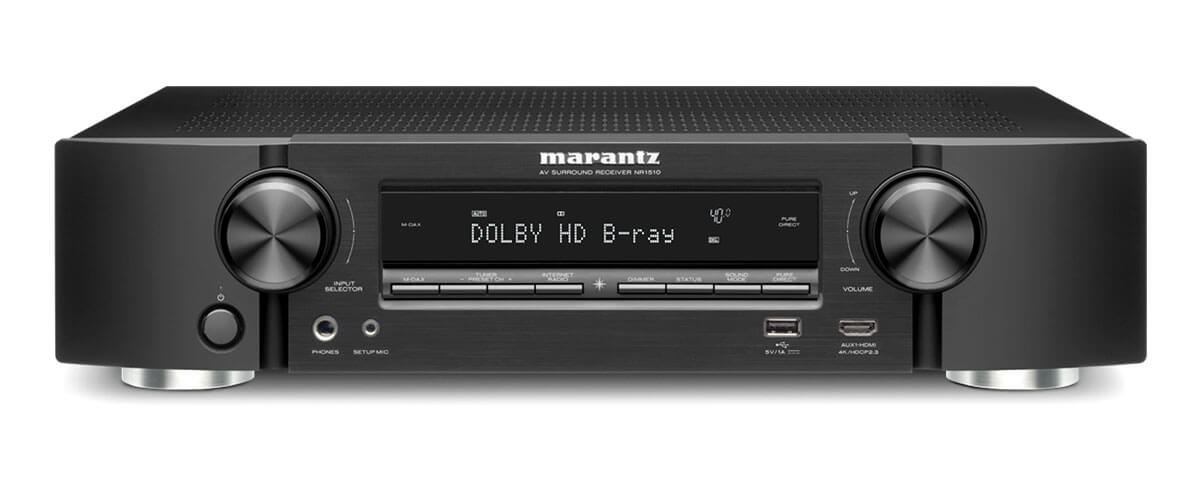 Okay, I overflowed with the text in the previous section a bit. I hope it didn't scare you. If you are still here with me, then I am happy to introduce you to the Marantz NR1510 — my top-budget surround sound receiver.
This model offers a 5.2-channel configuration. Each channel provides 50W of power. To be honest, I have seen more powerful models. Clearly, in this budget, getting Dolby Atmos or DTS:X is a miracle. So, no miracles today. DTS HD Master and Audyssey MultEQ are pretty much all we have here. When comparing the specifications of the Marantz SR7015 and the Marantz NR1510, the former is an obvious winner. Still, similarly to avoiding bringing knives to the gunfight, I cannot bring the SR7015 to the battle of budget models.
Instead, let's look at some other features of the Marantz NR1510. It comes equipped with HDMI ports, supporting 4K 60Hz 4:4:4 resolution and HDCP 2.3, ensuring high-quality video transmission. The receiver also supports HDR, HLG, and Dolby Vision for a visually captivating experience. Yep, no 8K and no 4K 120Hz.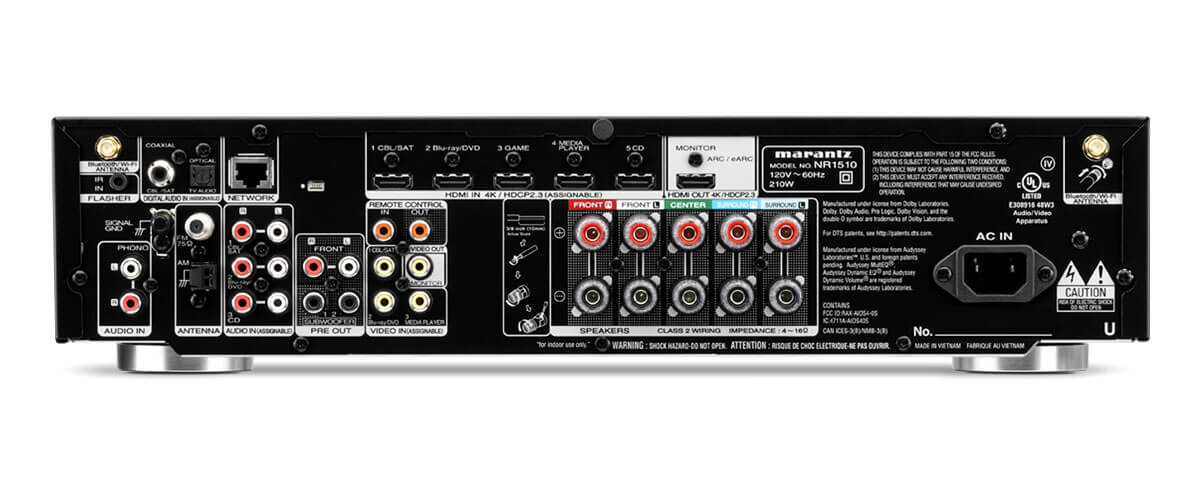 And just when the battle seems to be over, HEOS capability does the Rohirim Glorius charge, adding an enormous boost to the flexibility and quality you get with this receiver. Even though the Marantz NR1510 doesn't have separate multiroom zones, this technology allowed me to expand my audio through the home.
My son and I watched the Lord of the Rings trilogy. We do it annually, and this time, the honor to arrange this for us was given to the Marantz NR1510. I have been testing this model for a week in different scenarios, but this is the emotion I want to share with you.
The 4K video quality was astonishing. Especially the moments with Mount Doom's fire, lava, and the majesty of the Misty Mountains – those were beyond standard. When it came to those epic battles at Pelennor Field and Helms Deep, the sound there was pure majesty.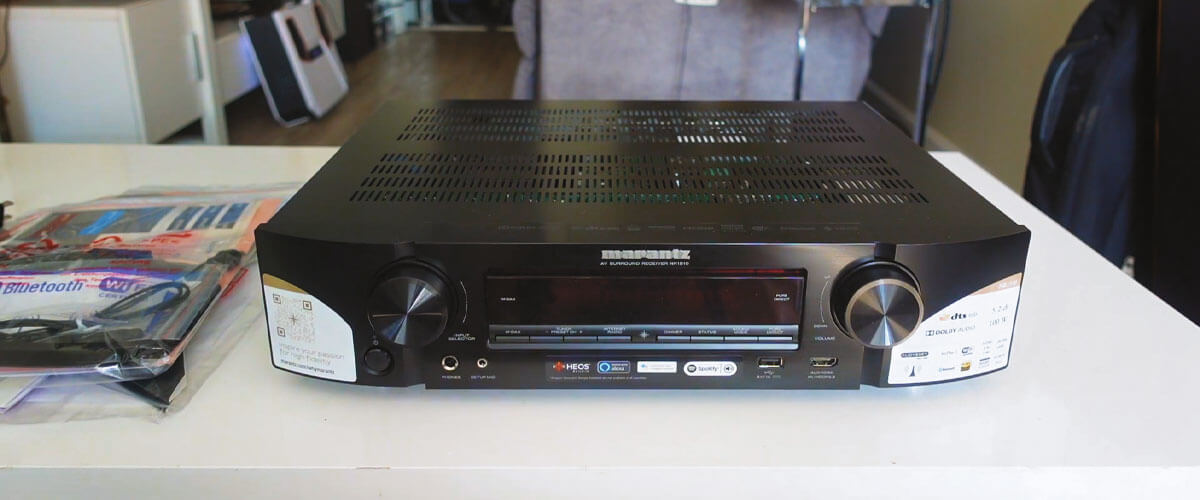 When you hear Theoden's speech, the horns, the music, the screams – you feel that this is precisely how the creators wanted you to experience their creation. And let me remind you of something: this was on a budget.
This receiver is your one-way ticket to the world of quality sound! But be very careful. After getting this unit, you will lose the ability to enjoy sound from soundbars and typical audio systems 90% of your friends have. But here is what I say: the bargain is worth the effort, as you will open the gates of purity, beauty, and joy of sound. After the experience the budget Marantz receiver delivers, the only way is up — raising quality, adding more channels to your setup, and promoting this among your friends.
Key specs
Channels: 5.2.
Power output: 50W/8 Ohm, 60W/6 Ohm.
HDMI inputs/outputs: 6/1.
Video functions: 4K/60Hz.
Bluetooth/Wi-Fi: yes/yes.
Streaming services: AirPlay 2, Pandora, Spotify, Napster, SiriusXM, TIDAL, Deezer, Qobuz, Amazon Music.
Suppots: HDMI eARC, Dolby Vision, HDR 10.
Surround sound: Dolby Atmos, Dolby Atmos Height Virtualization, Dolby TrueHD, Dolby Surround, Multichannel Stereo.
Pros
Slimline design and slim chassis.
Exceptional audio clarity with authentic, well-defined bass response.
Stable Bluetooth connection.
Cons
Low power of only 50 watts.
No 4K 120Hz support.
Marantz CINEMA 40 – premium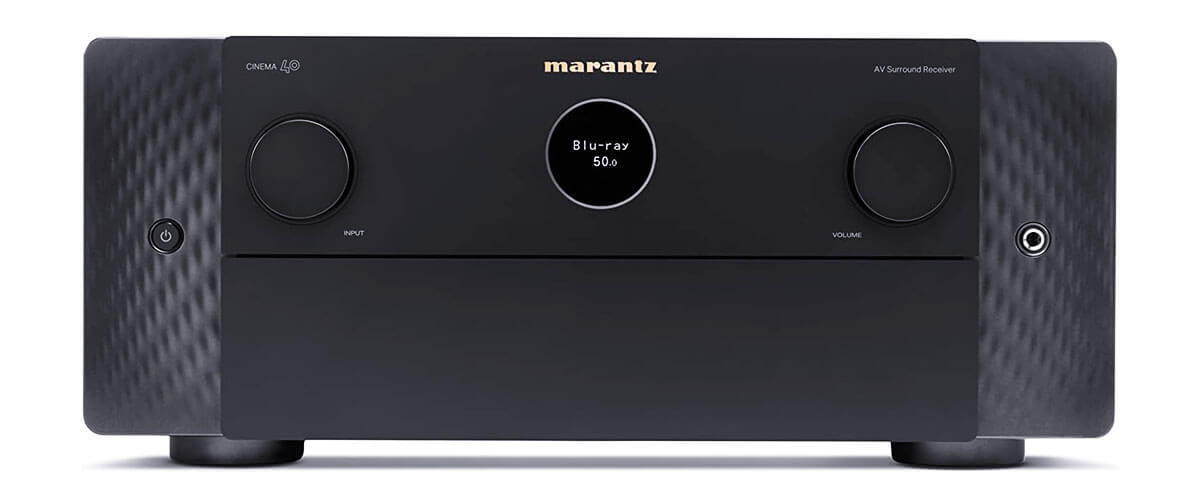 So, you have read the review of Marantz SR7015 and NR1510, and you are still here? My opinion? The former was just too simple for you, and you quickly browsed through the latter just to see what I wanted to say there. And this is when I present the Marantz CINEMA 40 — today's premium Marantz AV receiver.
The Marantz CINEMA 40 AV Receiver is a pinnacle of audio and video performance in home entertainment. It offers nine channels with up to 125 watts per channel. That makes it pretty similar to the SR7015.
But here is what makes it different from the SR7015. The CINEMA 40 supports such technologies as 360 Reality Audio and Dirac Live Upgradability, to name a few. But the main difference lies in the schematics. The Cinema 40 offers the HDAM-SA2 circuit architecture. ALERT: here comes the moment of boring stuff:
The HDAM-SA2 offers several enhancements over its predecessor:
It boasts a superior signal-to-noise ratio, ensuring cleaner and more accurate sound reproduction.
It features an improved slew rate, enabling faster and more precise audio delivery. The HDAM-SA2's upgraded frequency response ensures greater accuracy and detail across the entire frequency range.
Its enhanced linearity produces a more natural and realistic audio output with reduced distortion.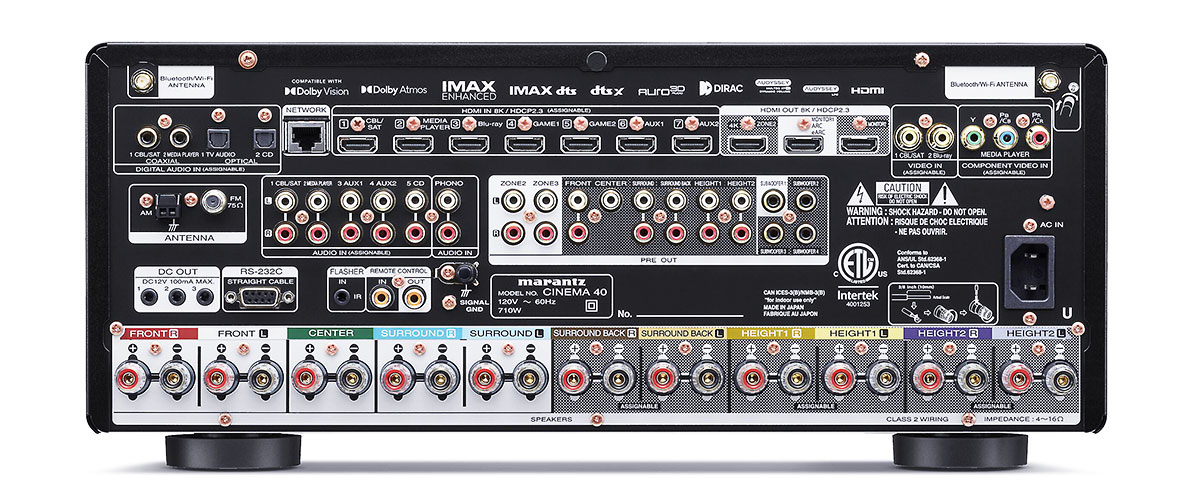 On the bad side, the CINEMA 40 generates more heat.
Still here? Good, I feared I would lose you at this point. But I just felt that it would be right to name this difference to justify the work Marantz put into this receiver.
For this price, it may seem that the CINEMA 40 can launch you into space, but it can't. Instead, it can create an environment for you to imagine yourself there. If you have a large 8K screen, this receiver will pump the video quality to the limits that your screen can deliver, and the sound quality will only be limited by your audio system. Let me say that the sound will create the coolest possible atmosphere to help your imagination arrange that space ride for you.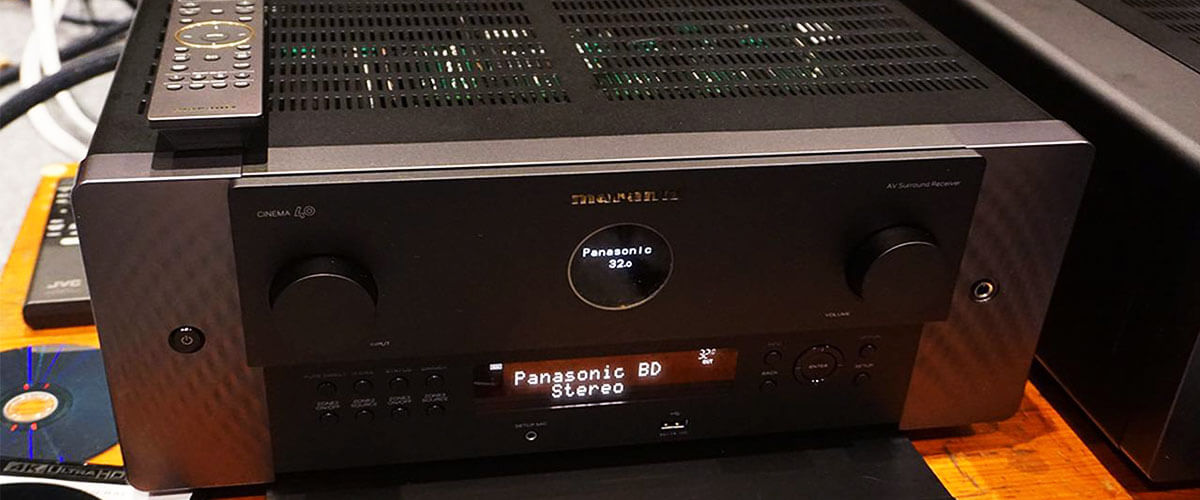 Where does all this imagination of space come from? The Gravity movie paired with the CINEMA 40 gave it to me. It's not one of those movies with a ton of explosions and cooky dialogues, but the soundtracks, the effects, the way the music matches the plot, and the video quality — those are something that leaves one inspired.
Do you remember the first Super Heavy launch, when it completely ruined the launchpad by the takeoff? This is what the CINEMA 40 can do to you. This is a very progressive, emotional, and awesome product, capable of great things. But, unless you prepare the launchpad before getting it (clearly answering the question, why pay more?), this AVR may share the same fate as the SH rocket — turning into a beautiful but awfully expensive fireball right inside your soul.
Key specs
Channels: 9.4.
Power output: 125W/8 Ohm, 165W/6 Ohm.
HDMI inputs/outputs: 7/2.
Video functions: 8K/60Hz, 4K/120Hz, upscaling to 8K.
Bluetooth/Wi-Fi: yes/yes.
Streaming services: AirPlay 2, Pandora, Spotify, Napster, SiriusXM, Amazon Music HD, Amazon Music, TIDAL, Deezer, iHeart Radio, Napster, SoundCloud, Mood Mix.
Suppots: HDMI eARC, HDMI ARC, HDMI CEC, HDR, HLG, Dolby Vision, HDR10+, Dynamic HDR, Dolby Vision.
Surround sound: DTS HD Master, DTS:X, DTS Neural:X, DTS Virtual:X, Dolby TrueHD, Dolby Atmos, Dolby Atmos Height Virtualization, Dolby Atmos Music, Dolby Surround, Multichannel Stereo.
Pros
Clear, full-sounding, and well-balanced sound character.
Superior build quality and modern circuit architecture.
Cons
Not suitable for large rooms or power-hungry speakers (offers too few watts).
Generates more heat than the SR7015 while offering the same watts (still cooler than the Marantz SR6014).
Marantz CINEMA 70s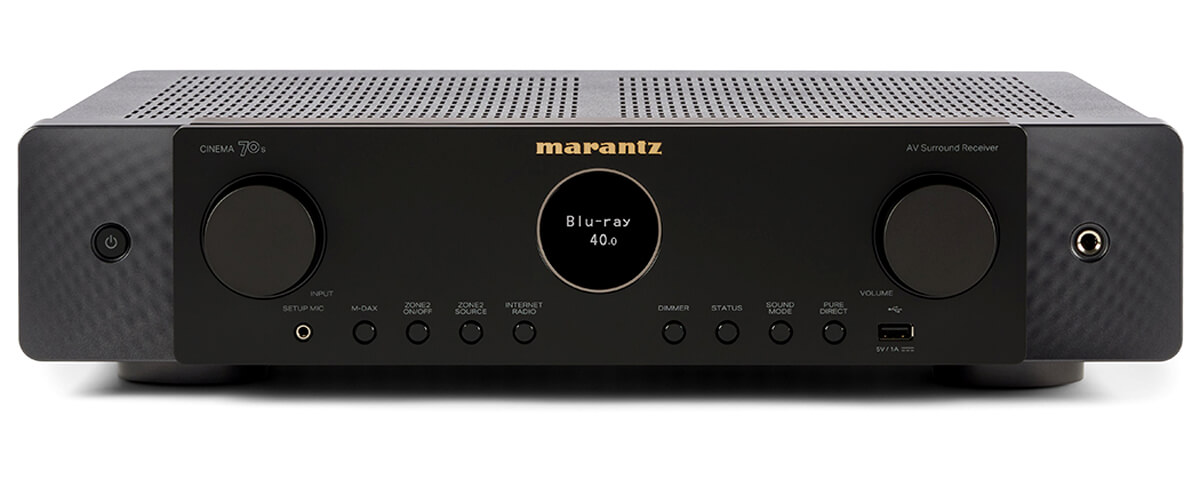 So, closing today's selection of the most excellent AV receivers comes the Marantz CINEMA 70s. This one is an exciting model. It comes above the NR1510 and below today's top, the SR7015. So, why is it even here?
Usually, I begin my reviews with the power, and the CINEMA 70s doesn't shine here, as it shares the same 50W (8 Ohms, 20 Hz – 20 kHz, 0.08% 2ch Drive) of power with the NR1510. And here is why it's bad. The NR1510 is 5.2-channel, aimed at a single small-sized room. But the CINEMA 70s is a 7.2 channel model, and in this case, this power just barely fits the requirements and expectations.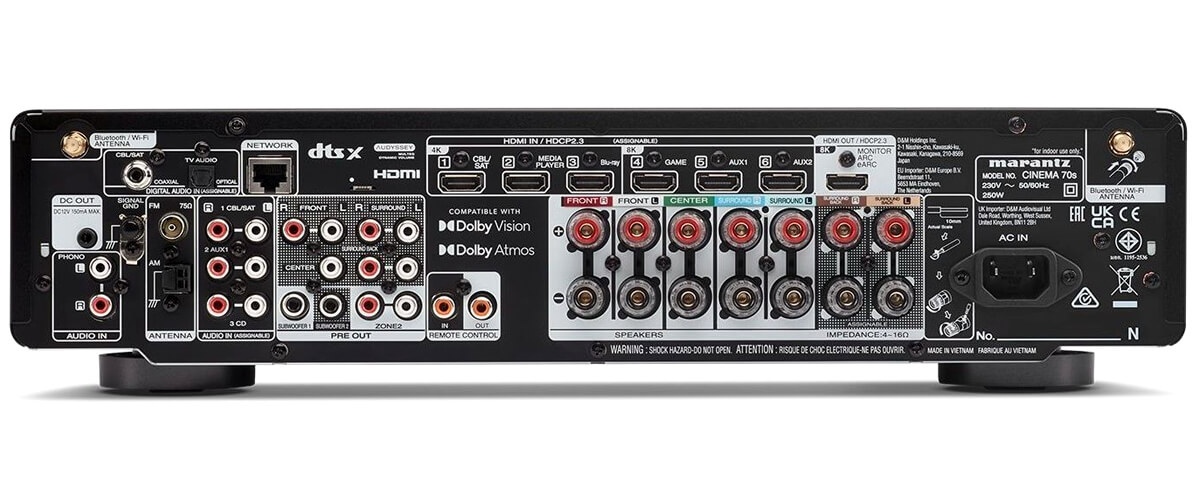 Self-skimming all the boring technical parameters. What can you expect from the receiver in this category? This slim device has a full set of connectivity options, partially sharing it with the more advanced CINEMA 40. Similarly, it supports all the streaming services, is HEOS capable, and offers Dolby Vision and HDR10+ technologies.
All this results in a very high-quality video and sound experience. Additionally, while it doesn't have upper speakers, it can create the illusion of sound coming from above by bouncing sound off the ceiling or through specially designed speakers. The Marantz CINEMA 70s is, in fact, your ticket to the world of multiroom capabilities.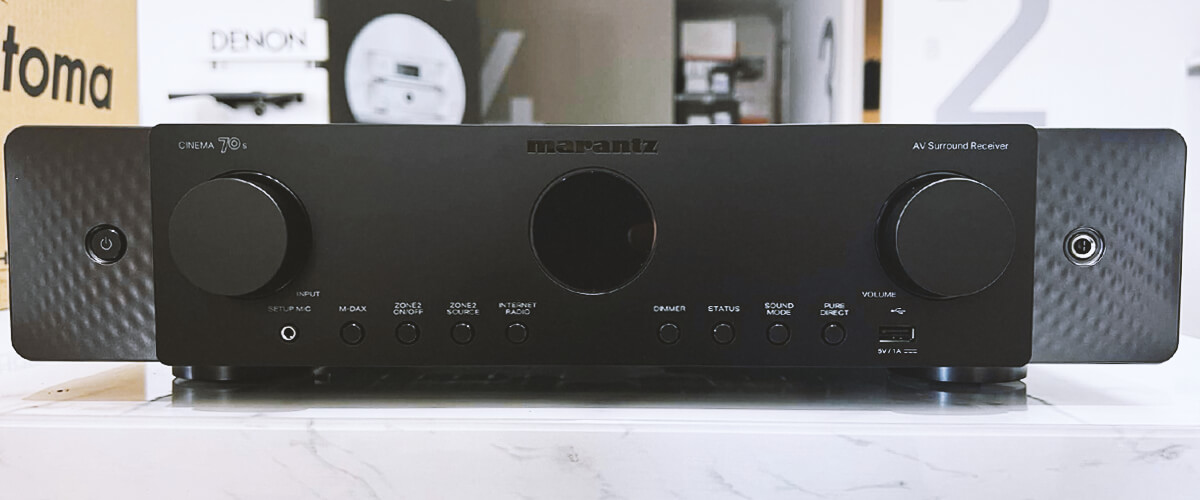 I made it serve me very well during my testing in movies, gaming, and music streaming and didn't manage to find a single flaw in performance. Also, It does a good job of simulating the height of speakers and precisely places objects in competitive gaming. In a negative aspect, the receiver just doesn't pump enough power, making me count every watt of it I have when I want to place the receiver in a large room. Yet, the low power is also the advantage of this model – it can deliver quality 8K content with 7.2 surround sound, looks stylish, and saves a lot on your energy bill.
Altogether, it is a great slim audio and video receiver that can provide you with all the necessary technologies to enjoy an immersive sound and stunning video quality. At the same time, the insufficient amount of power would keep this receiver away from scoring higher on today's top Marantz receivers review.
Key specs
Channels: 7.2.
Power output: 50W/8 Ohm, 70W/6 Ohm.
HDMI inputs/outputs: 6/1.
Video functions: 8K/60Hz, 4K/120Hz, upscaling to 8K.
Bluetooth/Wi-Fi: yes/yes.
Streaming services: AirPlay 2, Pandora, Spotify, SiriusXM, Amazon Music HD, Amazon Music, TIDAL, Deezer, iHeart Radio, Napster, SoundCloud, Mood Mix.
Suppots: HDMI eARC, HDMI ARC, HDMI CEC, HDR, HLG, Dolby Vision, HDR10+, Dynamic HDR, Dolby Vision.
Surround sound: DTS HD Master, DTS:X, DTS Neural:X, DTS Virtual:X, Dolby TrueHD, Dolby Atmos, Dolby Atmos Height Virtualization, Dolby Atmos Music, Dolby Surround, Multichannel Stereo.
Pros
Modern, slim, refreshing design packed in a sturdy but lightweight chassis.
Low power consumption, especially in eco mode.
Rich list of features and connectivity options.
Cons
Doesn't pair well with demanding speakers and large rooms.
FAQ
Is there a noticeable difference between Marantz slim and full-size receivers?
Marantz slim and full-size receivers differ noticeably. Slim models are compact and ideal for smaller spaces, generate less heat but offer fewer features and power. Full-size receivers are more powerful and versatile, suited for larger rooms and advanced setups, but require far more space and attention to their placement.
What is the significance of the HDAM (Hyper Dynamic Amplifier Module) technology in Marantz receivers?
HDAM technology in Marantz receivers offers enhanced audio fidelity with exceptionally low noise and distortion for cleaner, more accurate sound. It ensures precise and fast signal handling, reducing interference and crosstalk between
channels
and improving linearity for a more natural audio experience.
How often does Marantz update its receiver lineup, and are there regular firmware updates?
Marantz updates its receiver lineup annually, introducing new models with updated features and technology. However, the exact release schedule can vary from year to year. I recommend monitoring their official website to stay tuned for updates. Additionally, Marantz often provides firmware updates for its receivers to enhance performance, fix bugs, and add new features.
Can I control my Marantz receiver using a smartphone or tablet?
Yes, you can. Marantz offers proprietary mobile apps for both iOS and Android devices. These apps allow you to control various functions of your receiver, including volume adjustments, source selection, and even streaming music from a mobile device.