The Denon brand has a long history dating from 1910 when Frederick Whitney Horn launched the company in Japan. Since the very first years, the company has focused on audio devices. In today's Denon AVR-S650H review, I am looking at their most affordable model of the AVR S-Series line.
This 5.1 amplifier was launched on the market in 2019. It meets modern standards and offers some features that can only be found in more expensive models. Therefore, I'm sure you'll be interested in taking a closer look at the Denon AVR-S650H features.
Features and specs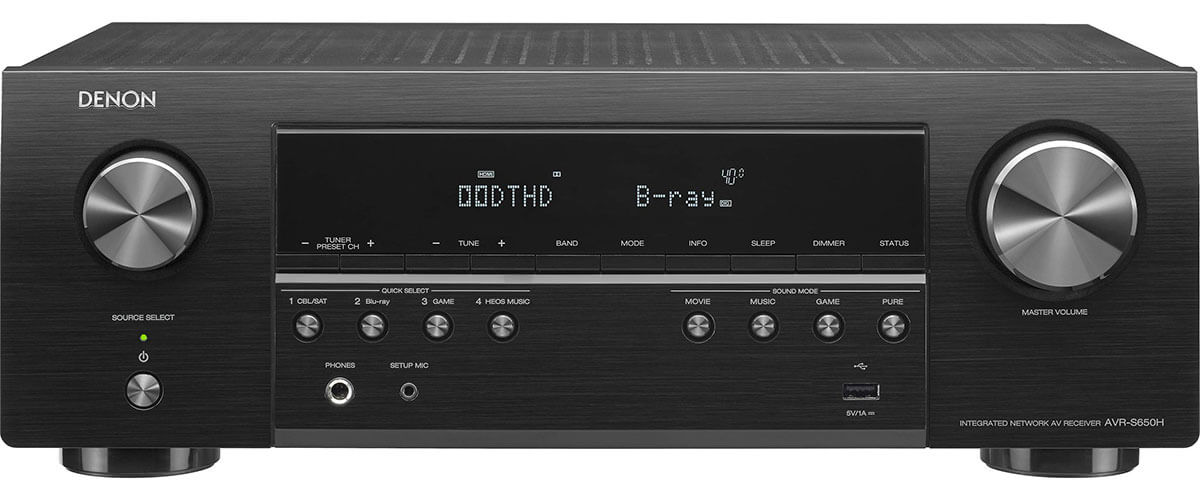 Let me say a few words about the construction and design of the AVR-S650H. On the front panel, it has 2 large control surfaces. The left allows you to select the source, and the right controls the volume. I did not like the volume knobs and source selection – cheap plastic and no grooves. A decent-sized display is located between the selectors. It is informative and allows you to read captions from a considerable distance. Additionally, the AVR-S650H has a USB supplemented by connectors for headphones and a microphone on the front. Though, it was rather unfortunate not to find an HDMI connector there.
Denon AVR-S650H has a 5.1 channel amplifier, 32-bit AKM DAC digital converter, and supports 75 watts (8 ohms, 20 Hz – 20 kHz, 0.08% THD) for 2 channels, 100 watts (6 ohms, 1kHz, 0,7% THD) for 2 channels and 150 watts (6 ohms, 1 kHz, 10% THD) for a single channel. However, to my surprise, at 60% volume, it hardly warms up at all.
The model is equipped with Bluetooth (version 4.1) and dual-band Wi-Fi for improved reception. AirPlay 2 is supported, allowing you to build a wireless multi-room system based on iOS devices. S650H is able to work as part of the proprietary wireless ecosystem HEOS, allowing you to control all its member devices through a single application, to which you can stream audio from tablets and smartphones, local networks, and streaming services. With a multi-room installation based on HEOS components, the same track can be played synchronously in different rooms, or music can be streamed to selected rooms.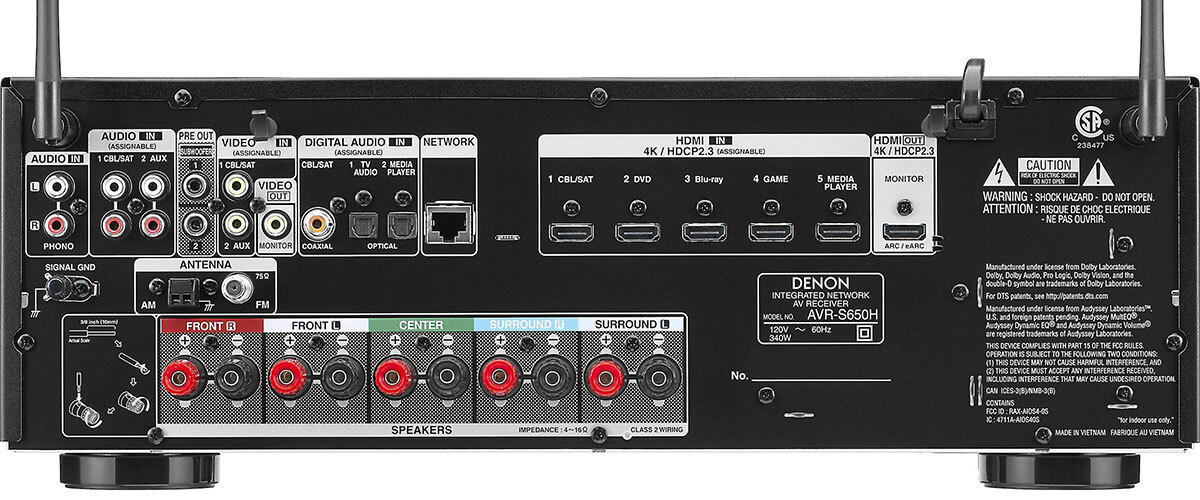 In comparison with high-end solutions, the AVR-S650H doesn't offer too many ports. The receiver has five HDMI inputs that support HDCP 2.3, 4K video, and HDR10, HLG, and Dolby Vision extended dynamic range video standards. The only HDMI output allows you to work with eARC – an extended return channel, which provides multi-channel audio in Dolby True HD and other formats from the TV panel directly to the receiver. It is a pleasure to have a phono stage for connecting vinyl players, and five pairs of color-coded screw terminals are used to connect speakers.
To control the Denon AVR-S650H, you can use the personal voice assistants Google Assistant, Apple Siri, or Amazon Alexa, in addition to the app or remote control. The Setup Assistant program is used to set it up.
Sound
I tested its sound while watching the well-known "Back to the Future" movies. The dialogues sounded coherent, and the sound effects were solid and engaging. In addition, the receiver provided clear highs with worthy bass capabilities. I even forgot that I had the entry-level receiver amplifying the sounds for me. However, if you want super sound, you should consider the higher-class models.
Another test was a concert at the "Wacken Open Air" festival. Again, the AVR-S650H faced it with honor and surrounded me with a beautiful sound, highlighting both the musicians and singers. Altogether, it provided a pretty realistic experience. Yet when listening to old-school rock, I noticed the bass range seemed somewhat limited compared to watching movies.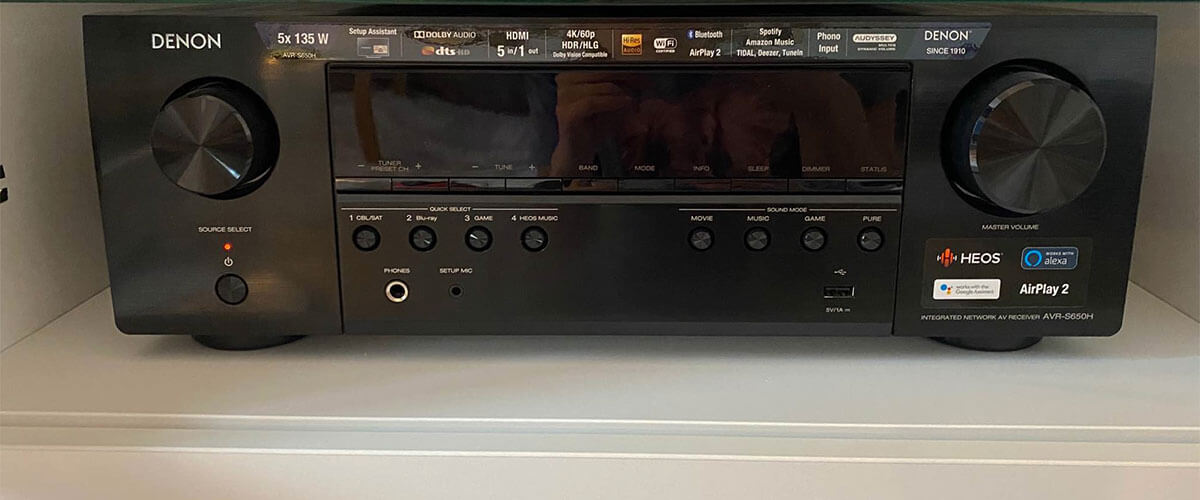 Key specs
Channels: 5.2.
Power output: 75 W/8 Ohm, 100 W/6 Ohm.
HDMI inputs/outputs: 5/1.
Video functions: 4K/60Hz.
Bluetooth/Wi-Fi: yes/yes.
Streaming services: AirPlay2, Spotify, Pandora, Tidal, Deezer, SiriusXM, Amazon Music, iHeart Radio, Napster, Soundcloud, Mood Mix.
Supports: HDMI ARC, Dolby Vision, HDR.
Surround sound: DTS HD Master, Dolby TrueHD.
Pros and cons
Pros
Voice Assistants support.
HEOS support.
Cons
No DTS:X/Dolby Atmos.
The settings are scattered – some through the TV, some on the web, and some through buttons on the body.