If you own a home theater and consider getting a good receiver, check out this Denon AVR-X3700H review. This model came next after the AVR-X2700H, which was released in September 2020. The main difference between the new model and its predecessor (7.2-channel) is the 9.2-channel amplifier, which allows you to make sound playback more dynamic and pleasant.
Features and specs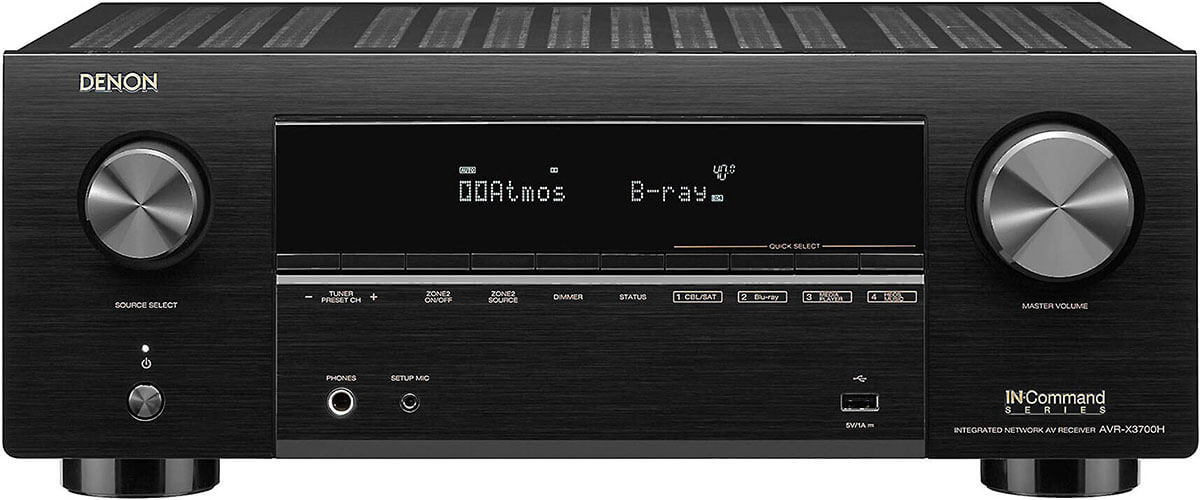 Now, let's move on to the Denon AVR-X3700H features. Despite being a fan of Yamaha AVR, I must admit that Denon pleasantly surprised me. The quality of the home theater picture appeared to be great. The resolution of 8K (60 Hz) and 4K (120 Hz) makes it possible to achieve this result.
When it comes to power, you get great sound thanks to the 9.2-channel amplifier with 105W power per channel (8 ohms). If I am not mistaken, this is the cheapest 9.2-channel AVR I know.
It's also worth noting that the receiver has a built-in HEOS wireless multi-room music streaming system, allowing you to work with Spotify, Pandora, Deezer, TuneIn, Soundcloud, etc. Voice control via Apple Siri and Google Assistant is also available, making system handling easier and more comfortable.
I didn't have problems with any format during the receiver usage because the Denon AVR-X3700H supports lossy formats such as MP3, WMA, and AAC. In addition, there is a correct work of lossless formats like FLAC, ALAC, and WAV. Also, Audyssey MultEQ XT32 technology is available in this model. It allows you to correct any problems in the room's acoustics.
Next, let's consider the connection systems and connectors in more detail. First, the receiver has 7 HDMI inputs (only one HDMI 2.1) and 3 HDMI outputs with HDCP 2.3 support, which is not the case in the AVR-X2700H receiver. Also, available connections include Ethernet Ports, two independent subwoofer outputs, Wi-Fi and Bluetooth. Personally, I don't use this feature very often, but someone may find it helpful to have phono inputs for listening to vinyl records.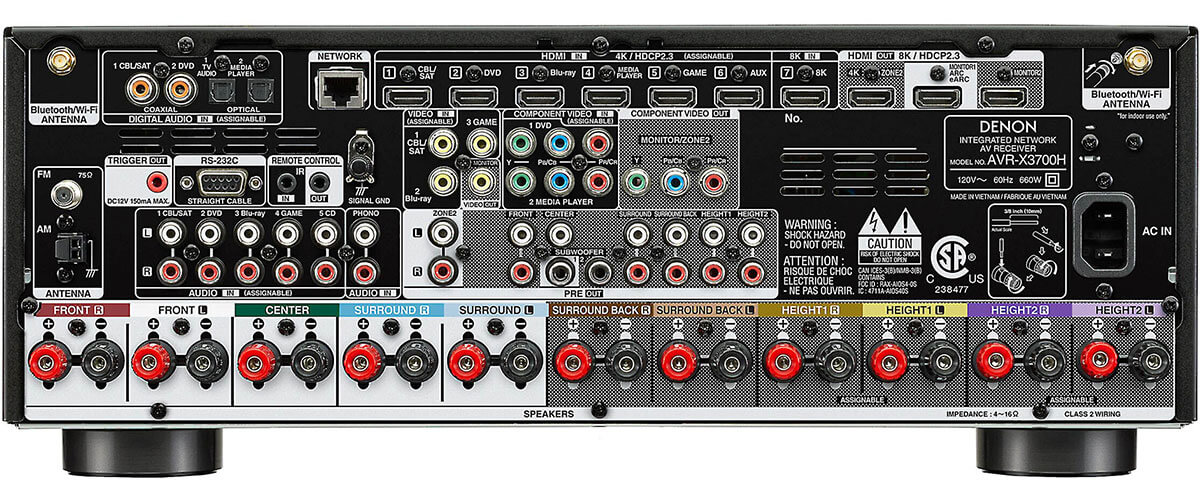 AVR-X3700H has full 3-D sound support, provided by Dolby Atmos, Dolby Atmos Height Virtualization Technology, DTS:X, DTS Virtual:X, and DTS:X Pro. Moreover, this model has IMAX Enhanced.This means that the device meets the performance standards set by IMAX Corporation and DTS. Which, in turn, ensures a tremendous IMAX content experience. And another important feature for movie lovers is support for VRR, Dynamic HDR, HDR10+, and eARC. These specifications make the picture look tasty and bright.
Sound
I want to put particular emphasis on this point. Well, the sound is excellent. The Denon AVR-X3700H can process any audio signal. Whether it's two-channel music or the latest object-oriented Dolby Atmos soundtrack, it has no problem decoding, processing, and delivering quality sound. The receiver also has enough amplifiers to control nine channels simultaneously, creating a dynamic sense of immersion.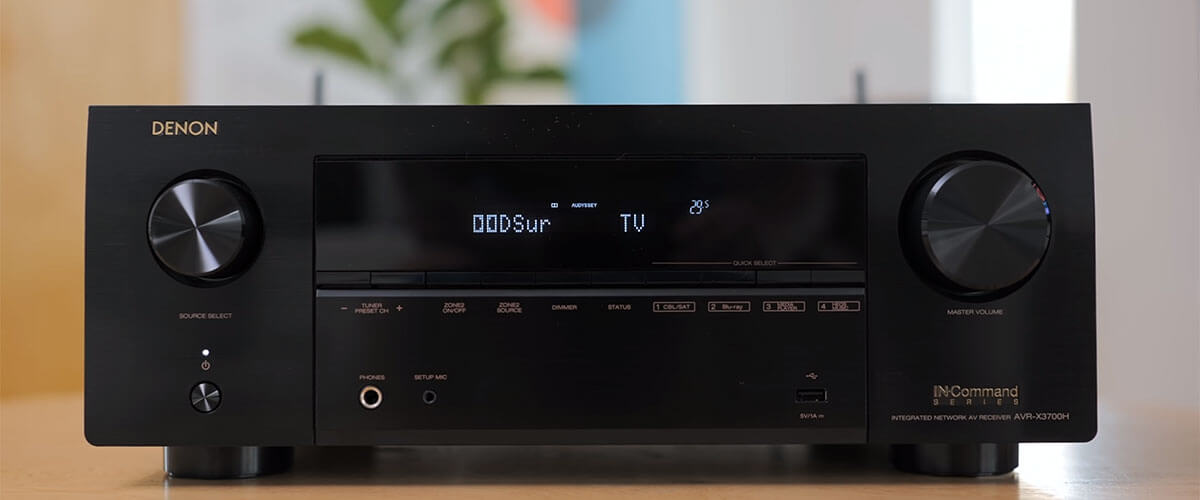 Key specs
Channels: 9.2.
Power output: 105 W/8 Ohm, 135 W/6 Ohm.
HDMI inputs/outputs: 7/3.
Video functions: 8K/60 Hz, 4K/120 Hz pass-through, analog to HDMI video conversion, upscales video signals to HD and Ultra HD (up to 8K).
Bluetooth/Wi-Fi: yes/yes.
Streaming services: AirPlay2, Spotify, Pandora, Tidal, Deezer, SiriusXM.
Supports: HDMI ARC, HDMI eARC, HDMI CEC, HDCP2.3, HDR10, HDR10+, Dolby Vision.
Surround sound: DTS:X, Dolby Atmos, DTS HD Master, Dolby TrueHD, DTS Neural:X.
Pros and cons
Pros
9.2-channel amplifier.
2 independent subwoofer outputs.
Voice control capability.
IMAX Enhanced/full 3D sound support/support for VRR.
Audyssey MultEQ XT32 is available.
Cons
Non-metallic front panel.
AVR may overheat.
Only one HDMI 2.1 input.