Sony has been a recognized leader in producing various electronics, particularly receivers, for years. In this segment of electronics, they produce mainly budget models. Today I have prepared a Sony STR-DH790 review that will bring you closer to this model.
If you want to enjoy a nice picture and lively sound at home but aren't ready to spend much money, this receiver is for you. The device is relatively easy to set up and comfy to use. The support of Dolby Atmos and DTS:X will provide you with an all-encompassing sound no matter what you listen to. Sounds good for you? Then let's move to other Sony STR-DH790 features.
Features and specs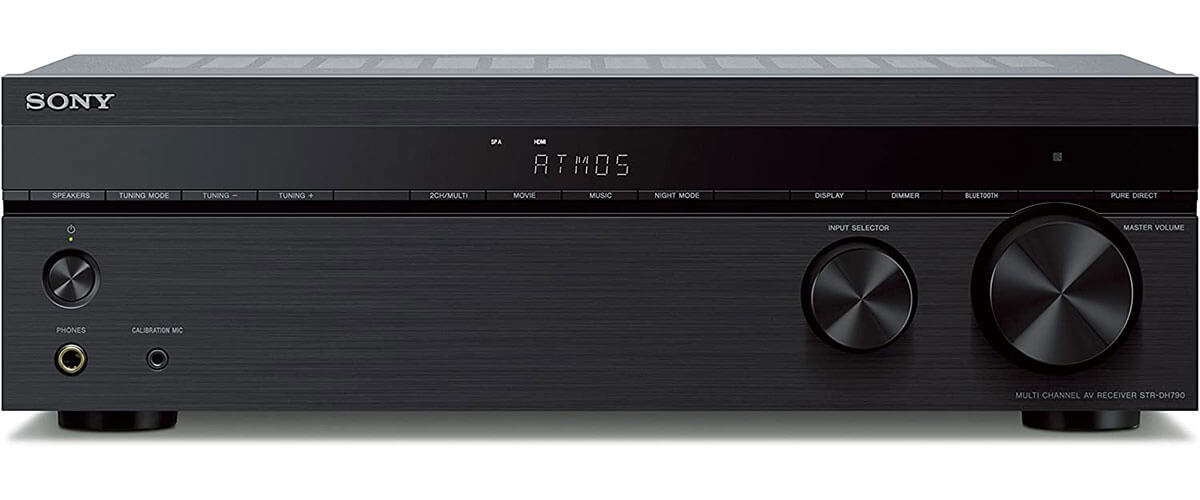 As for the model's design, it is standard: the front panel is made of black plastic with metal trim, and there is a cooling grille on top and the sides. The display is located at the top of the front panel, under the dark glass. There are 12 small buttons to control the different modes under this glass. On the left side of the panel, you can find the power button, the input for the calibration microphone, and the headphone output. On the right side of the panel, there are two knobs (volume control and input selector). As you can see, there is nothing out of the ordinary.
Now let's look at the main features of this model. STR-DH790 differs from its predecessor DH590 with more channels, an improved version of DCAC with auto-phasing speakers support (if your system uses different speakers, they all sound equally good thanks to automatic calibration technology), support for HDMI signals of Dolby Atmos, DTS: X and DTS-ES format (Matrix 6.1/Discrete 6.1), 4K signal transmission with HDR. I was also pleased that the STR-DH790 can be configured as either 7.1 (walls) or 5.1.2 (walls+ceiling). The output power is 145 W (6 Ohm) for 7 channels.
Let's move on to ports and connectors. The model is equipped with 4 HDMI 2.1 inputs. They support up to 4K signal quality at 60 Hz, HLG and Dolby Vision formats, 3D, Deep Color technology, BT.2020 color space, and HDCP 2.2 data protection protocol. Unfortunately, there is only one HDMI output. There is a USB, Bluetooth, and FM tuner. DH790 has no analog video outputs, but there are four analog audio inputs and coaxial and optical digital audio outputs. The choice, of course, is not the widest but quite sufficient. There is also a 6.35 mm headphone output. I should note that this model lacks some elements that the fans of expensive systems are used to. For example, there are no multi-room zones and phono stage.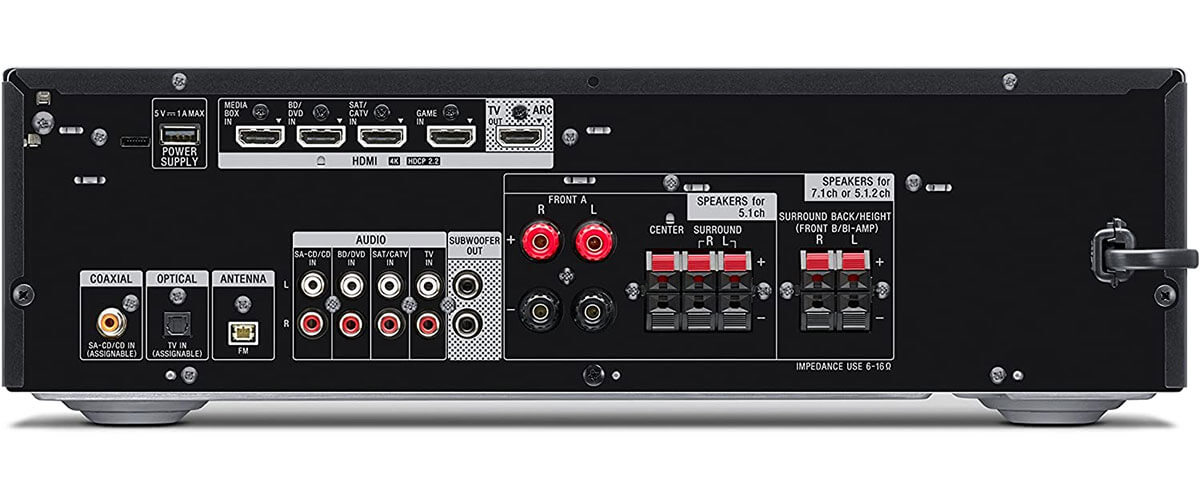 Setting up and controlling STR-DH790 is standard through the menu on the TV screen. However, considering my rather extensive experience, I had to tinker a bit with the settings. So if this is your first receiver, then be prepared to spend some time setting it up.
Sound
I decided to test the sound quality on the TV series "Game of Thrones." Undoubtedly, most of you have watched it, and the battle scenes will allow you to unlock the full potential of the receiver or reveal its weaknesses. I chose "The Battle of the Bastards" as the main scene. I fully appreciated the delights of the Atmos format, feeling the flight of arrows over my head and even being able to track their trajectory. The soundtrack to the film, played by DH790, was delivered with high realism.
STR-DH790 didn't surprise me, but it also did not disappoint me while I was testing the music in Stereo, Direct, and Pure Direct modes along with the standard All Channel Stereo.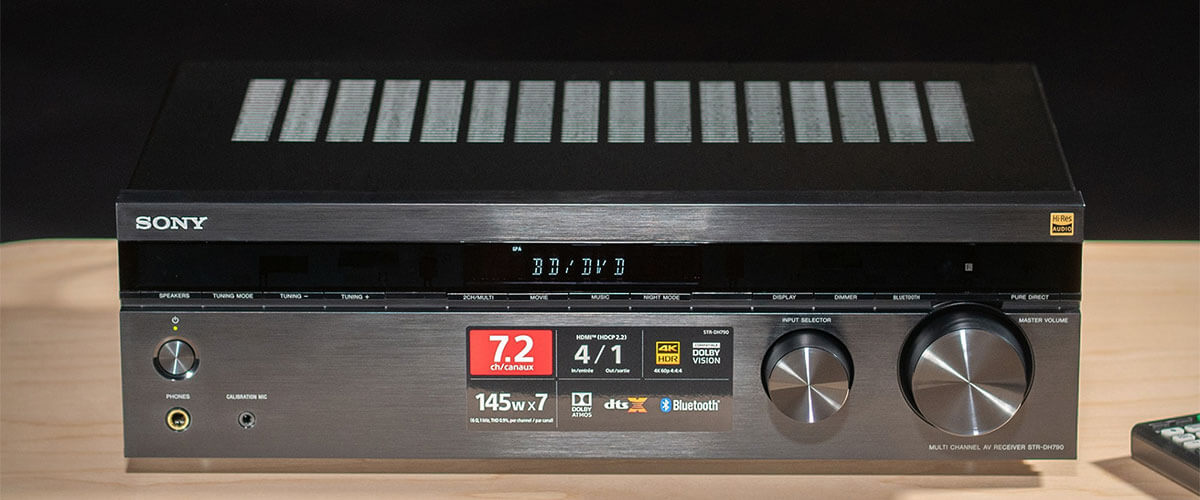 Key specs
Channels: 5.1.2.
Power output: 145 W/6 Ohm.
HDMI inputs/outputs: 4/1.
Video functions: 4K/60Hz, HDR, 3D OVER HDMI.
Bluetooth/Wi-Fi: yes/no.
Supports: DSD, Dolby Atmos®, Dolby® Digital, Dolby® Dual Mono, DTS: X™, DTS-HD Master Audio™, DTS HD High-Resolution Audio, DTS®, DTS-ES (Matrix6.1/Discrete6.1), DTS 96/24.
Surround sound: Direct, Multi Ch Stereo, Dolby Surround, Neural: X, Front Surround, Audio Enhancer.
Pros and cons
Pros
The signal-to-noise ratio is higher than Denon's more expensive ones.
Supports 4K HDR/HDMI 2.1/eARC/Dolby Atmos/DTS X.
Switching from your phone via Bluetooth.
Synchronization with Sony TV.
Cons
The receiver tends to heat up quite strongly during prolonged operation.
Small buttons & inscriptions (if your fingers are big enough, keep that in mind).
Outputs for the speakers are as spring clips.
Not designed to work with 4 Ohm loudspeakers.
No network connections (Wi-Fi/Ethernet).