Yamaha is pretty far from being a newbie on the home cinema receiver market. Their Aventage series has been on the market for over a decade and continuously updates with new models. In today's YAMAHA AVENTAGE RX-A2A review, I am going to highlight all the intriguing details about their RX-A2A model. It came to the market in 2021 and was positioned in the mid-range of the Yamaha product line.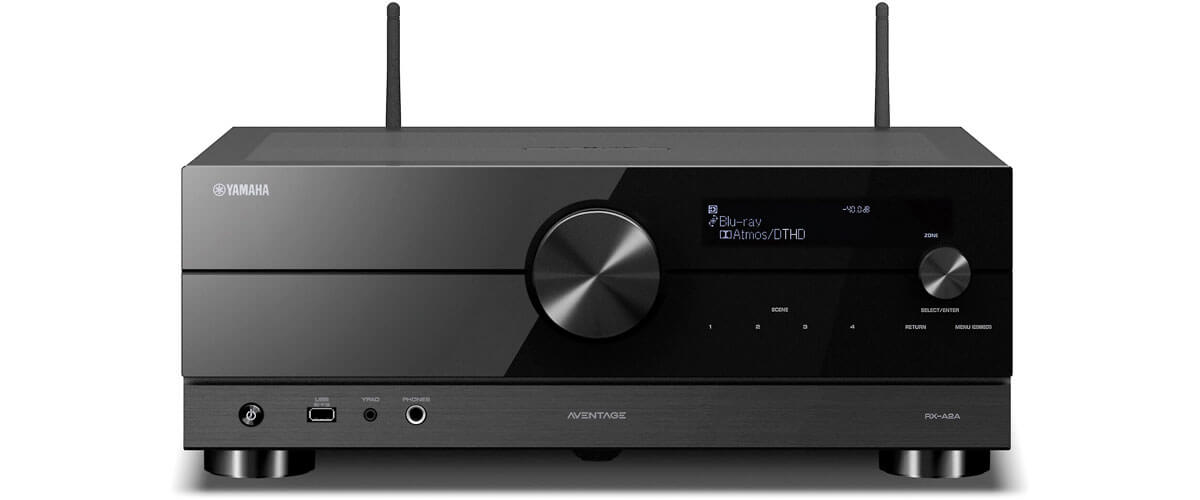 Features and specs
The receiver offers 7 channels with 100 watts of power per each, with an impedance of 6 ohms with 0,9% THD. Lower ohms speakers are supported too. For example, you can use 4-ohm speakers but only for front channels. In every other case, the bare minimum is 6-ohm speakers.
The RX-A2A offers a rich set of inputs, including 7 HDMI, 3 analog stereos, single coaxial and optical digital outputs, a phone, FM radio support, DAB+, Ethernet, Wi-Fi, and Bluetooth. Having a front USB port is also very convenient. The set of outputs is not that rich but still looks decent and comprehensive, offering a single 2.1 analog output, 2 HDMI, 6,5 mm headphones, and 9 outputs for speakers.
The YAMAHA RX-A2A features include support for 4k video at 120 Hertz and HDR10+. I tested it on my Ultra HD TV with HDR10 support. During the test, I didn't encounter any problems with the unit running at Ultra HD resolution at 60 Hertz. Despite that, in terms of video, the receiver has a pretty basic set of features it doesn't disappoint with the final quality.
Gamers would enjoy hearing that the RX-A2A supports various gaming features, such as ALLM, VRR, and QFT. My gaming console worked well at 4K resolution at 60 Hertz refresh rate, offering a pretty picture with no tearing whatsoever.
Also, the RX-A2A offers support for Zone 2 feature. It comes with a single analog stereo powered by assignable amplifiers, creating two independent zones.
Seeing a rounded receiver is not a very common thing, as I got used to classic black boxes. While the body shape looks original and interesting, the LCD screen is a bit disappointing. Sadly, I can't mention it among the good things about this receiver because it is too small to be read properly. Also, I was dissatisfied with its self-configure, so I had to set it up manually.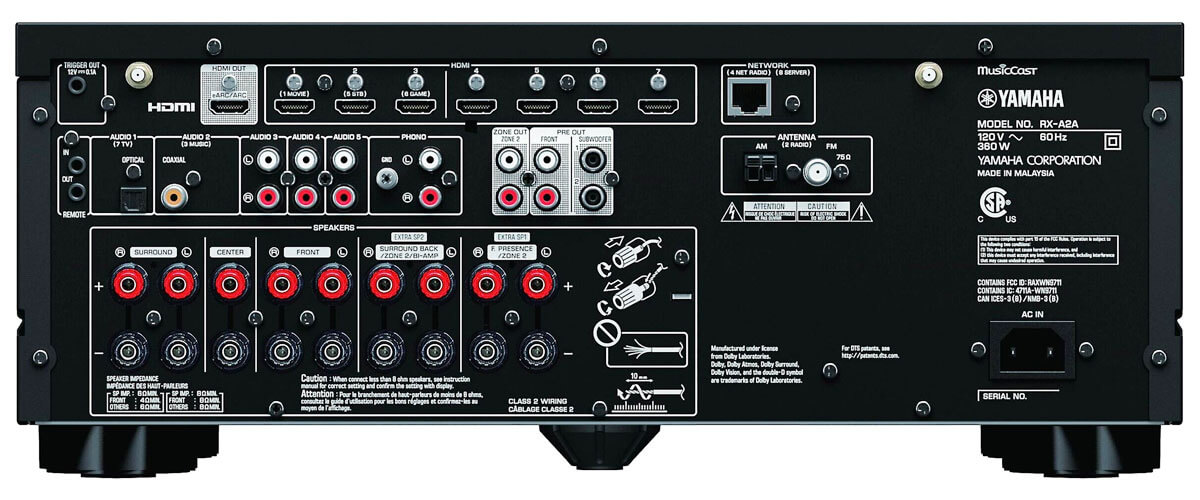 Sound
I tested the receiver with my Blu-ray player and a 7.1 surround setup with two overhead speakers. I wasn't disappointed by the Dolby Atmos, as the sound was full, pleasantly immersive, and bassy sound without delays of any kind. Another aspect is I didn't feel the lack of power even in the most active parts of the movies I watched.
When choosing to buy a receiver, people usually don't pay much attention to listening to music via it. After all, audiophiles buy a set of standalone amplifiers to listen to music. However, the RX-A2A has several aces up in its sleeve. I recommend turning off all the sound processing features, and you will get a pretty quality and detailed stereo.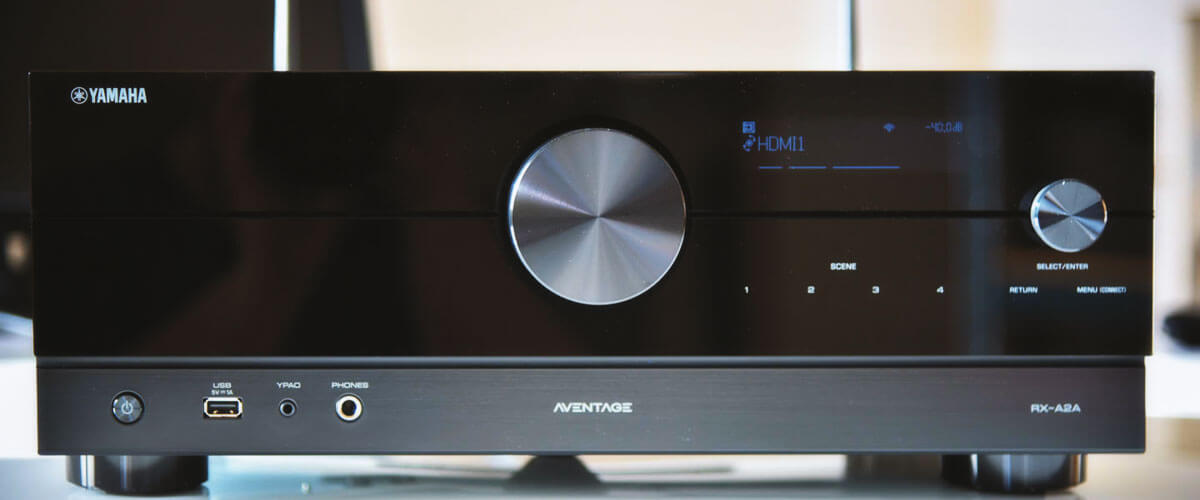 Key specs
Channels: 7.2.
Power output: 80W/8 Ohm.
HDMI inputs/outputs: 7/1.
Video functions: 8K/60Hz, 4K/60Hz, 4K/120Hz, HDMI Upscaling up to 4K.
Bluetooth/Wi-Fi: yes/yes.
Streaming services: AirPlay2, Spotify, Pandora, Tidal, Deezer, SiriusXM, Amazon Music, iHeart Radio, Napster, Soundcloud, Mood Mix.
Supports: HDMI ARC, HDMI eARC, HDMI CEC, HDCP2.3, HDR10+, Dolby Vision.
Surround sound: DTS:X, DTS Virtual:X, DTS Neural:X, Dolby Atmos, DTS HD Master, Dolby TrueHD.
Pros and cons
Pros
Supports gaming at 4k resolution 60hz.
Decent actual power per channel value (100w).
Zone 2 available.
Versatility due to numerous ports.
Cons
Mainly doesn't support less than 6-ohm impedance speakers.
Poor self-configure that doesn't set the proper levels and distances.