Yamaha is a world-leading company in several industries, including computer-related products, audio/visual, and semiconductor manufacturing. They entered the AV Receiver market a decade ago with their AVENTAGE line. In this YAMAHA RX-A4A review, I will tell you about this model and underline its pros, cons, features, and the things I find attractive in this product.
Features and specs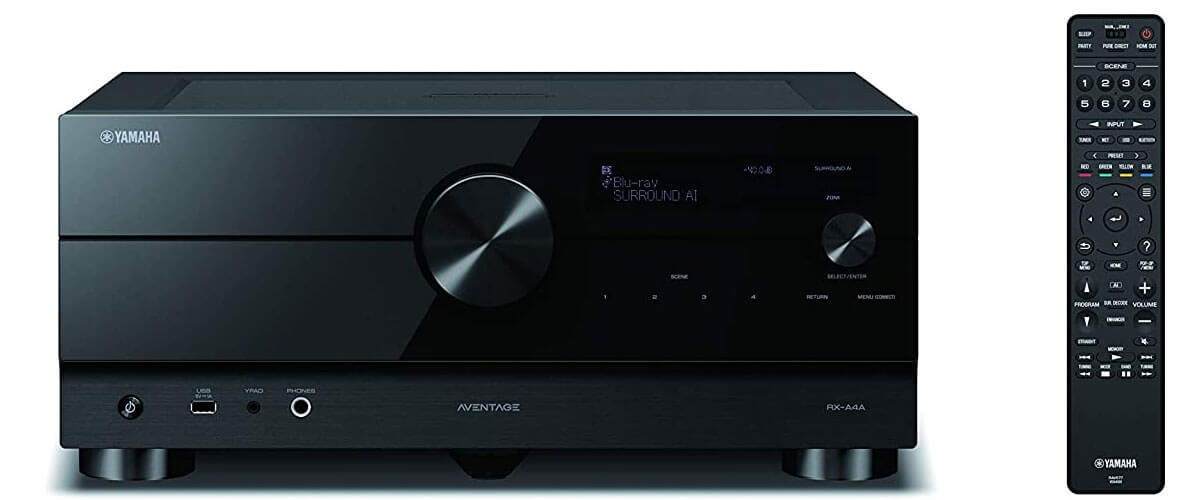 AVENTAGE RX-A4A comes from Yamaha's vintage range in terms of style. It is a pretty standard-looking receiver, but I was pleasantly surprised that the RX-A4A has a built-in metal chassis under its plastic body, making it super-rigid.
Foremost, let's take a closer look at what features YAMAHA RX-A4A has to offer. It has a pretty standard 7.2 channel set. Each channel supports up to 110W (8 ohms, 0.06% THD), allowing it to produce high-quality sound. The SABRE ES9007S Premier DAC significantly improves the signal-to-noise ratio and has a wide dynamic range that also positively affects sound quality.
Yamaha RX-A4A supports 4K video at 120 Hz, 8K at 60 Hz, HDR10+ video, and also includes Yamaha's Cinema DSP 3D. I've checked it on Ultra HD and HDR10, and it passed the tests with honor, uncovering no issues.
As for sound, this model has a genuinely unique surround sound feature called SURROUND: AI. Yamaha's original AI analyzes various sound elements (dialog, background music, sound effects, etc.) and automatically creates the optimal effect to suit the particular scene. And what made me completely happy and pleasantly surprised is that SURROUND: AI also supports playback in combination with Dolby Atmos or DTS: X.
The AVENTAGE RX-A4A is quite versatile and has 7 x HDMI 2.1 (all at 40 gigabits per second), 3x analog stereo, front USB-A, classic Ethernet, Bluetooth, Wi-Fi, Phono (a special input designed to connect devices that play gramophone records) and a M/DAB+ antenna. This model also has 3 HDMI 2.3 (eARC), an analog 2.1 output, a 6.5mm headphone output, and 9 paired speaker jacks. As you can see, its capabilities in connecting various devices are pretty wide, which can not but please.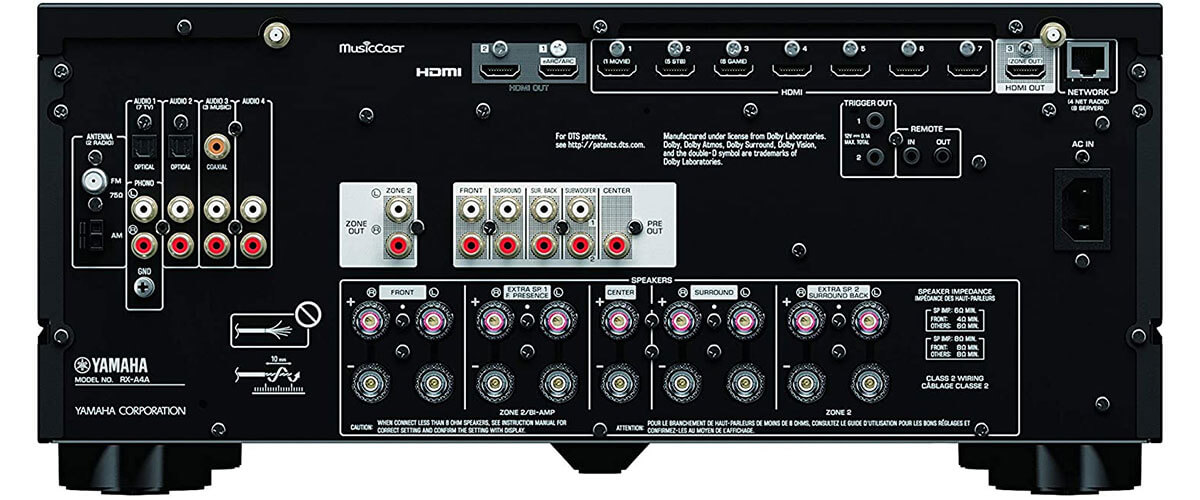 And some more good news from RX-A4A. There is a system of sound optimization YPAO, AirPlay 2, multi-room audio system – MusicCast. Furthermore, the manufacturer has not forgotten about the game lovers and added ALLM, VRR, QMS, and QFT functions. The RX-A4A supports such streaming services as Amazon Music, Spotify, Pandora, Tidal, Qobuz, and Deezer.
Altogether, if this is your first AV receiver, you will need some time to get a hand on what makes it tick, especially considering the overcomplicated remote. But it is not rocket science, and you will master and set it up pretty fast.
Sound
When it comes to the sound, Yamaha AVENTAGE RX-A4A provides a way deeper and more colorful sound, delivering much greater detail even than the more advanced RX-A6A. This is especially evident in movies focused on the perception of dialogues and not just visual effects. Dolby Atmos Height Virtualization is another feature I enjoyed for its level of immersion. Therefore, even in 5.1 and 7.1 system configurations without overhead speakers, a sound field is created with a strong sense of presence, and you can feel the sound from all sides, including height.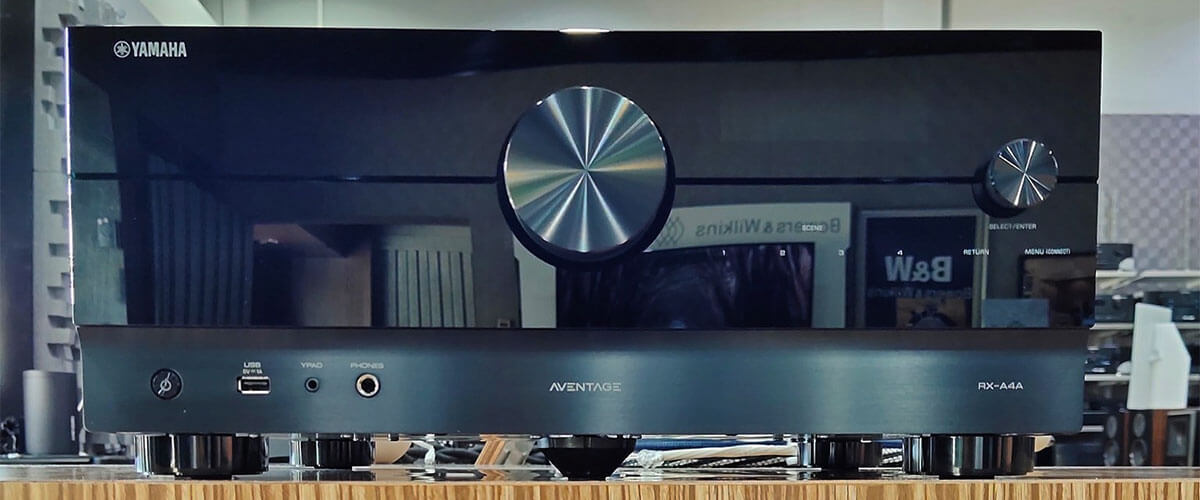 Key specs
Channels: 7.1.
Power output: 110 W/8 Ohm.
HDMI inputs/outputs: 7/3.
Video functions: 8K/60Hz, 4K/120Hz, HDMI Upscaling up to 8K.
Bluetooth/Wi-Fi: yes/yes.
Streaming services: Pandora, Spotify, Napster, SiriusXM, TIDAL, Deezer, Qobuz, Amazon Music HD.
Supports: HDMI eARC, HDMI Audio Return Channel, HDMI Up-conversion, Dolby Vision, HDR 10+, VRR/ALLM/QMS/QFT.
Surround sound: Dolby Atmos, DTS:X.
Pros and cons
Pros
Clear, detailed, and balanced sound.
Great power: 110W per channel.
SURROUND: AI function.
Cinema DSP 3D/Dolby Atmos/DTS: X/Dolby Atmos Height Virtualization.
Supports modern voice control systems.
8K 60Hz supported.
Cons
Lack of front HDMI.
Requires at least 6-ohm speakers (except the front).
Small screen.