The Japanese company Yamaha has been developing electronics and appliances for over 100 years. During this period, they have managed to earn a solid reputation. As a result, many people trust this brand and love Yamaha products (particularly the receivers). That's why I have prepared a Yamaha RX-V385 review for you.
The main advantage of this model is the price-performance ratio. For a reasonable price, you can get a pretty good receiver. But what you definitely shouldn't do is inflate your expectations. Why so? You will learn later in my review.
Features and specs
I would like to draw your attention to the Yamaha RX-V385 features. This is a 5.1-channel AV receiver with 70W per channel (8 ohms). The model exclusively supports 4K resolution at 60 frames/second pass-through. Dolby Vision, Dolby TrueHD, HDR10, Hybrid Log-Gamma, and BT.2020 are also present here. I have to say that these are primarily standard features, and, of course, I would have liked to see HDR10+ or Dolby Atmos here, but they simply cannot be in a receiver of this level with such a price tag.
The RX-V385 supports the following formats: WAV, MP3, MPEG-4 AAC, and WMA, namely up to 48 kHz / 16-bit. It is equipped with a Compressed Music Enhancer (including Bluetooth Enhancer) and YPAO (Yamaha Parametric room Acoustic Optimizer) sound optimization system. By the way, YPAO is, in my opinion, a very good solution from Yamaha, although it is slightly inferior to Audyssey.
The AVR includes a Cinema DSP. It is an exclusive Yamaha technology providing a natural and expansive sound image. In this case, control was implemented through a remote method. Unfortunately, the model lacks voice control.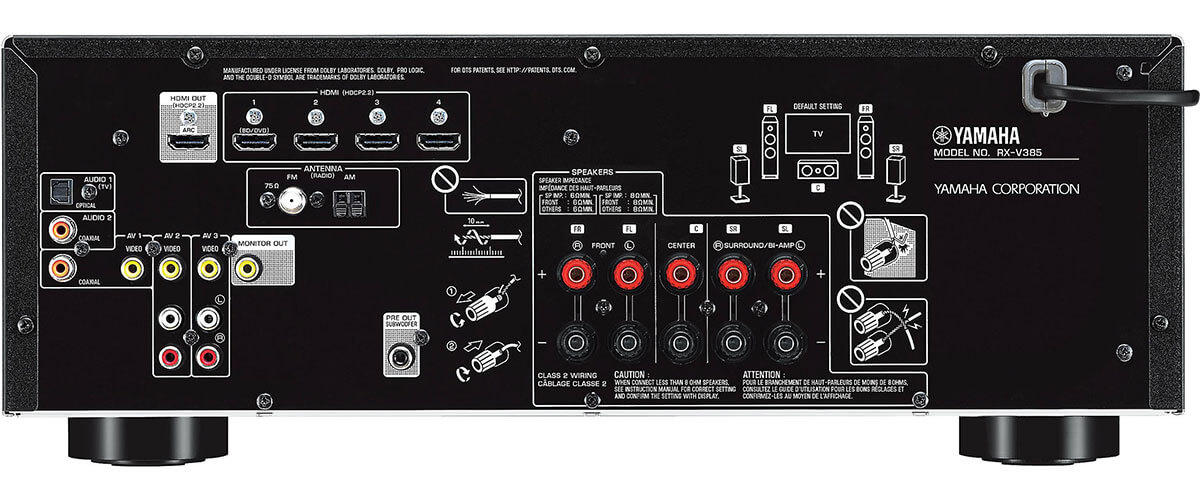 Yamaha RX-V385 has 4 HDMI inputs (2.1) and only 1 HDMI output, with HDCP 2.3 support. As for connections, it is not possible to connect via Wi-Fi. This can only be possible with Bluetooth 2.1+ERD and an Infrared port. The maximum range is 10 meters. And I want to note that there is only a preamplifier output for a subwoofer.
Well, I also liked that the body is made of metal. The design is not particularly remarkable, and one might say standard. Given my experience, I had no problems with installation and configuration. I hope you will not have them either.
Sound
As I mentioned earlier, I am a fan of YPAO technology. I can't say I was expecting a fantastic sound from this receiver, but I was hoping it would be no less than average. With YPAO technology, I could quickly adjust the acoustic parameters and volume. Not to say the sound is incredible, but it's pleasant to listen to. All in all, it met my expectations quite well.
Nevertheless, I wouldn't say I liked the Virtual Cinema Front's sound. It sounded a little husky to me.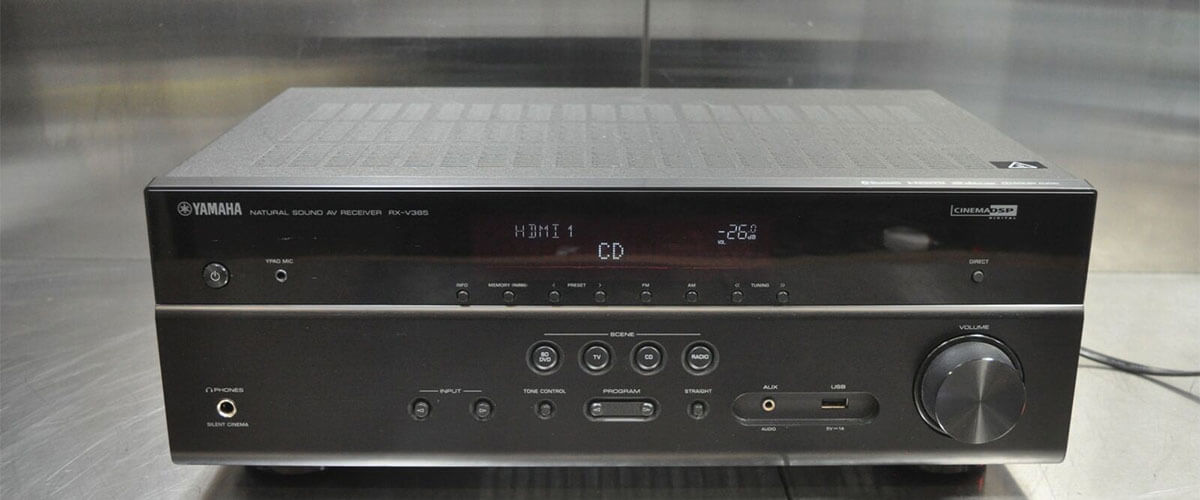 Key specs
Channels: 5.1.
Power output: 70 W/8 Ohm, 100 W/8 Ohm.
HDMI inputs/outputs: 4/1.
Video functions: 4K/60 Hz, Ultra HD Pass-through and Upscaling, HDMI 3D Pass-through, HDMI eARC.
Bluetooth/Wi-Fi: yes/no.
Supports: HDMI ARC, HDMI eARC, HDMI CEC, HDCP2.3, HDR10, Dolby Vision.
Surround sound: DTS HD Master, Dolby TrueHD, Dolby Digital Plus, DTS-HD Master Audio.
Pros and cons
Pros
Easy setting.
The receiver body is made of metal.
Cinema DSP is available.
YPAO and Compressed Music Enhancer.
Cons
No 8K resolution.
Wi-Fi is not available.
No HDR10+ and Dolby Atmos.
1 HDMI output.
No voice control.