An AV receiver is undoubtedly an essential component of a home theater. Due to its capability, it will give you a new emotion while watching your favorite movie or listening to your favorite music track. Currently, there are quite a few models with different functionality and price tags on the market. But today, I suggest you look at my selection of the best budget AV receivers that have something to show.
Our pick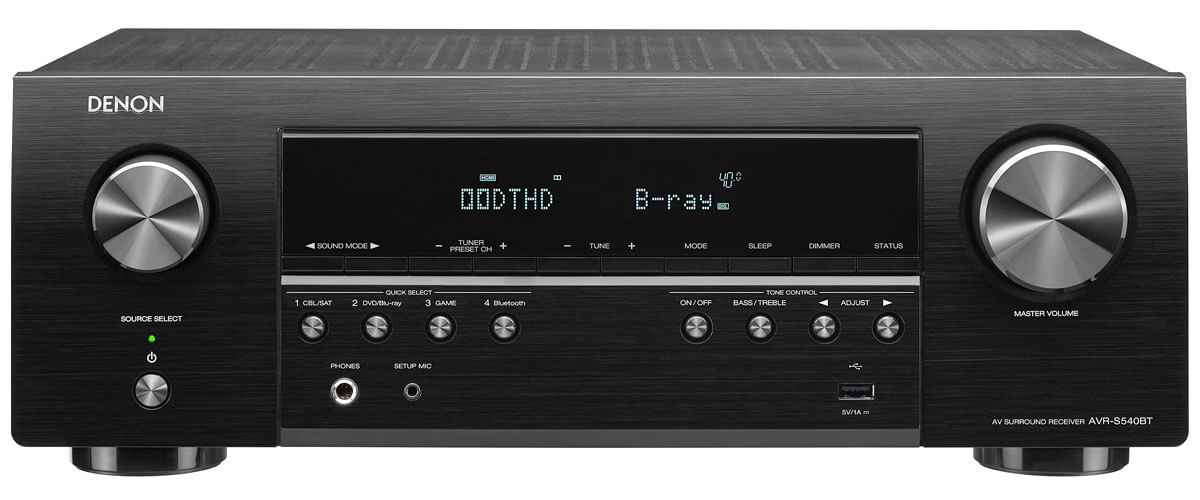 Denon AVR-S540BT
Best budget AV receiver
The 5.2 channel AVR-S540BT features Dolby Vision™, HDR, HLG and 4K Ultra HD video pass-thru with 5 HDMI inputs/1 output.
Read the full review.
Name
Channels
Power output
HDMI in/out
Bluetooth/Wi-Fi
Review
Denon AVR-S540BT

best overall

5.2
70W/8 Ohm, 90W/6 Ohm
5/1
yes/no
Review
Yamaha RX-V385
5.1
70W/8 Ohm, 130W/6 Ohm
4/1
yes/no
Review
Sony STRD-H590
5.2
145W/6 Ohm
4/1
yes/no
Review
Pioneer VSX-534
5.2
80W/8 Ohm, 150W/6 Ohm
4/1
yes/no
Review
While writing this review, I decided not to focus on one particular brand but instead to give you a wide range of devices from different manufacturers with different advantages.
Best budget AV receiver reviews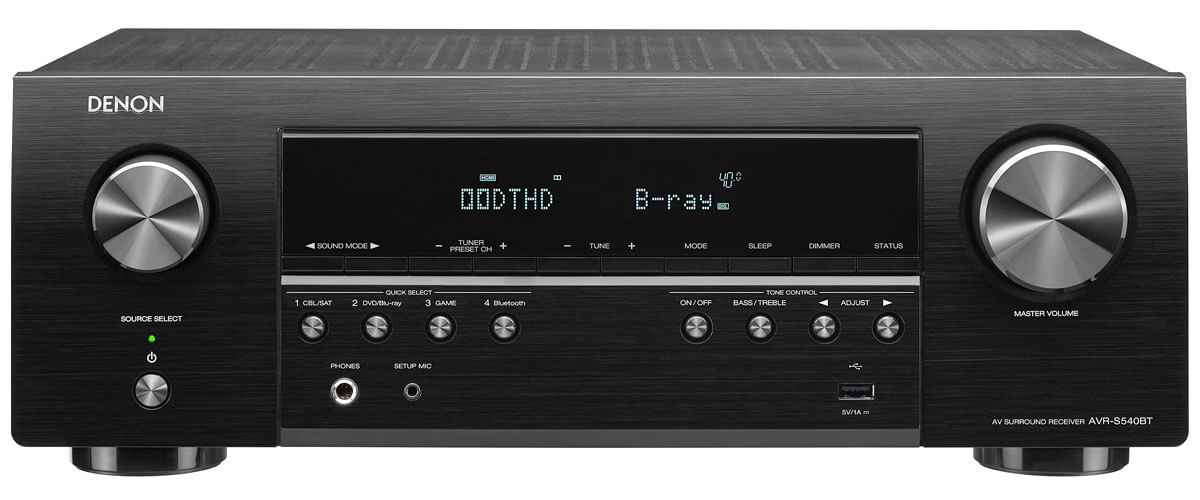 I want to start my review with the most interesting receiver model in this price segment, the AVR-S540BT. It was released by Denon in 2018 and has received a fair amount of positive feedback from numerous users. So, let's take a closer look at it and determine whether it is really that good.
The receiver has a 5.2 channel amplifier with about 70W per channel (8 ohms, 20Hz – 20kHz, THD: 0.08%). It's certainly not the limit of an audiophile's dreams, but more than enough for small to medium-sized rooms.
After doing image quality testing on a 65-inch TV, I can confidently say this is a great budget 4K receiver. In addition to Dolby Vision, it also supports HDR formats. All this together makes the picture more lively and vivid. Of course, it's not as good as 8K quality, but we're talking about a budget model now.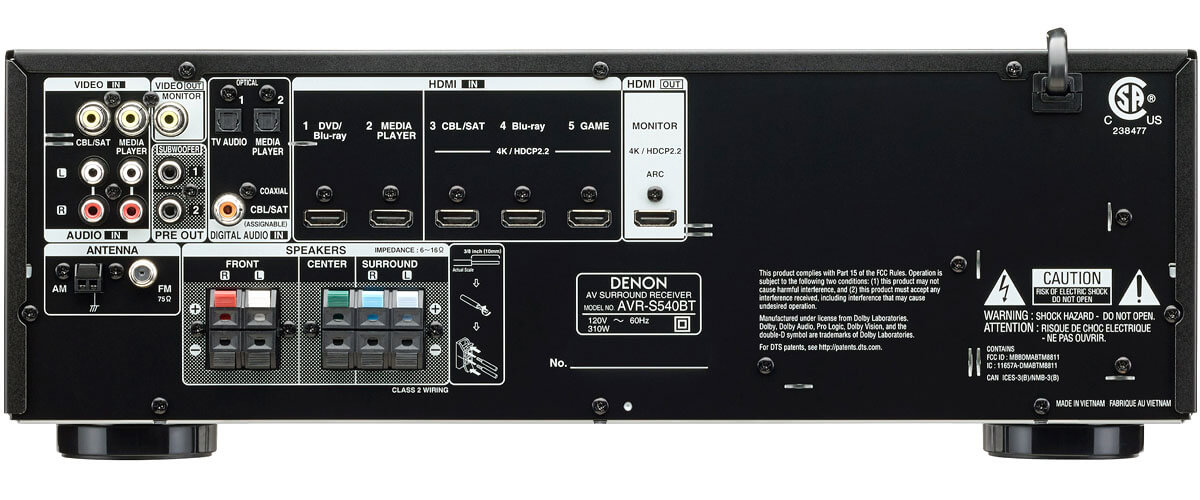 I would also like to point out that you can get a qualitative sound thanks to automatic speaker calibration. But there's one thing. The volume control isn't linear, so you must increase the volume to at least 60% to watch the movie properly. But the good thing about the AVR-S540BT is that it keeps its noise level low even at maximum volume.
The Denon has five HDMI inputs (2.0) and one HDMI output with HDCP 2.2 support. Connecting to the model through two subwoofer outputs and Bluetooth is possible. As for Wi-Fi and Ethernet Ports, there are none.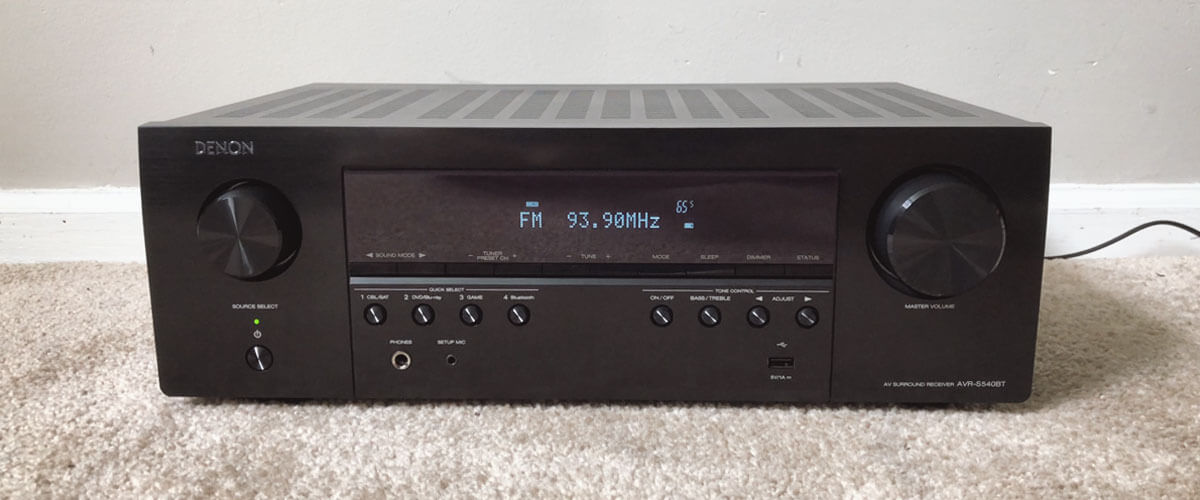 For Denon's lower range, the music plays clearly and dynamically without any distortion. The device also works with the HEOS link, which is very convenient. With it, the model is ready to combine all the existing audio systems in your home into a single complex. It's very cool that the budget model supports HEOS.
Choosing between the AVR-S540BT and the Yamaha RX-V385, I would prefer the first option. Because, in this case, I will get more HDMI ports, 4K resolution, and higher quality sound.
In my opinion, this is the best budget receiver, which is great for a small room. For such a price, it offers not only basic functions but also really good music playback, 4K image quality, and the presence of HEOS. So, I completely agree with the positive reviews about this model and call it the leader of my top!
Key specs
Channels: 5.2.
Power output: 70W/8 Ohm, 90W/6 Ohm.
HDMI inputs/outputs: 5/1.
Video functions: 4K/60Hz pass-through.
Bluetooth/Wi-Fi: yes/no.
Streaming services: no.
Suppots: HDMI ARC, HDMI CEC, HDMI HDR, HDMI HGL.
Surround sound: DTS HD Master, Dolby TrueHD, Multichannel Stereo, Compressed Audio Restorer.
Pros
Dolby Vision.
Full 4K Ultra HD.
The device is easy to set up thanks to the Denon Setup Assistant.
Compatibility with the HEOS link.
Low noise floor.
Cons
Wi-Fi and Ethernet Ports are not present.
All HDMI ports version 2.0.
Does not support Lossy/Lossless formats.
Yamaha RX-V385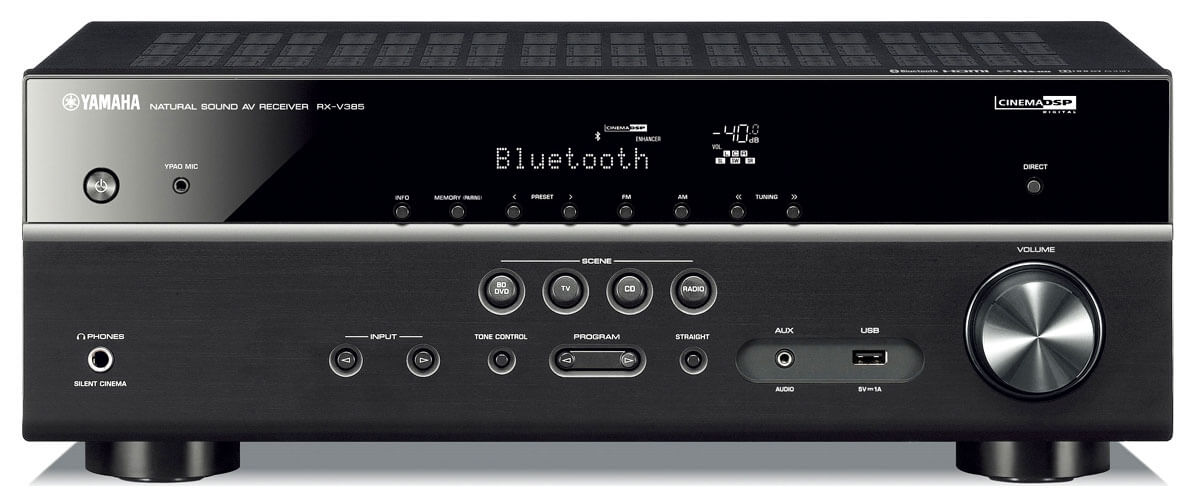 Next, I suggest you look at a budget home theater receiver – the Yamaha RX-V385. The Japanese company released it in 2018. Since its introduction, this model has found many fans, so I've included it in my list, and now, let's look at it in more detail.
The Yamaha RX-V385 has 70 watts per channel (8 ohms, 0.09% THD). The design, size, and layout of the control buttons haven't changed from previous generations of Yamaha RX-series receivers. This must please the followers of this brand of receivers, which I consider myself, as I didn't have to get used to the new model for too long. Yamaha RX-V385 belongs to the entry-level, that's why the bottom side of the front panel is made of plastic, while in higher priced models, it is made of metal. The case itself is made of metal. Ventilation holes for heat dissipation are on the top and the left side. This should be taken into consideration when installing the receiver. Despite its budget, this receiver has full screw terminals for connecting the speakers. For example, last year's junior Yamaha RX-V383 model had screw terminals only for the front pair connection. Spring clips were used for the rest of the speakers, which are not as reliable.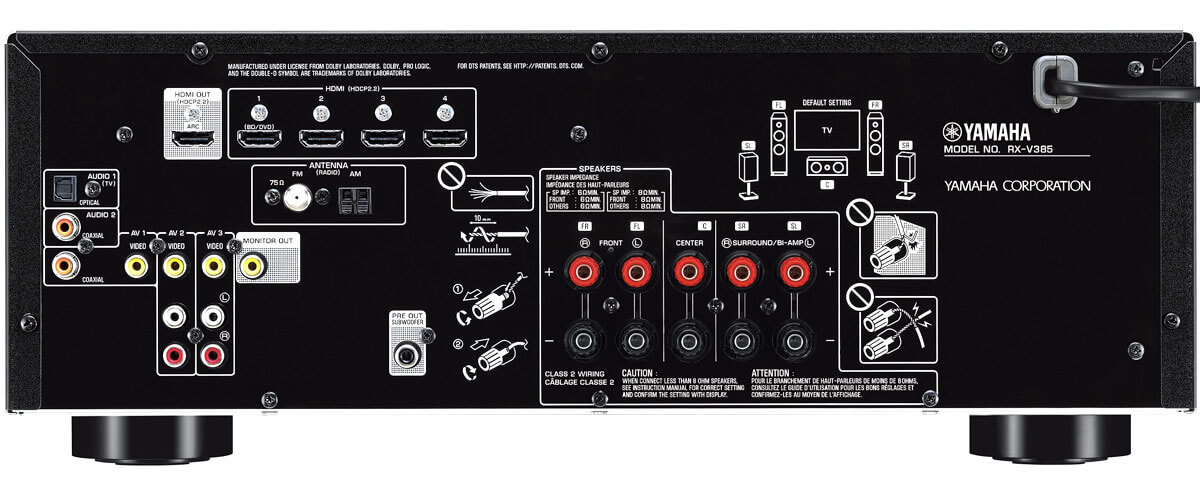 Modern video technologies: 4K, HDR10, Dolby Vision, HLG, HDCP 2.2, and BT.2020 color space. I have not had a single failure with the image output (including high resolution) or multi-channel audio during the operation. The main thing is to use quality HDMI cables in the system.
As for the number of connectors, the receiver has 4 HDMI inputs (2.1) and 1 HDMI output (2.1) with HDCP 2.3 / eARC support. There is only one subwoofer output and Bluetooth among the available connection methods. But what I particularly liked was the banana clip inputs for all 5 speakers.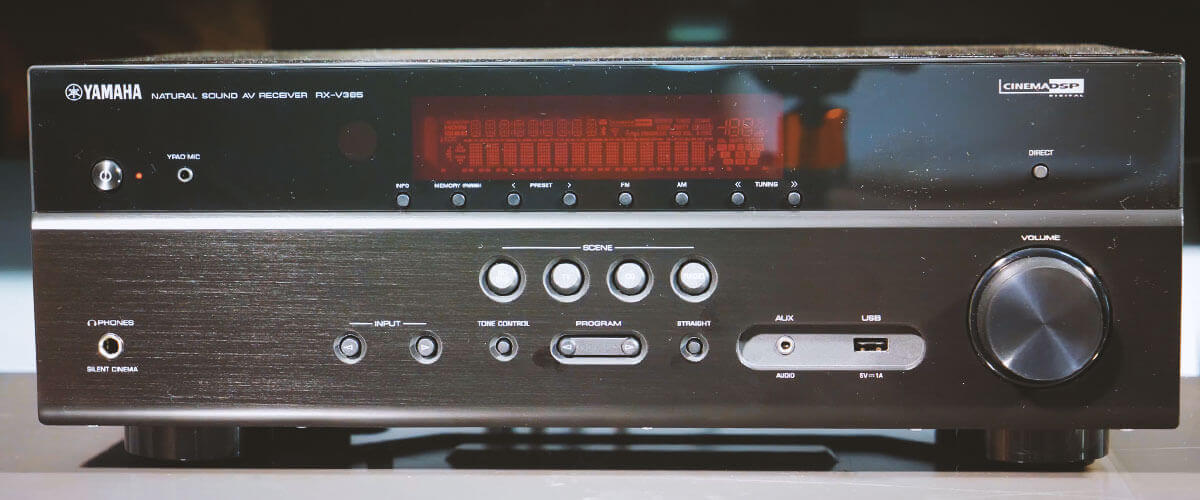 One of the strengths of Yamaha is its support for Lossy and Lossless formats. It's also relatively easy to calibrate the sound, thanks to YPAO's exclusive development. The sound in the home theater system is traditionally Yamaha detailed, large-scale and clear. Many presets for movies and music, which have already been tested before, are installed. For those who are not satisfied with them, the equalizer with separate adjustments of high and low frequencies will help. Settings for the subwoofer, three-dimensional sound for a two-speaker system, terminals with the ability to biamplify the front speakers, and many other settings and functions are also implemented in this model.
I want to add that the instruction that came with the model was not clear enough. Therefore, inexperienced users will probably have to spend some time configuring the device.
In short, the RX-V385 is a good solution for most home tasks. 4K pass-through, HD Audio, combined with the well-known Yamaha quality, sets it apart from competitors. However, besides the inarticulate instructions, I noticed that the lower part of the RX-V385 overheats when you use it for a long time. Please, pay attention to this.
Key specs
Channels: 5.1.
Power output: 70W/8 Ohm, 130W/6 Ohm.
HDMI inputs/outputs: 4/1.
Video functions: 4K/60Hz pass-through, upscales HD video signals to 4K Ultra HD.
Bluetooth/Wi-Fi: yes/no.
Streaming services: no.
Suppots: HDMI ARC, HDMI eARC, HDMI CEC, HDMI Upscaling.
Surround sound: DTS HD Master, Dolby TrueHD, Dolby Digital Plus, Cinema DSP.
Pros
4K UHD resolution.
Cinema DSP, Dolby Vision, and Virtual Cinema Front are available.
Easy sound calibration via YPAO.
HDMI ports version 2.1.
Cons
The instruction is difficult to understand.
The device often overheats.
Sony STRD-H590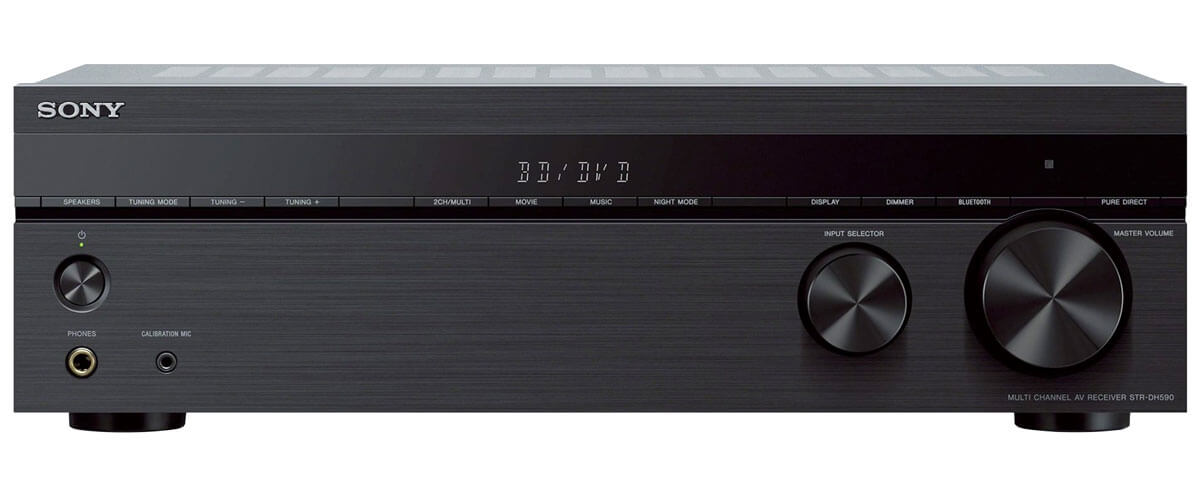 I want to rivet your attention to Sony STR-DH590. In 2018, it replaced the STR-DH190, offering its users five amplifier channels instead of two. The device is pretty good, so let's take a closer look at it now.
The inexpensive AV receiver has a 5.2 amplifier with 90W per channel (6 Ohms, 20Hz to 20kHz, 0.09% THD). Its power is enough for both small and medium-sized rooms. In terms of design, it has a compact body that fits easily into a media unit.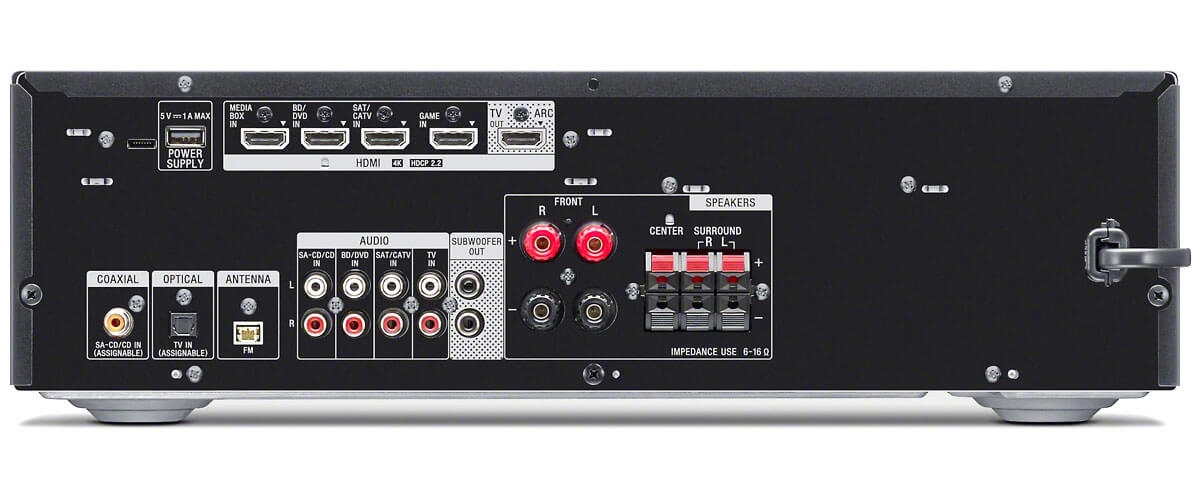 The STR-DH590 supports 4K HDR pass-through at 60Hz. It is possible to play 3D content. Overall, the picture is cool. But I am not happy with the firmware of this model at all. Regardless of what you are doing (e.g., selecting the channel you want, resuming movie playback, or switching between functions), the display shows a black bar with information about which input channel is currently selected. It takes up almost 20% of the entire screen and doesn't disappear for a while.
Since it is an entry-level AV receiver, you should not expect too much from it. For example, it has 4/1 HDMI inputs and outputs of the old 2.0 version and ARC technology. There is also no Wi-Fi connection. You will only be able to connect to the model through cable or Bluetooth. By the way, the Bluetooth connection leaves much to be desired. Sometimes, I had a problem that the receiver disconnected from this technology by itself. It's not a very pleasant situation. I don't even mention the absence of AUX-IN.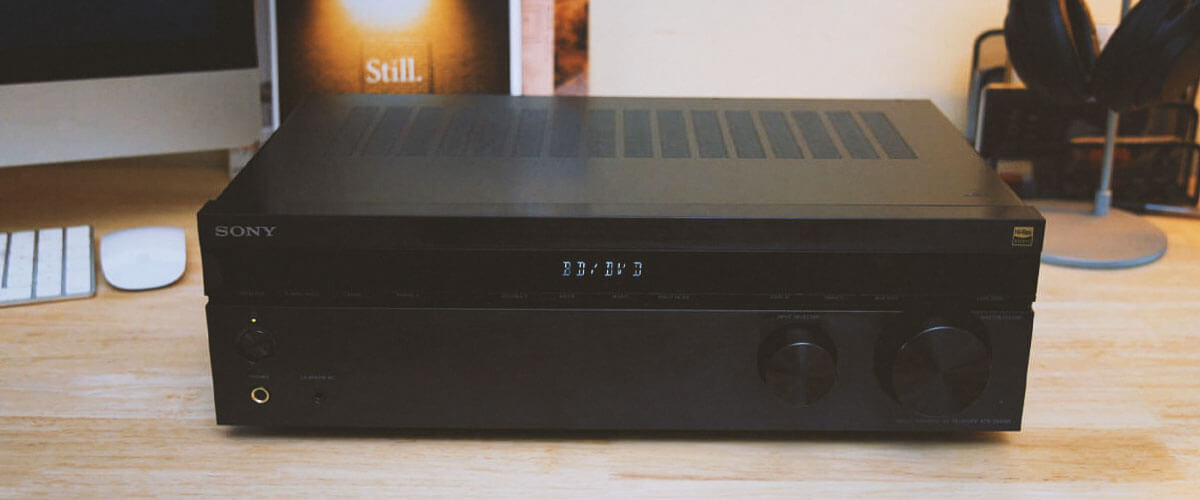 Sony supports the following audio formats: DTS, DTS-HD Master Audio, DTS-HD High-Resolution Audio, and others. It plays the music with sufficient detail. However, compared to the AVR-S540BT, Sony is inferior to Denon in sound quality. The music playbacks are not as clear and dynamic as the competitor's. The other functions are not much different.
The STR-DH590 has excellent build quality and a good price-performance ratio. The AVR is really a pleasure to listen to and watch, but there are plenty of flaws, too. In any case, it is worth your attention.
Key specs
Channels: 5.2.
Power output: 145W/6 Ohm.
HDMI inputs/outputs: 4/1.
Video functions: 4K/60Hz pass-through.
Bluetooth/Wi-Fi: yes/no.
Streaming services: no.
Suppots: HDCP2.2, HDR10, Dolby Vision.
Surround sound: DTS HD Master, Dolby Digital.
Pros
The device has a compact body.
4K HDR pass-through is present.
High-resolution audio compatible.
The model works with 3D content.
Cons
HDMI version 2.0 and old ARC.
No Wi-Fi support.
Uncomfortable receiver firmware.
Bad Bluetooth connection.
Pioneer VSX-534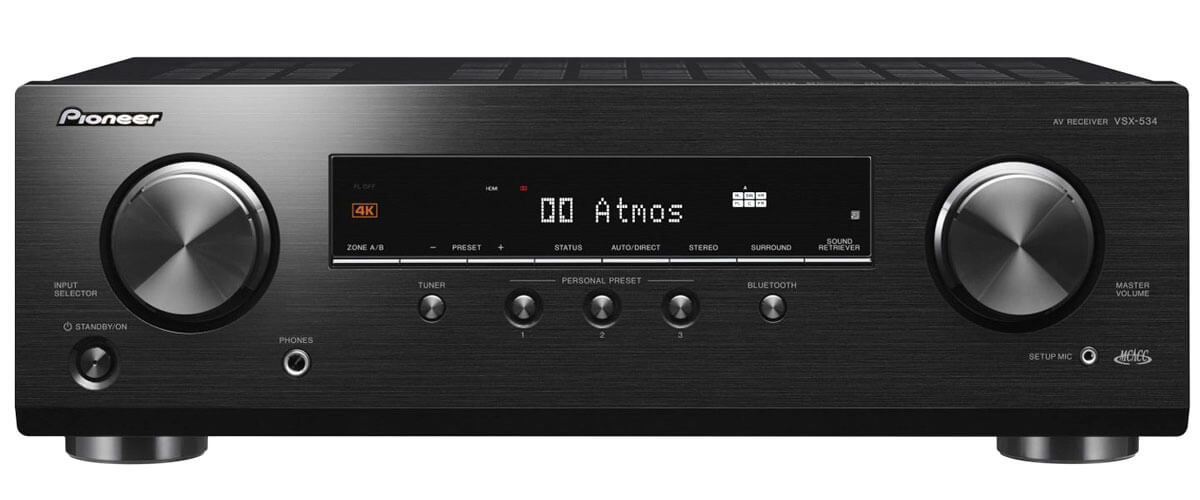 And the last budget AVR in my list that deserves your attention is the VSX-534. This is the most modern device of the models listed above, as company Pioneer released it in 2019. Its predecessor is the VSX-LX503.
The receiver is equipped with a 5.2 channel amplifier with about 80W per channel (8 Ohms, 20Hz – 20kHz, 0.08% THD, 2ch Driven). For a modern receiver, it is rather short – 5.8 in, which, incidentally, is almost two centimeters shorter than its predecessor. The black matte front is decorated with two impressive drums of the input selector and volume control. In a word, the design is very traditional.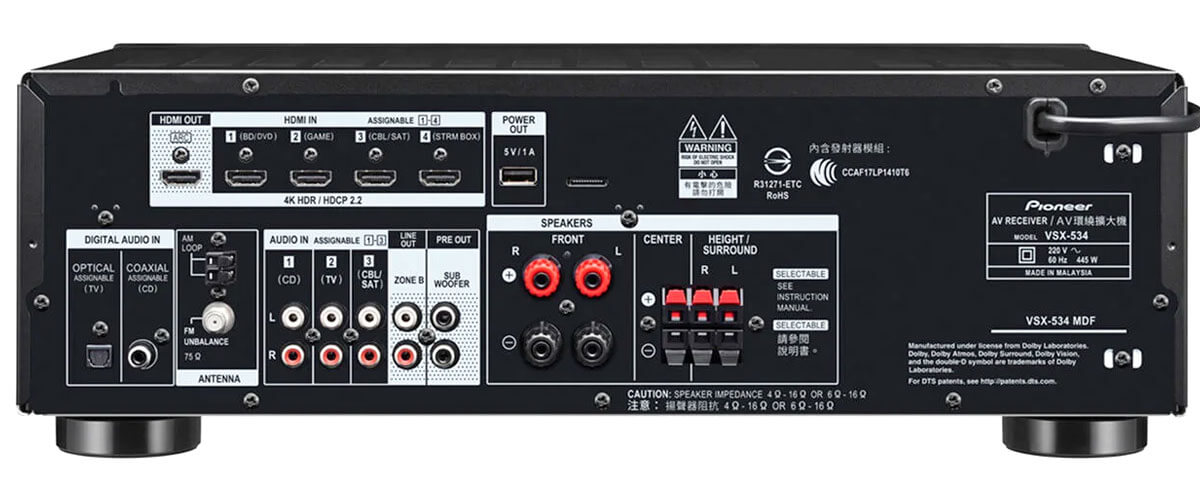 The device supports 4K resolution. Technologies such as HDR10 and Dolby Vision are also present. As a result, the picture looks moderately bright and clear. The only thing I noticed during testing was that video is transmitted to the TV via HDMI with slight delays. But I managed to solve this problem. At first, I just switched the inputs and then put them back. And everything started working as it should.
Now a little bit about connectors and connection methods. The VSX-534 model has 4 HDMI inputs (2.0) on the rear panel and 1 HDMI output (2.0) with HDCP 2.2 and ARC support. When you need to connect to the receiver, you can only do so with a USB cable or Bluetooth technology. There are no connection methods such as Wi-Fi or Ethernet Ports.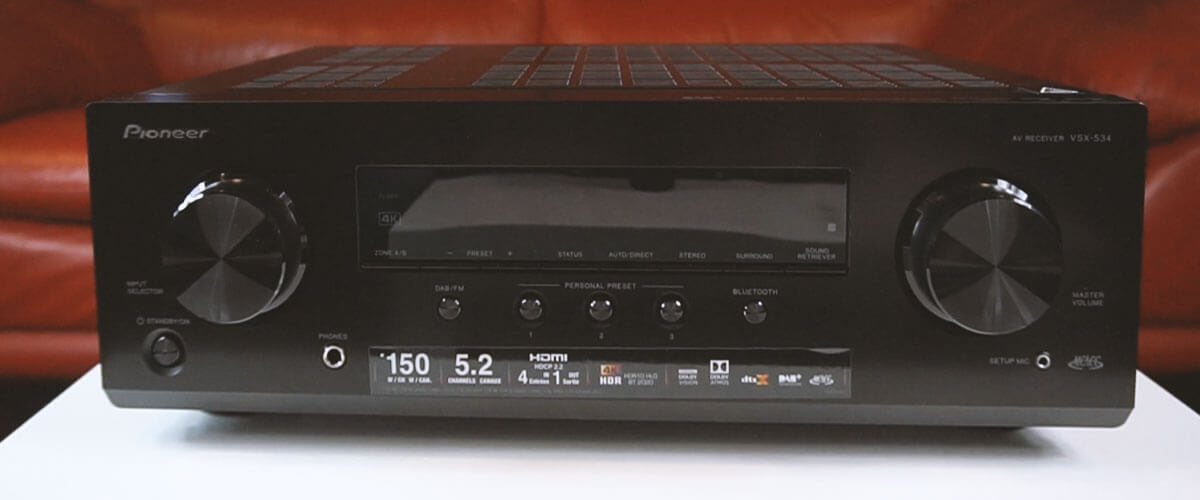 This model has a unique advantage that immediately distinguishes it from other competitors. Although it will be pretty tricky to find a device with Dolby Atmos and DTS:X in this price range, Pioneer does support them. I want to point out that this is the only receiver in my review that has such surround sound technologies. The sound perfectly conveys the minor details of the different scenes of the movie.
In short, it is an affordable home theater receiver that boasts Dolby Atmos and DTS:X technologies. Otherwise, this model is equipped with standard features, and almost nothing stands out from its analogs.
Key specs
Channels: 5.2.
Power output: 80W/8 Ohm, 150W/6 Ohm.
HDMI inputs/outputs: 4/1.
Video functions: 4K/60Hz pass-through, upscales HD video signals to 4K Ultra HD.
Bluetooth/Wi-Fi: yes/no.
Streaming services: no.
Suppots: HDMI ARC, HDMI eARC, HDMI CEC, HDMI Upscaling, HDMI HDR, HDMI HGL.
Surround sound: Dolby Atmos, DTS:X, DTS Neural:X, DTS Virtual:X, DTS HD Master, Dolby TrueHD, Dolby Digital Plus, Dolby Atmos Height Virtualizer.
Pros
4K resolution.
Supports HDR.
Dolby Atmos and DTS:X technologies are present.
Zone B output for wireless headphones.
Cons
HDMI version 2.0 (ARC).
No Wi-Fi support.
The device can overheat.
What to expect from a budget AV receiver?
Budget receivers include options that fall within the range from $250 to $400 price range. Don't think that if the price of a receiver is less than $500, it's a bad option. However, this is far from the case. Such models are great for first-time users who do not pursue the latest technology and only want basic features and don't need additional functionality. But it is often difficult for this category of people to choose the best budget AV receiver. That's why let's take a closer look at what functionality these devices offer.
The entry-level model can have an amplifier of up to 100W per channel at 8 Ohms impedance. But as a rule, the numbers are even lower. This is only because manufacturers assume you are using less demanding speakers in this price range.
As for the picture, you can forget about supporting 8K resolution. But this doesn't mean you can't watch the movie with good quality. There are quite a few budget receivers on the market that support 4K video.
If you look at the available connectors, in most cases, you can see about 4-6 HDMI inputs and only 1 HDMI output, which is quite normal for this category. Some models support HDMI ports version 2.1 (eARC), while others may have version 2.0 with ARC support. Of course, HDMI 2.1 with Enhanced Audio Return Channel technology would be the most suitable option. Also, you can find Wi-Fi, Ethernet Ports, Bluetooth, and one or two subwoofer outputs among the connection methods.
Cheap models can't boast a 7-channel surround sound system, as devices with this configuration cost an average of $500 and up. Here you can read more about the best AV receiver under 500 dollars. That's why in my review, you will find only 5-channel receivers. They often offer such technologies as Dolby TrueHD and DTS-HD Master Audio. Unfortunately, finding a device that supports DTS:X or Dolby Atmos is almost impossible. But I did it for you by including the Pioneer VSX-534 in my review.
To summarize, I would like to say that manufacturers, in this case, pay more attention to the availability of basic features than high performance and versatility. Whatever the case, it is possible to find a cheap model that will cater to your needs. But to do that, you need to consider all the above parameters.
FAQ
Is an affordable AV receiver worth it?
Among the budget receivers, quite a few decent models will accurately
optimize your home multimedia system
. So if you are not looking for the most advanced technology, features, and audiophile sound quality, then feel free to buy such a product.
Which brand of receivers is best?
It all depends on the specific model. Every brand (Yamaha, Sony, Denon, etc.) has good and not-so-good models. So don't look for a brand, but choose a model.
Do more expensive receivers sound better?
Generally, yes. But excellent receivers among the budget models can compete with more expensive analogs.
Will any speakers work with any AV receiver?