Oh yes, that famous consumer culture is a THING in the AV receiver world. Luckily, it is not entirely a bad thing, as I can update my list of the best Onkyo receivers every few years. After all, it also forces manufacturers to continuously update their product lines to give us consumers unstoppable access to the latest technologies. I clearly understand that while this is a good thing for such sound junkies as I am, it can be tough for those new to the AV receiver world to get the unit that would match their needs. But don't worry, my review will help you not to drown in this ocean of technical terms, features, technologies, and new models. For now, a few words about the Onkyo brand itself.
Our pick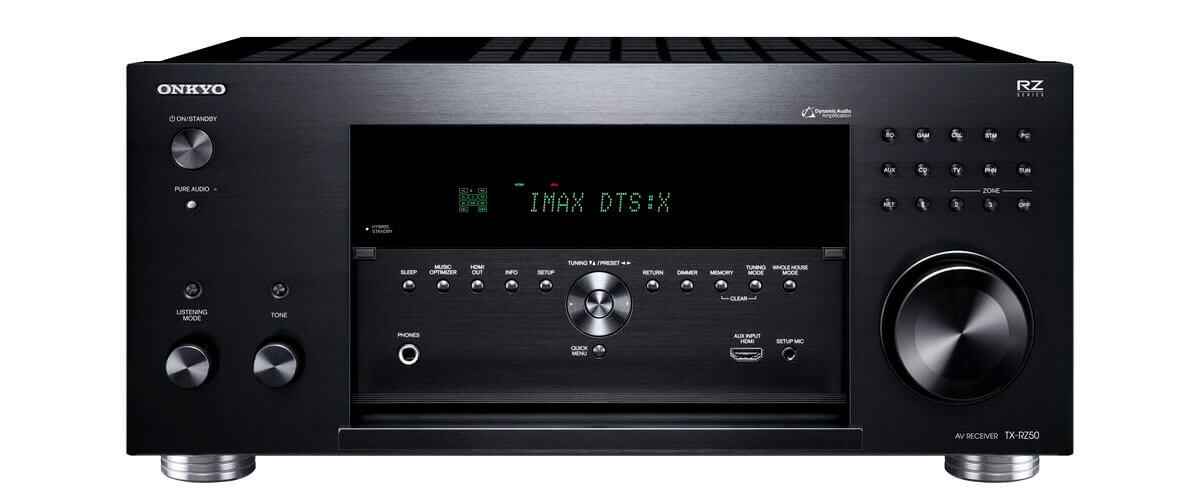 Onkyo TX-RZ50
Best Onkyo receiver
The TX-RZ50 features up to 11.2 channel processing and pre-outs for 7.2.4 system layouts and delivers enormous power on-demand to highlight every nuance of the music, movies, and games you love.
Read the full review
.
Onkyo receivers comparison table
Name
Channels
Power output
HDMI in/out
Bluetooth/Wi-Fi
Review
Onkyo TX-RZ50

best overall

9.2
120W/8 Ohm
7/2
yes/yes
Review
Onkyo TX-SR393

budget

5.2
80W/8 Ohm, 155W/6 Ohm
4/1
yes/no
Review
Onkyo TX-RZ70

premium

11.2
140W/8 Ohm
7/3
yes/yes
Review
Onkyo TX-NR6100

also great

7.2
100W/8 Ohm, 210W/6 Ohm
6/2
yes/yes
Review
Onkyo receivers history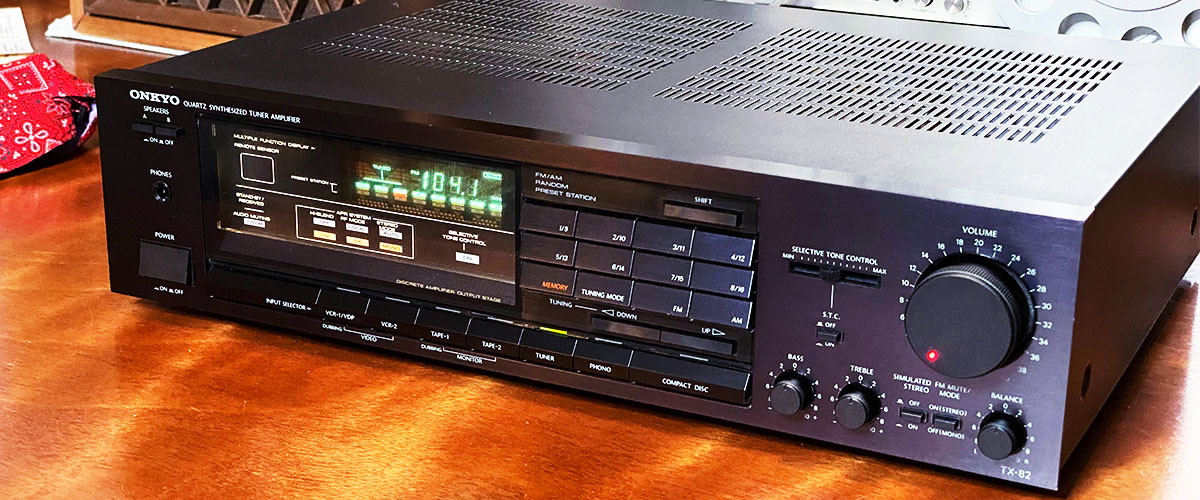 Founded in April 1946 in Osaka, Japan, Onkyo has a distinguished history of pursuing high-quality audio. Takeshi Godai, the visionary founder, aimed to create Japanese-crafted loudspeakers. Within a month, Onkyo released its first product, a cartridge pickup for record players. The profits from this initial offering fueled further innovation.
By January 1948, Onkyo had established its factory, a testament to its commitment to speaker research and development. In a bold departure from convention, Onkyo pioneered an in-house production method for crafting paper cones, marking the inception of the Onkyo sound legacy. Over the decades, Onkyo has continually pushed the boundaries of audio technology, becoming a respected name in the AV receivers and home theater systems industry.
Today, Onkyo's legacy endures as the brand continues to innovate and offer groundbreaking home theater solutions. With a history of over seven decades, Onkyo remains dedicated to delivering exceptional sound experiences to its customers, cementing its place as a leader in the audio industry.
Why choose Onkyo?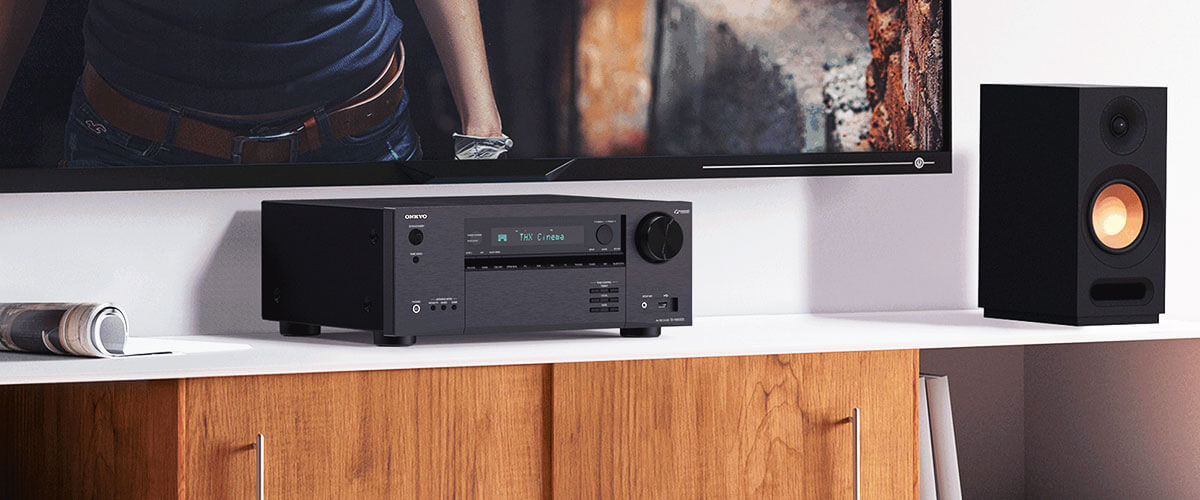 So, why do I never neglect considering Onkyo receivers? Well, firstly, they are renowned for their sound quality, supporting advanced sound processing and immersive formats such as Dolby Atmos, DTS:X, etc. Secondly, they are equipped with room calibration systems for a personalized listening experience. Thirdly, they are more affordable than most models from recognized industry leaders (while not being inferior in most respects).
Typically, Onkyo receivers offer good enough build quality, using quite decent materials and components that enhance durability. Premium capacitors and transformers reduce the risk of component failure.
Onkyo's reputation for producing high-quality audio equipment is associated with its mid-range models. However, even lower-end devices benefit from the brand's reliability and good value. The company caters to various customers, satisfying the needs of both discerning beginners and demanding audiophiles.
Best Onkyo receivers reviews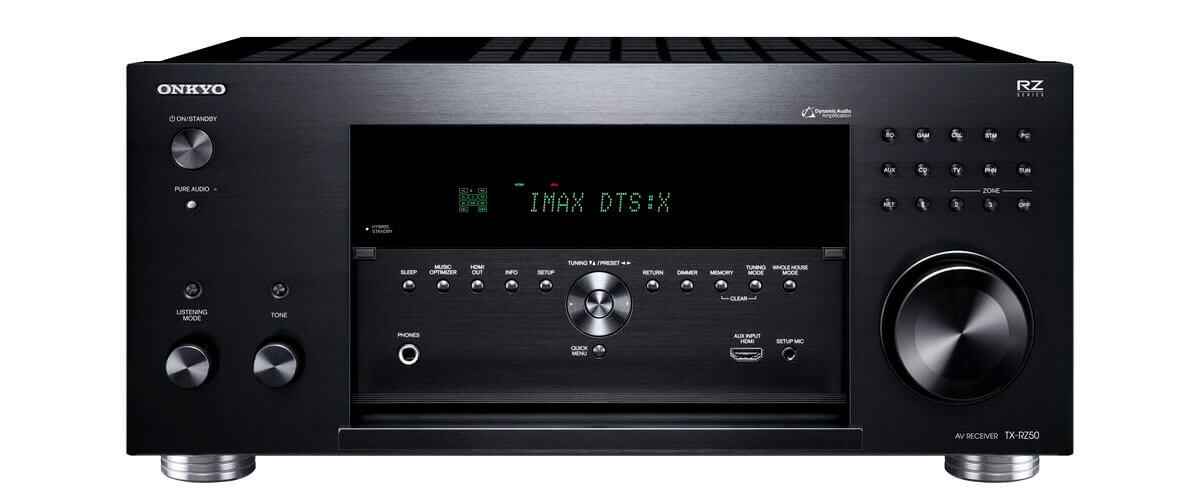 Hehe, I have something extraordinary for you today. Those familiar with my blog already feel it coming. The Onkyo TX-RZ50 is a true top-tier contender not only in this particular review but also among my other surround sound receiver comparisons. This 9.2-channel powerhouse has 120 watts per channel, supplemented by a robust set of features that make it the best Onkyo receiver in today's review.
Coming in trumps, the Onkyo TX-RZ50 keeps pace with the latest video technologies. It's equipped with HDMI 2.1 and boasts 4K/8K, supplemented with Dynamic HDR formats. What does it mean for us? The movies will offer stunning visuals, and games will also provide supreme smoothness with 4K at 120 fps(of course, if your gaming machine can achieve that).
Sound is my favorite part when testing the receivers, and Onkyo stands apart from other manufacturers. No-no, the sound quality is stunning. But the Devil is in the details. While other brands often add their overtones to the sound by adding warmth or crystal coldness, Onkyo focuses on delivering quality, stable sound without any additions.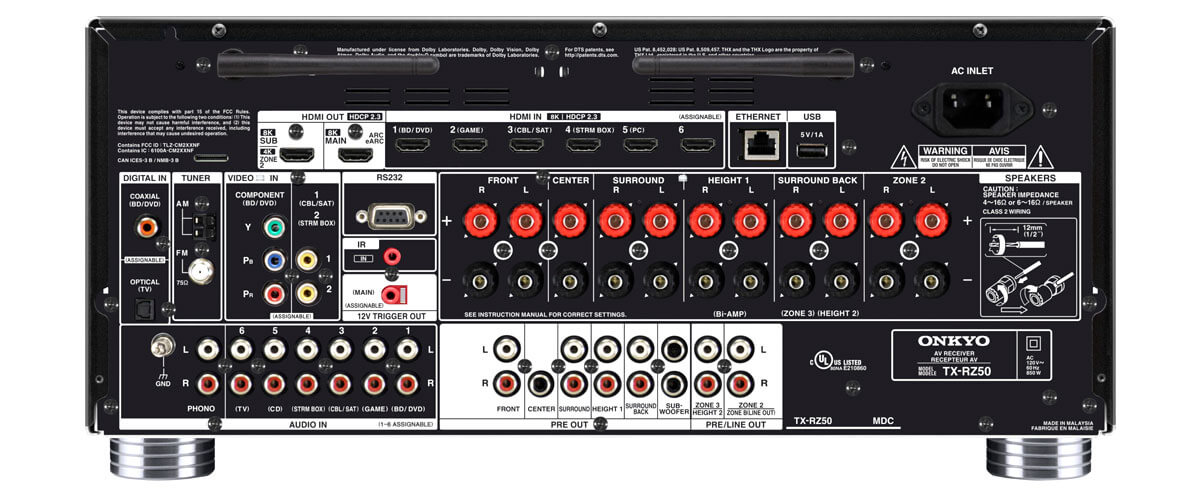 Sounds boring? No way, and here is why. A Quiet Place – you probably heard about this movie. It's nothing special, with no over-bloated budgets, no first-tire stars, or even technologies used. But why do I even bring it here? The thing is that sound plays a crucial role in this movie (watch it to learn why). In turn, the TX-RZ50 ensures that every bit of sound and every noise is reproduced exactly how movie makers want it. Onkyo's primary focus is saving the original sound language creators wanted to use to speak with the viewers, gamers, and listeners. The TX-RZ50 excels in this, giving other models a head star.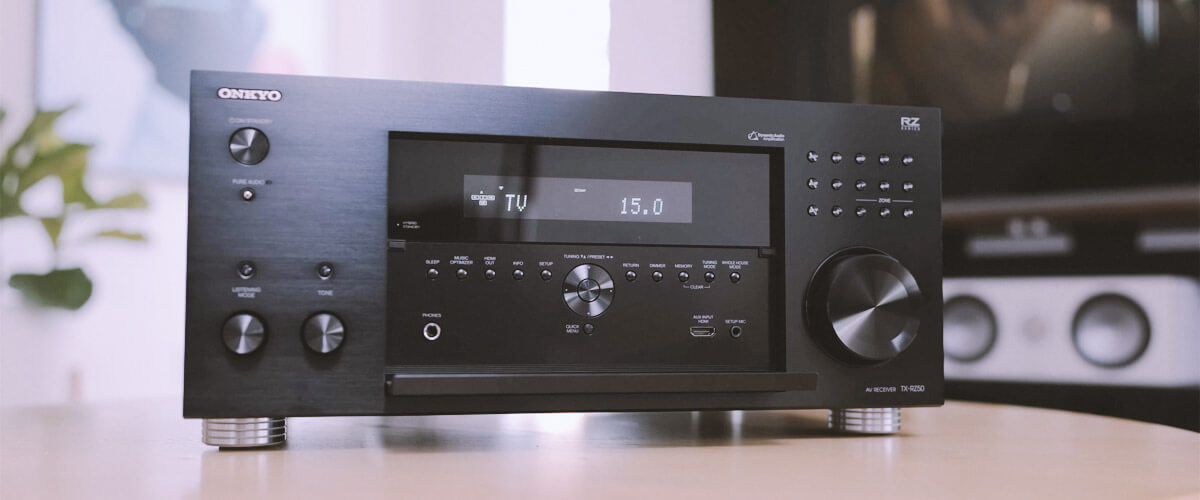 Is it the most badass-sounding model in review? Nope, continue reading to learn which one is. Is it most packed up with features? Nope, there is another contestant that surpasses it. But, the TX-RZ50 is the best Onkyo AV receiver judging by the balance of all factors, including versatile Zone 2 HDMI switching, support of modern streaming services, robust connectivity, and the price/performance ratio.
Key specs
Channels: 9.2.
Power output: 120W/8 Ohm.
HDMI inputs/outputs: 7/2.
Video functions: 8K/60Hz, 4K/60Hz, 4K/120Hz, HDMI upscaling up to 8K.
Bluetooth/Wi-Fi: yes/yes.
Streaming services: AirPlay 2, Spotify, TuneIn, Deezer, Tidal, Netflix, Amazon Prime.
Supports: HDMI ARC, HDMI eARC, HDMI CEC, HDCP2.3, HDR10+, Dolby Vision.
Surround sound: DTS HD Master, DTS:X, DTS Neural:X, Dolby Atmos, Dolby TrueHD, Dolby Height Virtualization, Dolby Surround, IMAX Enhanced.
Pros
9.2 channel with great multiroom capability.
Produces quality original sound.
Despite its power, it keeps the heat at hand.
Crisp and razor-sharp video quality in movies and games.
Cons
Drains 850 Watts of power when operating (that's a lot).
It doesn't fit 7.1.4 setups, as it works only with 2 overhead speakers.
Onkyo TX-SR393 – budget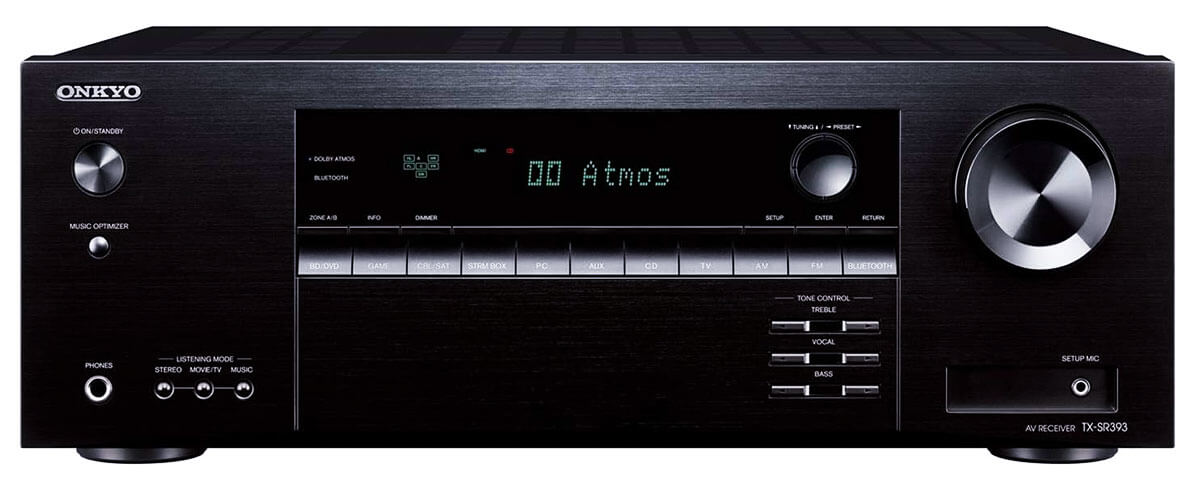 Next, I introduce you to the Onkyo TX-SR393 AV receiver, your 5.2-channel low-cost ticket to a world of new sound. With the power of 80 watts per channel, this babe can fill any small room with high-quality and loud enough sound. Just don't forget about good speakers. Talking about the surround sound, the TX-SR393 supports Dolby Atmos and DTS:X formats. It means it shares almost the same capabilities of creating a multidimensional soundstage as the older models in this review.
Sadly, there is also the dark side of the Moon – the AccuEQ room calibration system. Why is it dark? Like with the Moon – we only know what is going on its dark side once we send some probe there. The thing is that this receiver sometimes tunes itself very poorly and requires manual intervention. If you are new to such products, setting it up properly will take time and effort.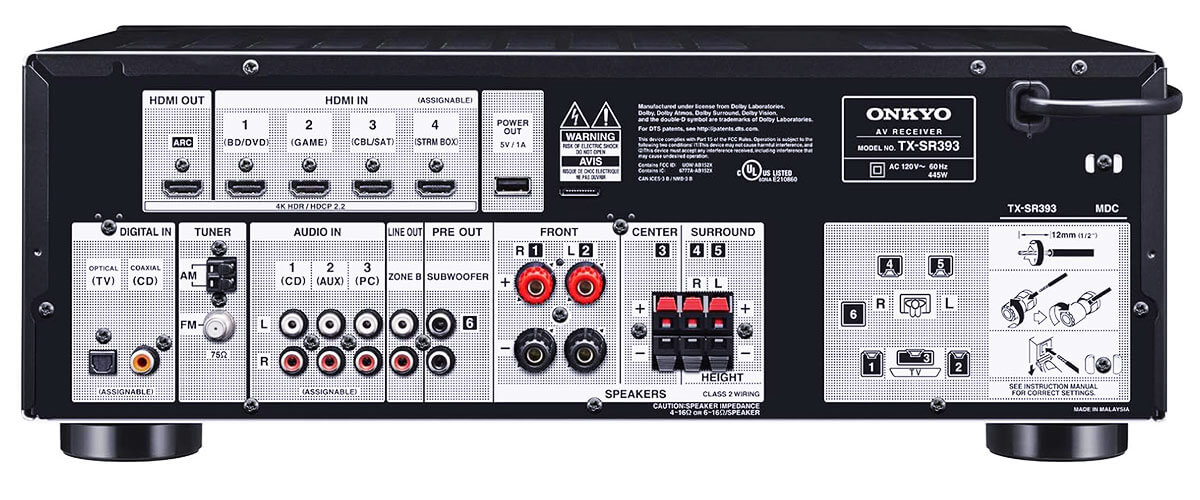 And now, let's talk about the elephant in the room – 4K/60Hz and HDR10. Okay, missing HDR10+ is okay for this price segment. But I was pretty disappointed when I found out that the TX-SR393 doesn't work with 8K content at all and that it cannot provide me 120Hz at 4K. Indeed, 120Hz is not a must for movies, but this takes gaming to another level regarding smoothness and joy. But not this time.
In gaming, I gave it the honor to take me through Red Dead Redemption 2 and Call of Duty: Warzone for competitive gaming. The directional audio was spot-on, adding a whole new dimension to the gaming experience, making every gunshot and rustle of leaves resonate.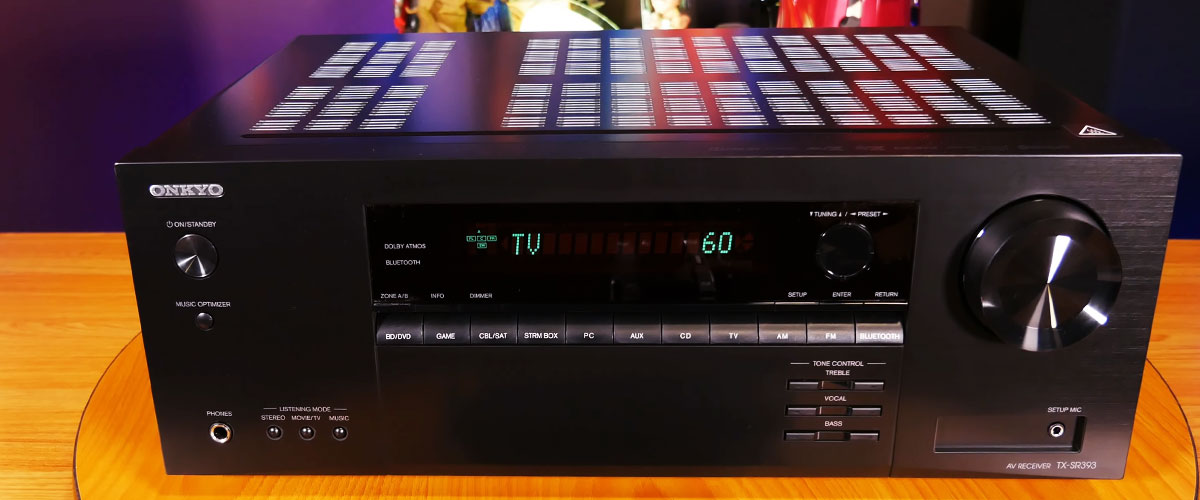 To summarize, I would like to say that the Onkyo TX-SR393 is a great option for your first receiver. It perfectly copes with basic tasks and has an adequate price for its capabilities.
Key specs
Channels: 5.2.
Power output: 80W/8 Ohm, 155W/6 Ohm.
HDMI inputs/outputs: 4/1.
Video functions: 4K/60Hz pass-through.
Bluetooth/Wi-Fi: yes/no.
Streaming services: has not.
Supports: HDMI ARC, HDMI CEC, HDCP2.3, HDR10.
Surround sound: DTS HD Master, DTS:X, DTS Neural:X, DTS Virtual:X, Dolby TrueHD, Dolby Atmos, Dolby Digital Plus, Dolby Atmos Height Virtualization, Dolby Surround.
Pros
Perfectly balanced power and energy consumption.
It makes a good sound for a budget model.
HDR10 works very well, creating picture quality similar to more expensive models.
Cons
AccuEQ room calibration system is not reliable.
Lacks the 4K/120Hz.
Onkyo TX-RZ70 – premium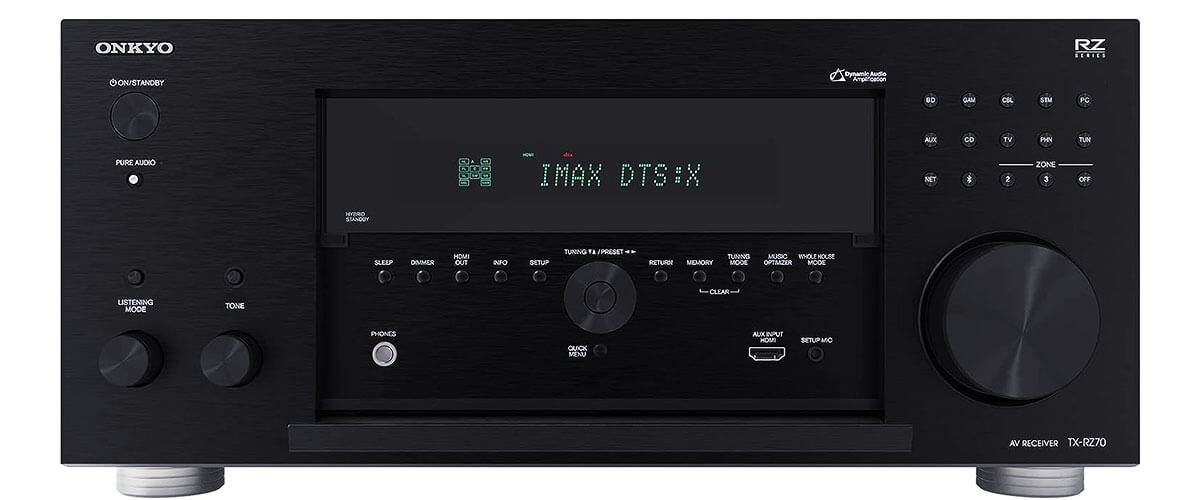 When talking about premium home theater systems, regardless of the brand that offers them, we always speak about top-of-the-art solutions packed up full of features, channels, and power. The Onkyo TX-RZ70 is not an exception. With a remarkable 11.2 channels (140 watts of power), the TX-RZ70 sets the stage for an immersive and multi-dimensional sound experience.
Yes, this is by far the coolest model from Onkyo for me. First, the TX-RZ70 takes audio seriously with studio-grade processing and ESS Sabre DACs. All Onkyo receivers can deliver quality sound with ease, but this is where all the nuances begin to shine truly. Plus, due to the number of channels, the TX-RZ70 gives maximum surround sound. I also enjoyed how the Dirac Live Bass Control calibrated subwoofers.
The video keeps up with the sound with 8K/4K ULTRA HD support and DOLBY technology. The HDR10+ easily matches the stunning visual experience with audio prowess. I also recommend building the Onkyo AVR setup around the IMAX Enhanced Mode. Rest assured, IMAX content is going to be just mind-blowing.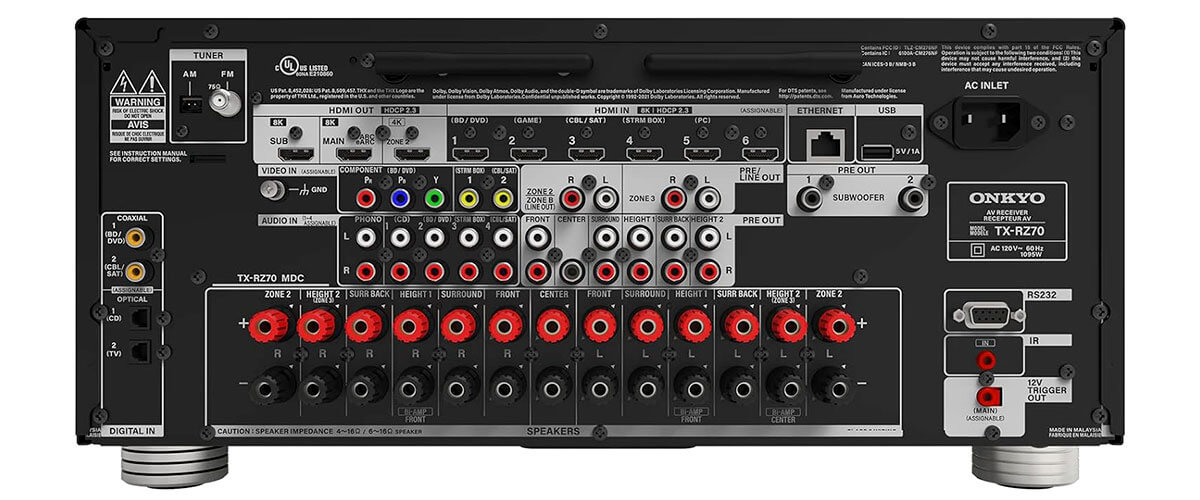 There is not much to say about gaming – it's perfect. Story-oriented and even competitive – all good. 8K/60Hz looks just flawless in the former (if you can run the games like that), and 4K/120Hz gives ideal control.
So, talking about tests, my wife and I had many joyful moments with this receiver, and I will share only a tiny bit of those. We opted for the beloved classic Jurassic Park. And what can I say? That's a real primal experience here. The thundering footsteps of the T-Rex, the rustling of leaves, and the iconic roar of the Velociraptors filled the room with prehistoric wonder. The perfect placement almost visualizes every sound in detail, and the video quality keeps up just fine as well.
Next up, we switched gears to a completely different genre with the heartwarming classic Amélie. I'm not a particularly vulnerable person, but the movie's whimsical soundtrack, delivered with richness and depth, was there more than several times, making me spill a tear or two. No more than that, of course; after all, I am not a crybaby.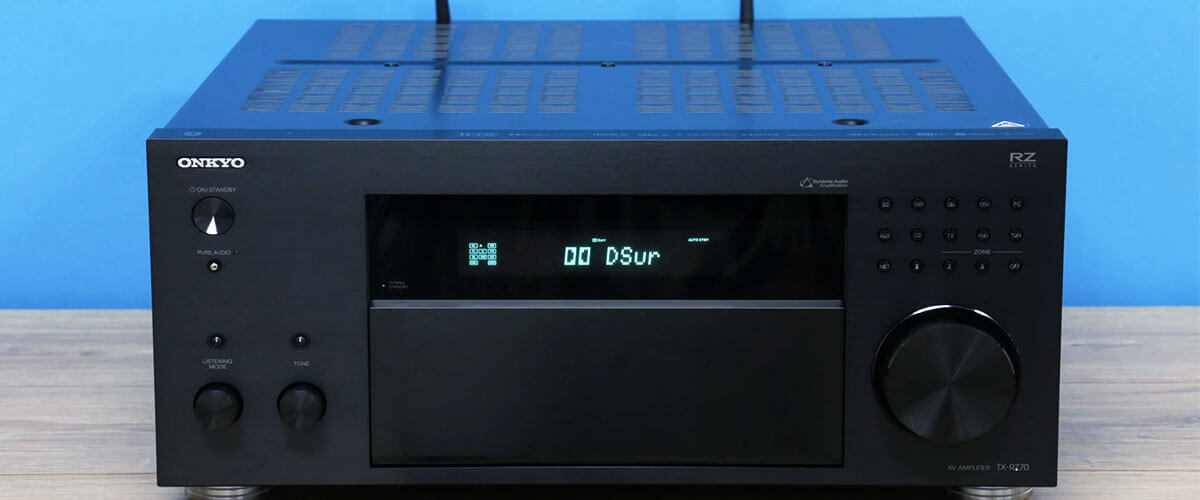 In the end, the Onkyo TX-RZ70 stays among the top Onkyo receivers, with a good reason. This unit is a versatile heart of your home entertainment system. With this product, you get quality sound regardless of what you do, and nothing will hold back the quality of video content. You know what, I have been praising this receiver through all this review. This life would be much easier if, when paying more, we always get the same boost in quality.
But here is the thing: the jump in quality from the classic 2.1 system to Onkyo TX-SR393 is enormous. So, going on a budget is a good idea. The leap from the TX-SR393 to the TX-RZ50 also gives a boost, but it's not that huge. In turn, getting from the TX-RZ50 to the TX-RZ70 also makes a difference, but even smaller while paying waaay more. So, my final thoughts are that the TX-RZ70 is a fantastic product, and you should get it only if you genuinely love sound and follow the path that your heart desires.
Key specs
Channels: 11.2.
Power output: 140W/8 Ohm.
HDMI inputs/outputs: 7/3.
Video functions: 8K/60Hz, 4K/120Hz, HDMI upscaling up to 8K.
Bluetooth/Wi-Fi: yes/yes.
Streaming services: AirPlay 2, Spotify, TuneIn, Deezer, Tidal, Netflix, Amazon Prime.
Supports: HDMI ARC, HDMI eARC, HDMI CEC, HDCP2.3, HDR10+, Dolby Vision.
Surround sound: DTS HD Master, DTS:X, DTS Neural:X, Dolby Atmos, Dolby TrueHD, Dolby Height Virtualization, Dolby Surround, IMAX Enhanced.
Pros
Stunning audio and video quality.
Works awesomely with IMAX Enhanced Mode.
Suits well every use case (movies, gaming, streaming, listening to vinyl, etc.
Cons
Draws a lot of power.
Requires careful placing (generates much heat).
Onkyo TX-NR6100 – also great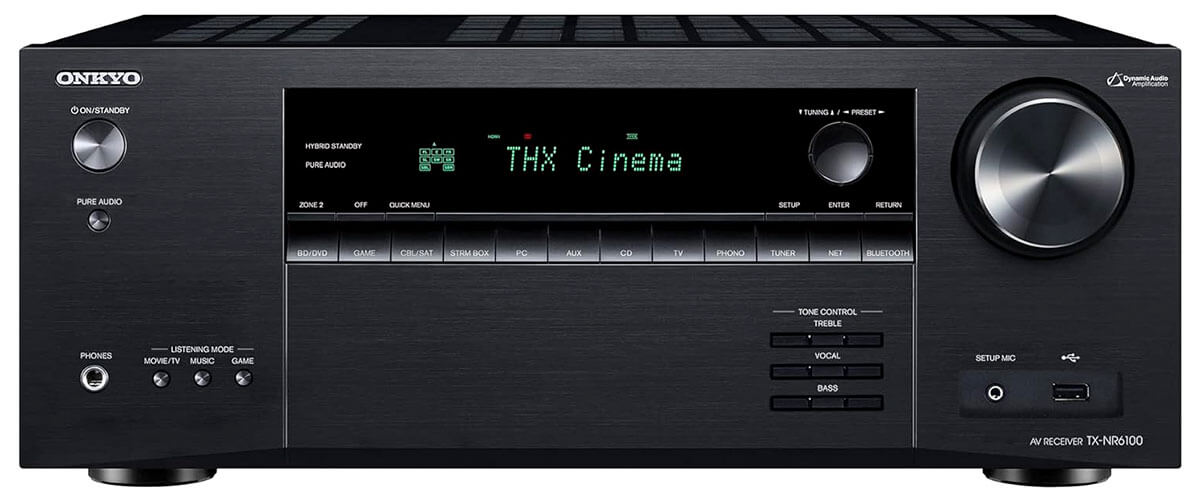 Recently, I have discussed leaps in quality when going from one receiver model to another. So, the time has come for me to show you the TX-NR6100. This juicy model stands right between the TX-SR393 and today's top – TX-RZ50. It offers 7.2 channels and a robust 100 watts of power.
Even though I am doing all I can to avoid listing boring specifications in the text, you are probably getting tired of them already. As I have said, it stays between the TX-SR393 and TX-RZ50, give or take a spec here and there. So, here I will share the emotions I and my son got from using this product.
My son and I arranged a little ride there, playing It Takes Two in 8K/60Hz. The clarity of the video quality was just wild. I played on the laptop and couldn't resist 90% of the time looking at my son's screen, who played using the receiver and our 8K Phillips TV. Things got even more interesting with Forspoken. There is no way my machine can do 8K/60Hz, but 4K/120Hz is doable. Anyway, it wasn't the receiver that couldn't reach the desired cap of 120 fps, but my graphics card. Sadly, the smoothness, the beautiful visuals, and the lovely sound didn't manage to save us from the boredom that the Forspoken casts at every player who dares to try it.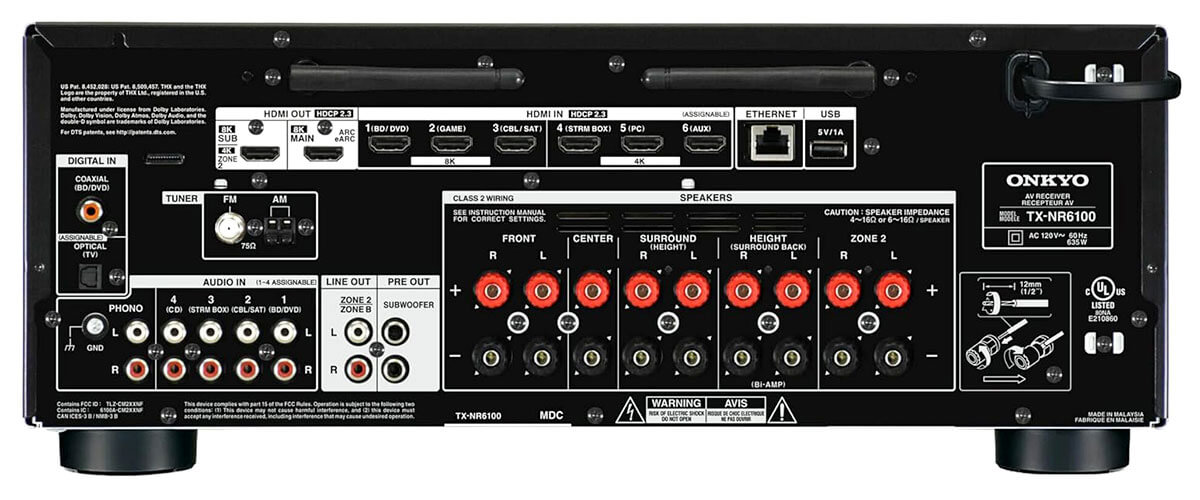 So, my son helped me to master the courage to get our hands on Alan Wake 2. And, Wow, it was quite remarkable. When I say I don't like horror movies and games, I mean it. Imagine playing after the sun gets down on a huge 8K screen(though in 4K Mode) with the surround sound highlighting every detail, whisper, and so on. Yeah, now you understand why we dropped off as soon as the first shooting began, haha.
Eventually, we moved to the undying movie classics – The Grand Budapest Hotel, The Hangover, and Cruella. The audio was rich and enveloping, allowing us to get lost in the silly but hilarious dialogues and beautiful soundtracks. The Dolby Atmos support provided a sense of space and depth that enhanced the atmosphere. It was good.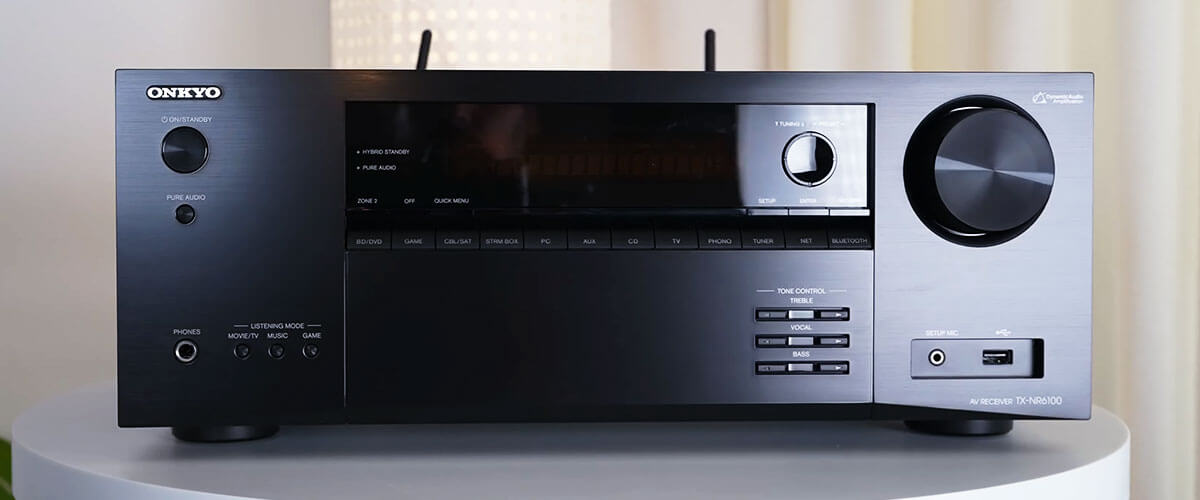 To close the review section, I believe that the TX-NR100 is a good product. It is not a marvel, and you can always get better receivers. Even in this review, two models surpass it. But, the thing is that it is capable of taking your home cinema setup to the next class. Sometimes, paying more for today's top or even the latest AV receiver from the premium segment just isn't worth it. This is where the TX-NR100 comes in, being only a step away from the greatest.
Key specs
Channels: 7.2.
Power output: 100W/8 Ohm, 210W/6 Ohm.
HDMI inputs/outputs: 6/2.
Video functions: 8K/60Hz, 4K/120Hz, HDMI upscaling up to 8K.
Bluetooth/Wi-Fi: yes/yes.
Streaming services: AirPlay 2, DTS Play-Fi, Spotify, Amazon Music HD, Pandora, TIDAL, Deezer, TuneIn.
Supports: HDMI ARC, HDMI eARC, HDMI CEC, HDCP2.3, HDR10, HDR10+, HLG, HDCP 2.3, Dolby Vision.
Surround sound: DTS HD Master, DTS:X, DTS Neural:X, Dolby Atmos, Dolby TrueHD, Dolby Height Virtualization, Dolby Surround.
Pros
Delivers quality surround audio performance and immersive sound.
User-friendly interface, including OSD, web UI, and control app functionality.
Cons
AccuEQ room correction functions on a very basic level.
The remote feels very cheap.
FAQ
Is there a significant difference between Onkyo's lower-end and higher-end receivers?
Higher-end Onkyo receivers typically have more advanced sound processing, advanced networking capabilities, better build quality, and additional features such as multi-room support, voice control, and many ports for connecting various devices. Lower-end models support mostly only the basic features but may lack some of the advanced features.
Can Onkyo receivers be integrated into multi-room audio setups?
Yes, many Onkyo receivers support multiroom audio integration. They often come equipped with technologies like DTS Play-Fi, FlareConnect, or FireConnect, allowing you to sync and control audio in different rooms through a single receiver or app. However, always pay attention to the number of supported channels and
pre-outs
.
What is the most powerful Onkyo receiver?
To be honest,
power
is a rather arbitrary indicator. I look more at the aggregate indicators, but the most powerful models are TX-RZ50 M2 (180 watts per channel) and TX-NR7100 M2 (185 watts per channel).