Denon AVR-S960H was released in 2020 and, in a short time, has won the hearts of many fans to get the maximum emotion from watching video content. The company has been on the market since the late 1970s and continues to use its advanced technology and accumulated experience as one of the niche leaders.
The AVR-S960H replaces the S950H receiver, released in 2019. The main difference between the new product and its predecessor is support for 8K resolution video at 60 Hz. In 4K resolution, 120 Hz frame rate is already available, which will be especially in demand for game fans. Otherwise, it is a Denon classic with some new and interesting features I will tell you about in the Denon AVR-S960H review.
Features and specs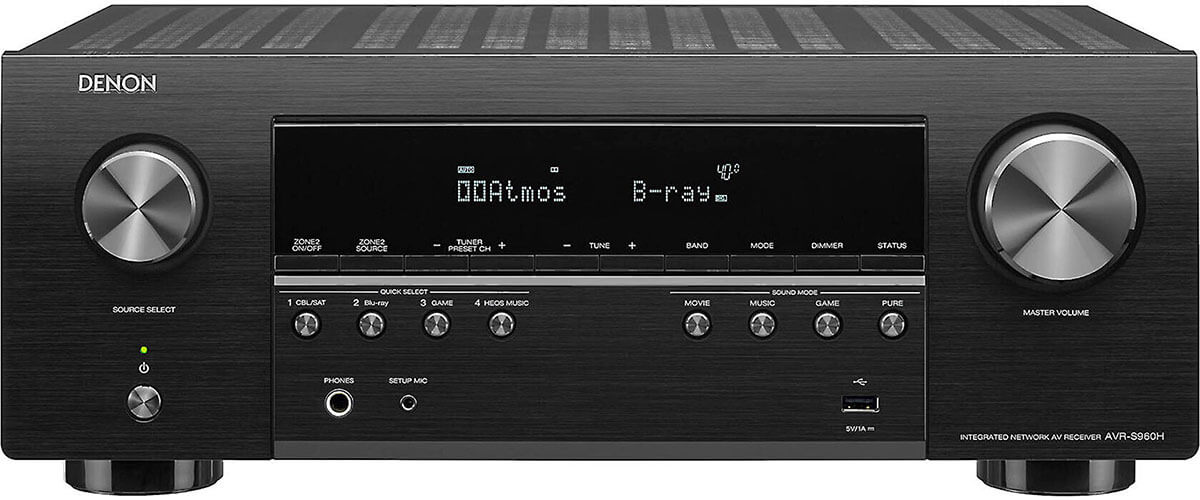 Well, let's talk about Denon AVR-S960H features in more detail now. First, I would like to mention that the receiver has a 7-channel (like its predecessor) amplifier design with 90 W (8 ohm) per channel, which allows it to produce dynamic and accurate sound. I could attach the speakers to the ceiling, and what the result was you will find out further in the review.
The AVR-S960H has a HEOS Built-In wireless multi-room music streaming system that allows working with Spotify, Amazon Music HD, TIDAL, Apple AirPlay 2, and Wi-Fi. Voice control via Amazon Alexa, Google Assistant, and Apple Siri also adds to the convenience of use.
This model is equipped with a 32-bit AKM DAC that provides lossless high-resolution audio decoding for WAV, FLAC, ALAC, MP3, WMA, DSD 2.8, and 5.6 MHz files.
The AVR-S960H features Audyssey correction technology using the Audyssey MultEQ Editor to calibrate the sound to room characteristics. You can save two settings in the unit's memory. Moreover, there is an option to program four shortcut buttons for specific settings of the system's sound character. They are located on the receiver's front panel and duplicated on the regular remote control.
Let's move on to the connectors and connection systems. First, I would point out the convenience of the USB input on the receiver's front panel. There are 6 HDMI inputs and 2 HDMI outputs with HDCP 2.3 support, Wi-Fi with 2.4 GHz/5 GHz band support, built-in Bluetooth, Ethernet RJ-45, and two subwoofer outputs. Second, the Phono input, allowing you to connect your turntable and play vinyl records, is a nice touch.
The receiver works seamlessly with Spotify, Amazon Music HD, TIDAL, Apple AirPlay 2, and Wi-Fi. Voice control via Amazon Alexa, Google Assistant, and Apple Siri also adds to the convenience of use.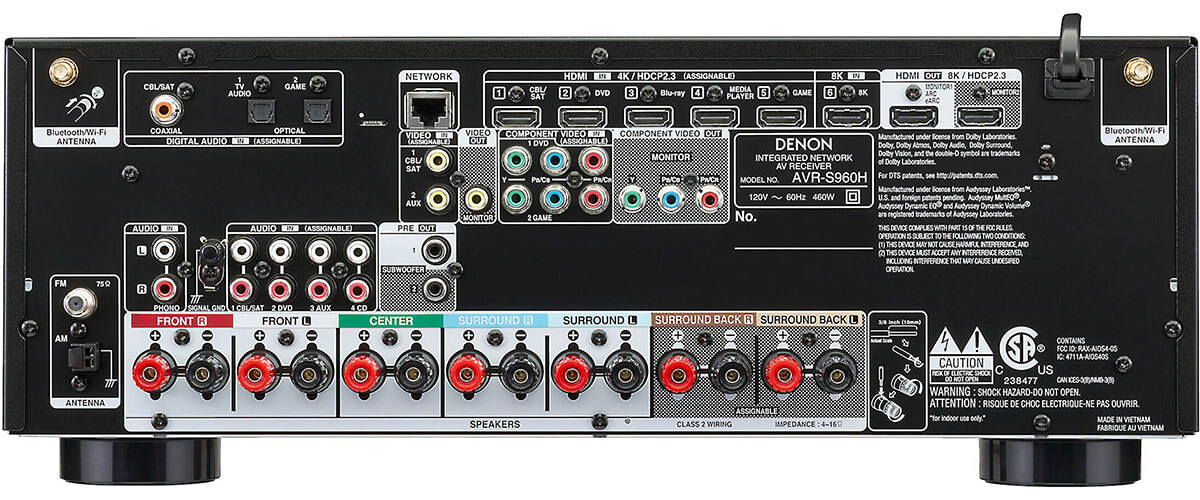 Among the AVR-S960H's indeed "cinema-ready" features, you can find HDR10+ and Dynamic HDR support. Quick Media Switching (QMS) lets you instantly switch HDMI-connected picture sources without blinking the screen. The receiver supports Pure Color 4:4:4, HLG, and Dolby Vision. In addition, the receiver can handle Dolby Atmos, DTS:X, and DTS Virtual:X surround sound formats. An EARC (Enhanced Audio Return Channel) connection is also available, which really improves the usability of the receiver-TV system.
As far as the setup goes, I didn't have any problems. Those who haven't had a receiver before will not experience any problems with its installation and setup. The design is standard and ergonomic, and, of course, the best part is the quality Denon has guaranteed for years.
Sound
As for the sound, the AVR-S960H generally has a calmer and more balanced sound than, for example, Yamaha or Pioneer. When reproducing the sound, it didn't discard or highlight details. In fact, it delivered the sound naturally and organically without emphasizing certain aspects. But, it's a matter of preference. Some people like to hear all the details in a piece of music (in that case, I recommend the Yamaha RX-A4A review), and others like everything to sound as a whole.
When watching "Lord of the Rings," Denon performed perfectly. I actually felt rather than heard what was happening on the screen. The water running, the swords striking, and the characters' conversations were felt on some other level. Of course, it wasn't the first time I watched this great movie, but with the AVR-S960H, this process was remarkable.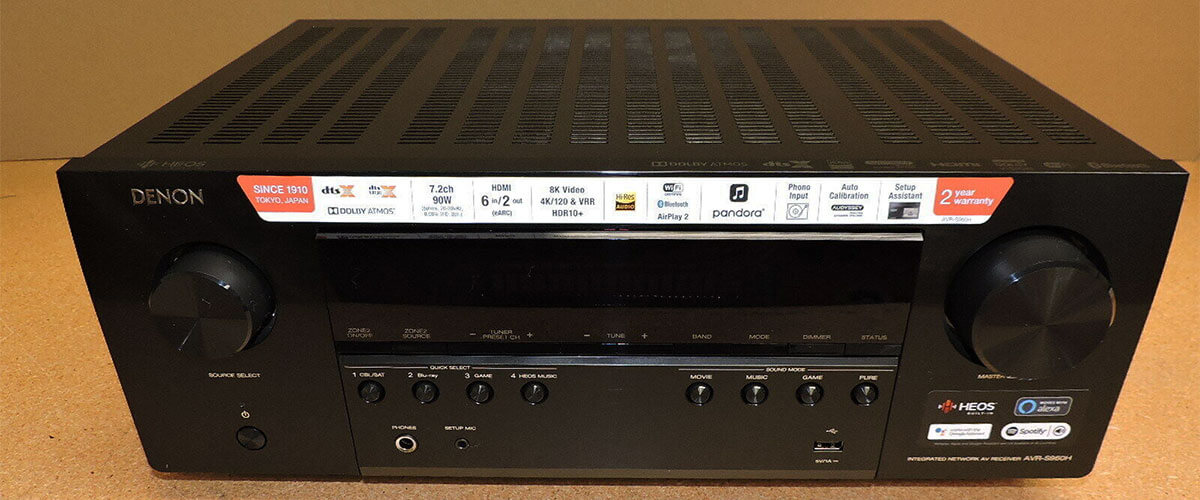 Key specs
Channels: 7.2.
Power output: 90 W/8 Ohm, 125 W/6 Ohm.
HDMI inputs/outputs: 6/2.
Video functions: 8K/60Hz, 4K/120Hz, HDMI Upscaling up to 8K.
Bluetooth/Wi-Fi: yes/yes.
Streaming services: AirPlay2, Spotify, Pandora, Tidal, Deezer.
Supports: HDMI ARC, HDMI eARC, HDMI CEC, HDCP2.3, HDR10, HDR10+, Dolby Vision.
Surround sound: DTS:X, Dolby Atmos, DTS HD Master, Dolby TrueHD.
Pros and cons
Pros
Advanced 8K HDMI.
Gives a deep and detailed sound.
Surround sound with Dolby Atmos 5.1.2 configuration.
Easy setup.
Cons
No multi-room video out.
Heats up quite a lot.