I've been waiting for this day to come when I can share the Yamaha RX-V6A review with you. It's a very interesting model, and I am sure many of you will appreciate it. Yamaha has always been a pretty popular brand in the AV receiver industry. Their products are known for their quality and features. However, Yamaha presents the RX-V6A as a little more than just an entry-level AV receiver in their product line.
Features and specs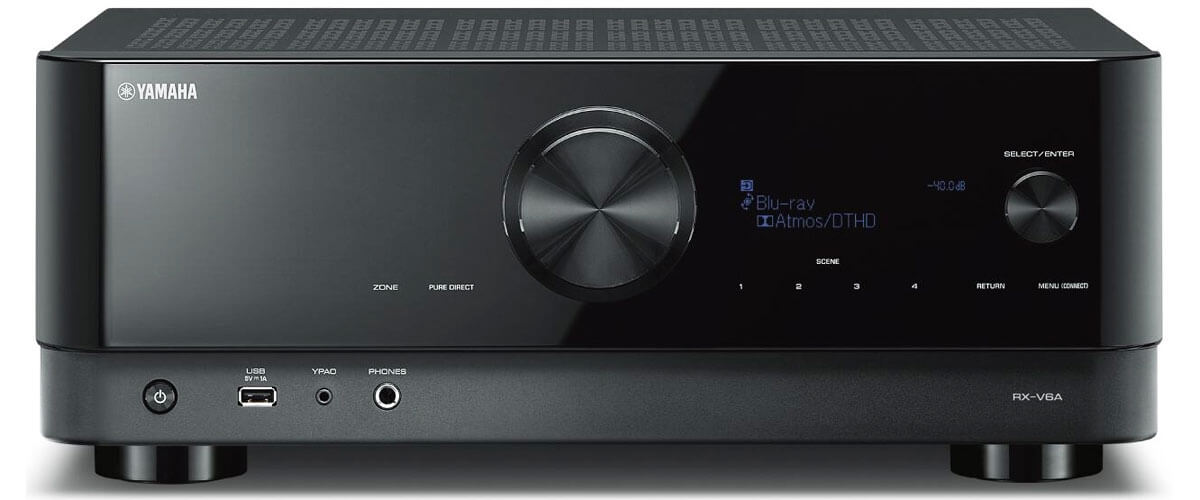 The RX-V6A supports 7.2 channels. According to the manufacturer, each channel supports up to 100 watts and 8 ohms, with 20-20,000Hz and 0.06% THD. Another typical aspect is that only the front stereo pair supports 4-ohm speakers. Other outputs require at the very least 6-ohm ones.
The list of inputs includes 7 HDMI, 3 analog stereos, single phono, front USB, WI-Fi, Bluetooth, Ethernet, and a radio antenna. Altogether, it is a pretty standard set of connectors. Talking about interesting aspects, while Marantz and Denon, in the same price range, offer receivers with a single HDMI 2.1, the RX-V6A comes with 3. On the side of outputs, the list includes 2 HDMI, a single 2.1 analog, 6.5 mm for headphones, and 9 lines for speakers.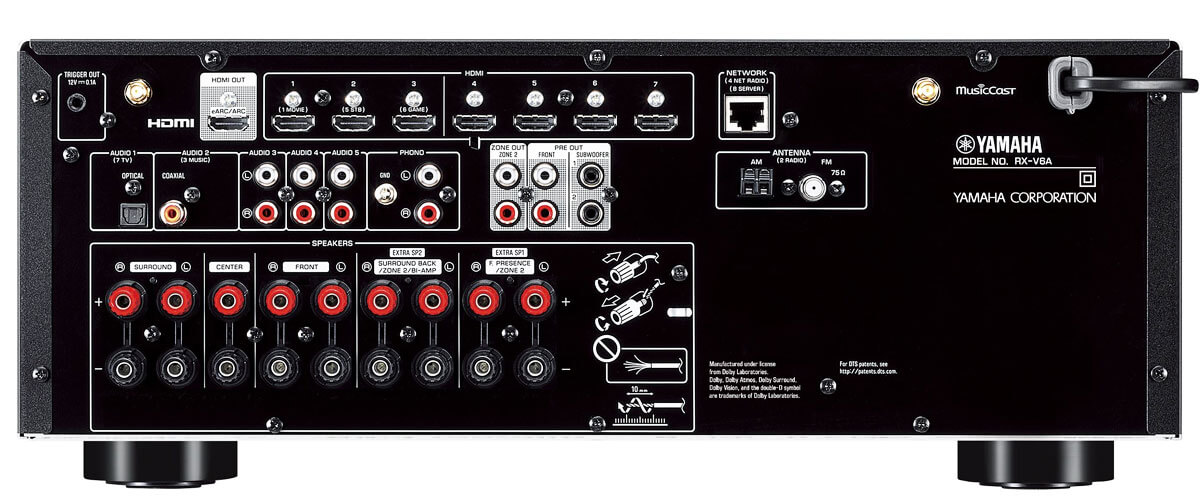 While the receiver is doing great when watching movies, it somewhat struggles with some gaming consoles. I used an Ultra-HD TV connected via HDMI 2.3 to the receiver and tested it at 4k at 120Hz. The unit showed solid results. However, gamers may not find this receiver so satisfactory, as it has problems with Xbox consoles at 4k and 120Hz when sending RGB signals. At the same time, the PS5 showed no such problem.
There is a hidden diamond among Yamaha RX-V6A features, as the model comes with an automatic calibration function, which is quite common for its price range. What's distinctive is that it actually does a pretty good job of measuring distance and levels, identifying speakers, and equalizing them. On the auto, it sets up the system to provide a cinema-like sound with gently lowered higher frequencies. This is a big plus for this receiver since the overall sound quality of the entire multimedia system greatly depends on the correct setting.
Sound
As usual, I tested the sound under two different typical use cases for AV receivers. So, the first one was watching movies and gaming. In the former case, the RX-V6A offered a pleasant immersive sound with the 7.2 setups I have at home. Altogether, it felt like a real cinema. About the same thing was with gaming, yet not all the games support immersive sound. So, keep that in mind too.
In the latter case, just like with its brother RX-A2A, I recommend switching off all sound enhancement features. After using the "Pure Direct" button, the receiver delivered a highly detailed and accurate tremble with all the songs I listened to.
Key specs
Channels: 7.2.
Power output: 100/8 Ohm.
HDMI inputs/outputs: 7/1.
Video functions: 4K/60Hz, 4K/120Hz, 8K/60Hz pass-through, upscales HD video signals to 4K Ultra HD.
Bluetooth/Wi-Fi: yes/yes.
Streaming services: AirPlay 2, Pandora, Spotify, Napster, SiriusXM, TIDAL, Deezer, Qobuz, Amazon Music, MusicCast.
Suppots: HDMI ARC, HDMI eARC, HDMI CEC, HDCP2.3, HDR10, HDR10+, Dolby Vision.
Surround sound: Dolby Atmos Height Virtualization, DTS HD Master, Dolby TrueHD, Dolby Digital Plus, Cinema DSP.
Pros
Offers cinema-like surround sound experience.
Front panel aesthetics can be compared to its more costly counterparts.
Reliable automatic sound calibration feature.
Cons
Typically for this product line, it doesn't support less than 6-ohm impedance speakers.
Unreadable from a distance display.